9 Retro Transformers Collectibles for the Forever Fan
Before you watch the latest film, check out some of the coolest Transformers collectibles ever made.
Transformers: The Last Knight premieres on June 21, and — knock on wood — we think it looks spectacular!
Of course, one of the side effects of these films has been an increase in attention paid to all the old-school Transformers stuff we grew up loving. Even if The Last Knight doesn't rock your world, you can thank it for keeping the glory days fresh in everyone's minds.
Looking for proof? Without The Last Knight, we wouldn't have had the excuse to search eBay for nine of the coolest (and most obscure) Transformers collectibles in history. See how many you remember down below!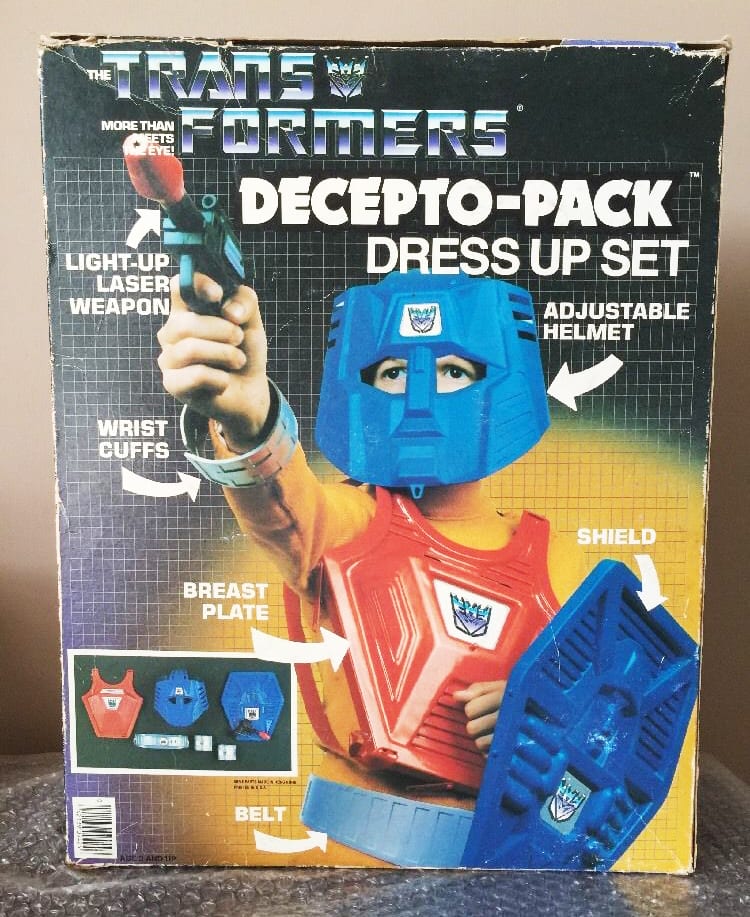 1985 Decepto-Pack Dress Up Set
Asking Price: $250
The Decepto-Pack let kids dress like an evil Decepticon, or possibly a baseball catcher with curious equipment. Though the set included everything from a helmet to a shield, the real score was a battery-operated "laser weapon," which lit up while you pretended to blast Autobots.
The body armor was not at all formfitting, but for the sake of prancing around like a soldier of Megatron, a little discomfort meant nothing.
SEE ALSO: 10 Totally Amazing Wonder Woman Collectibles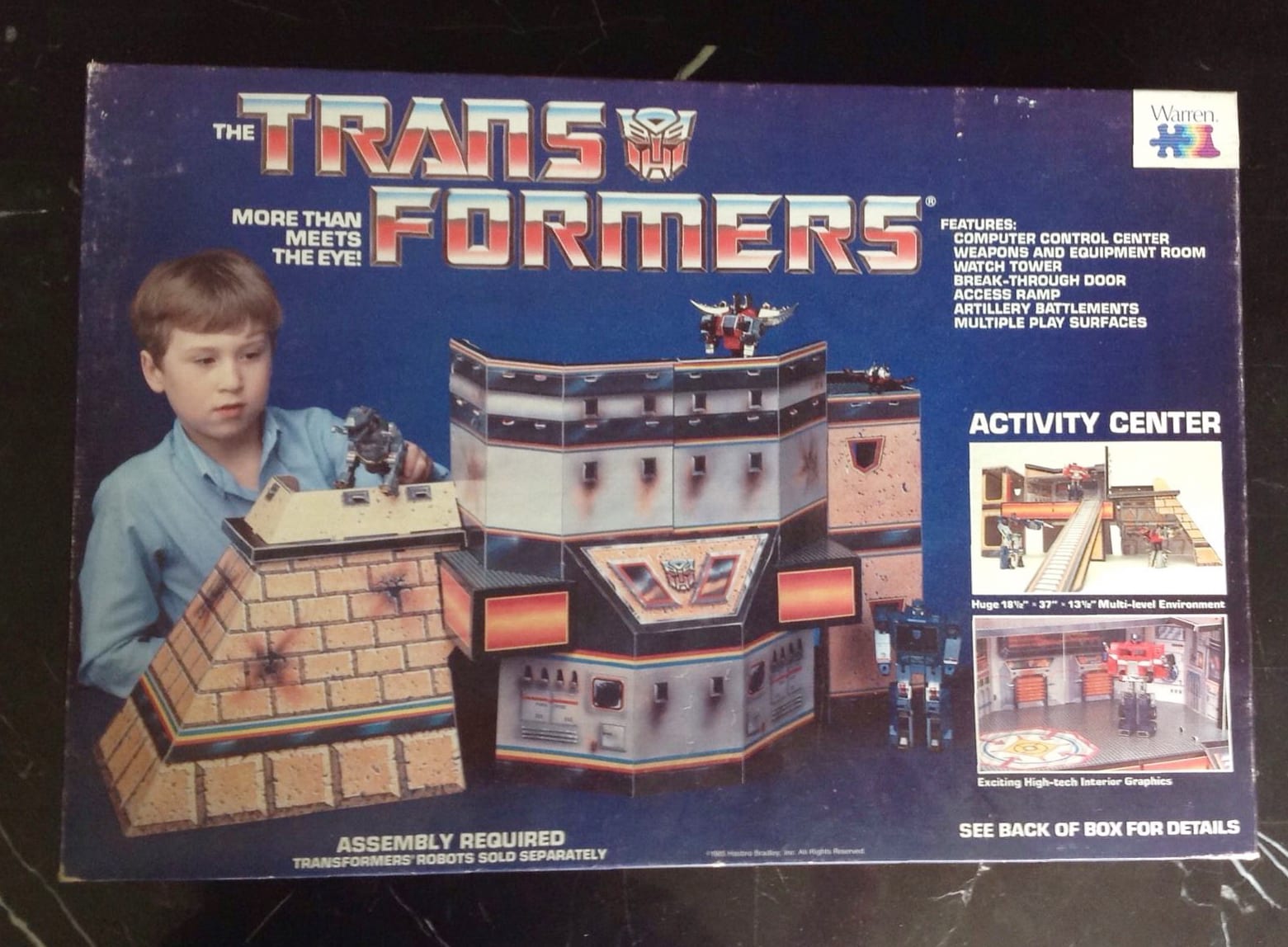 1985 Transformers Activity Center
Asking Price: $169.99
The size and heft of Hasbro's Transformers toys meant that traditional "playsets" were few and far between. A handful of Autobots and Decepticons transformed into "bases" or "cities," but they were only big enough for the tiniest figures to hide inside.
Thus, this extremely rare "activity center" from Warren was a godsend. It was just a pile of cardboard, but at 18.5" x 37", it was the only appropriately sized Transformers "abode" out there... assuming you didn't want Optimus and pals to lay siege to Castle Grayskull from Masters of the Universe.
Sold For: $499.99 (auction ended)
The Optimus Prime figure is perhaps the most famous of all Transformers toys, but have you ever seen this variant?
In 1985, Pepsi ran a promotion for a special mail-away version of Optimus. It was the exact same figure that was sold in stores, save for an additional sticker book that came glued to the box. With those stickers, you could transform Prime's trailer into a rolling billboard for Pepsi.
(Hey, cut Prime some slack. Warring with Decepticons is expensive work.)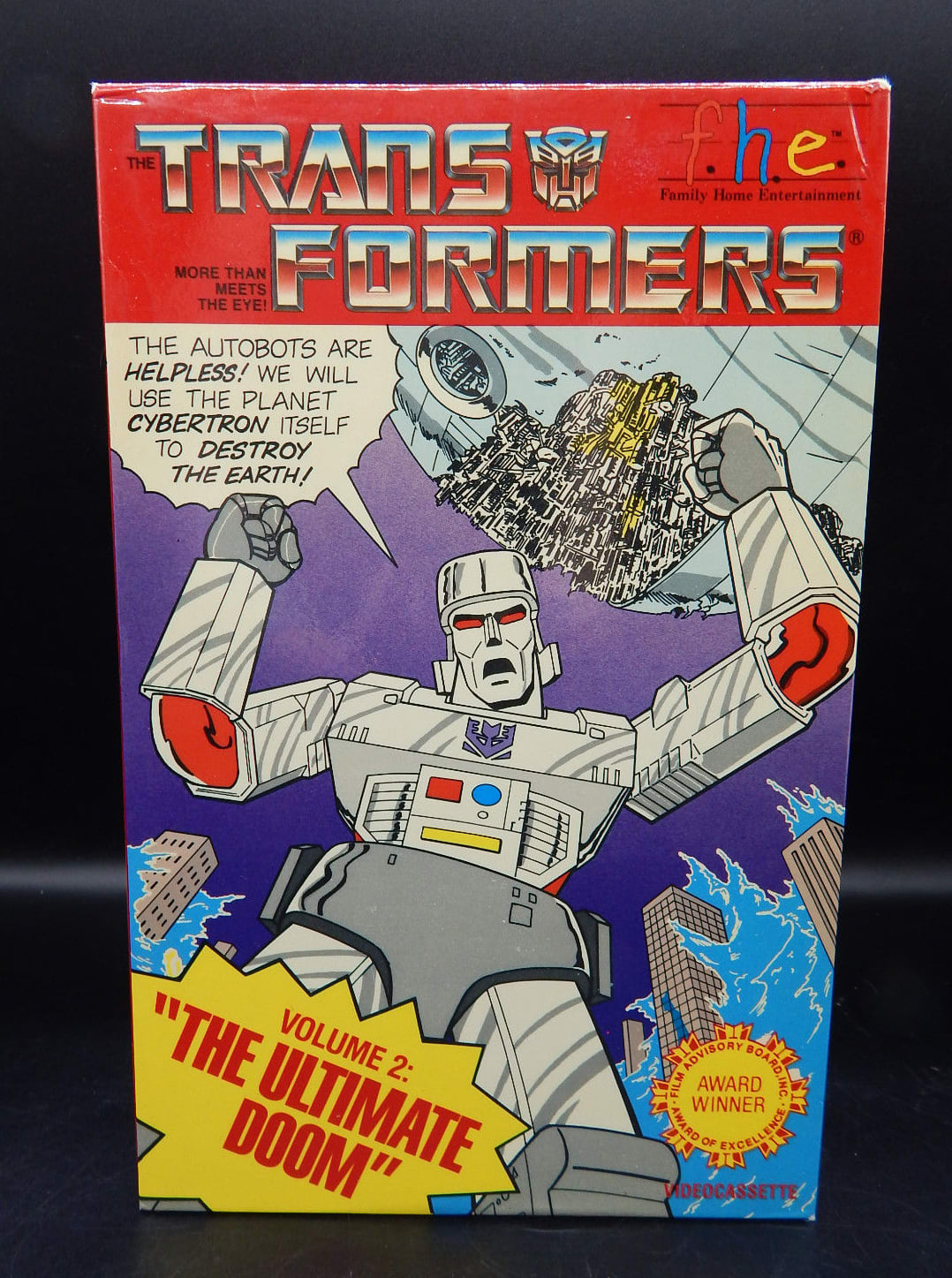 1984 VHS Tape
Asking Price: $48
The Transformers franchise became popular right around the time video stores were just beginning to pop up everywhere, so it was only natural that the cartoon series turned into a hot rental.
Various Transformers videos were released, each in a gloriously oversized box. Those tapes became the very first video rentals for countless '80s kids, and our nostalgia remains so thick that these tapes still fetch high prices.
SEE ALSO: Relive Your Crush on the Pink Ranger With These Power Ranger Collectibles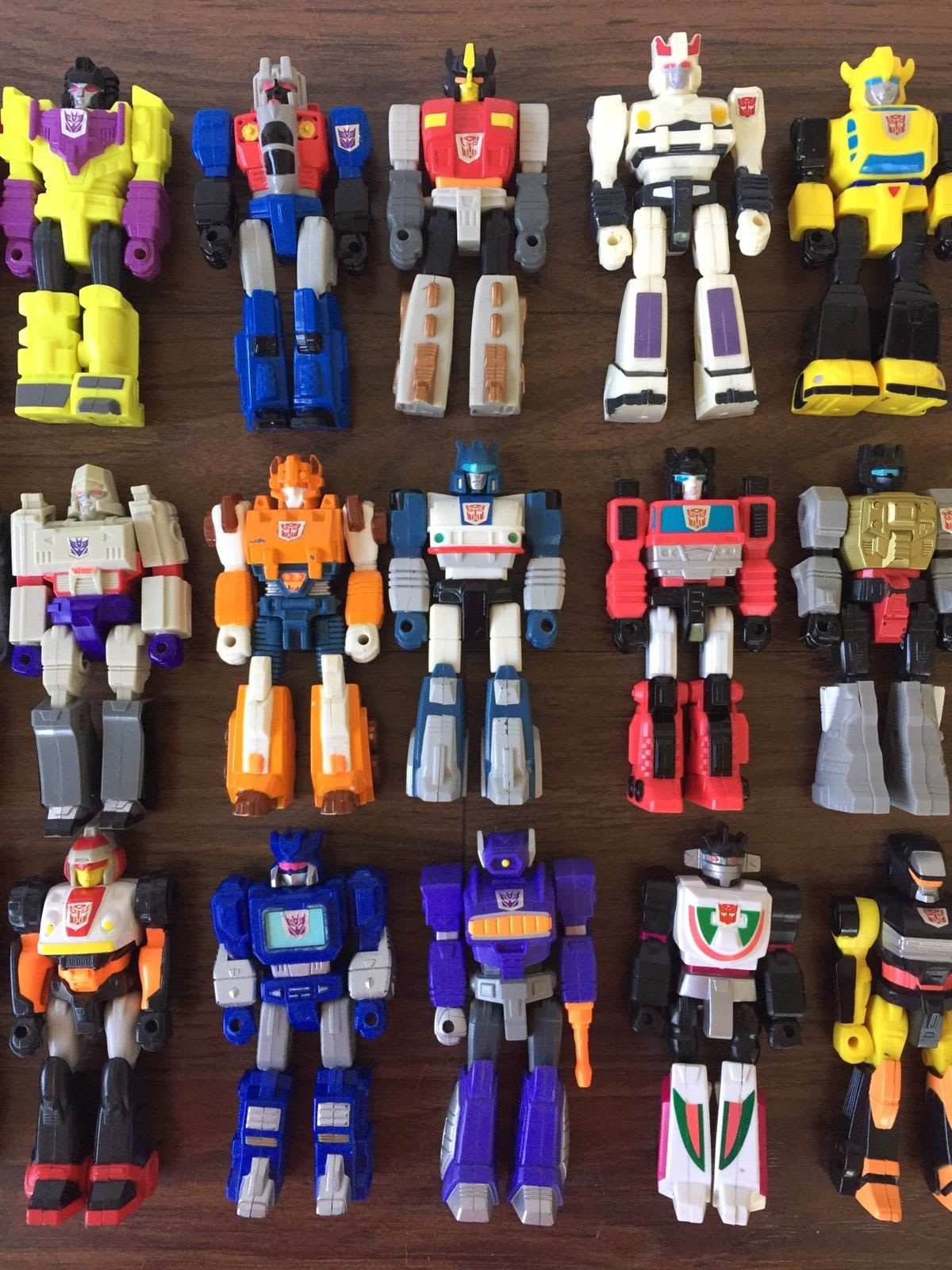 1990 Action Masters Figures
Sold For: $179.99 (auction ended)
With interest waning in "classic" Transformers toys by the end of the '80s, Hasbro decided to try something different.
Action Masters figures didn't transform, but that was the point. Prime, Megatron, and all our favorite characters became "action figures" in the more traditional sense — no bigger and no more expensive than G.I. Joe toys.
Some collectors are against Action Masters on principle ("Transformers that don't transform?!"), while others argue that they were still cool-as-heck toys with killer designs.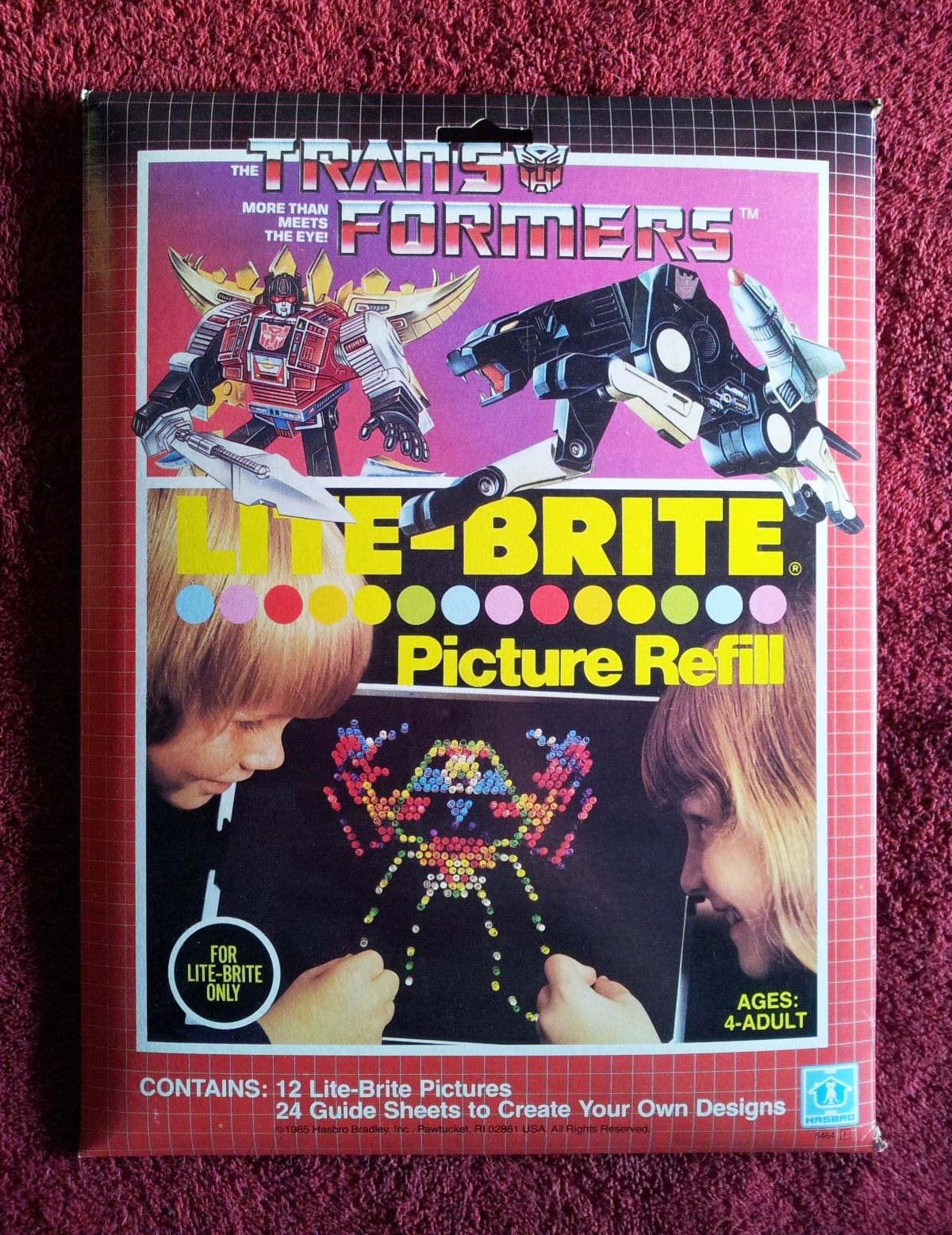 1985 Transformers Lite-Brite Kit
Asking Price: $40 (auction ended)
Yes, indeed, there was a special Transformers-themed Lite-Brite kit, packed with template sheets that let you create glowing Autobots out of plastic pegs.
The process was long and frustrating, and you never seemed to have enough colored pegs, but a badly realized Dinobot was still a Dinobot.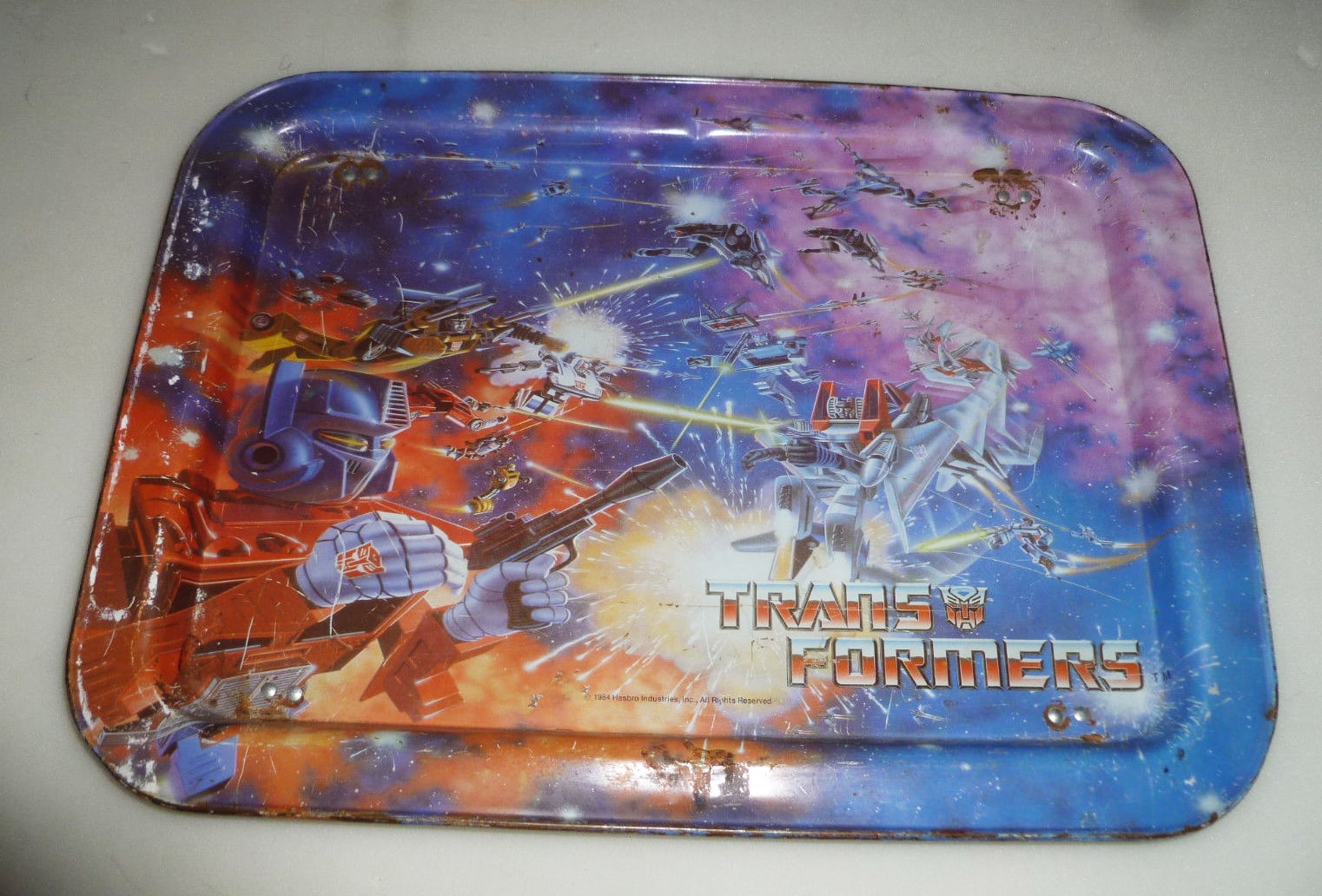 1984 TV Dinner Tray
Asking Price: $31.49
Aw, remember these trays? Even if you didn't have the Transformers version, you probably had another just like it.
Those metal dinner trays with the fold-out legs were the best reasons to catch a cold. It seemed like a government mandate that every sick kid had to spend the day in bed eating hot soup off of a cartoony dinner tray.
SEE ALSO: Celebrate Star Wars' 40th Anniversary With These 10 Collectibles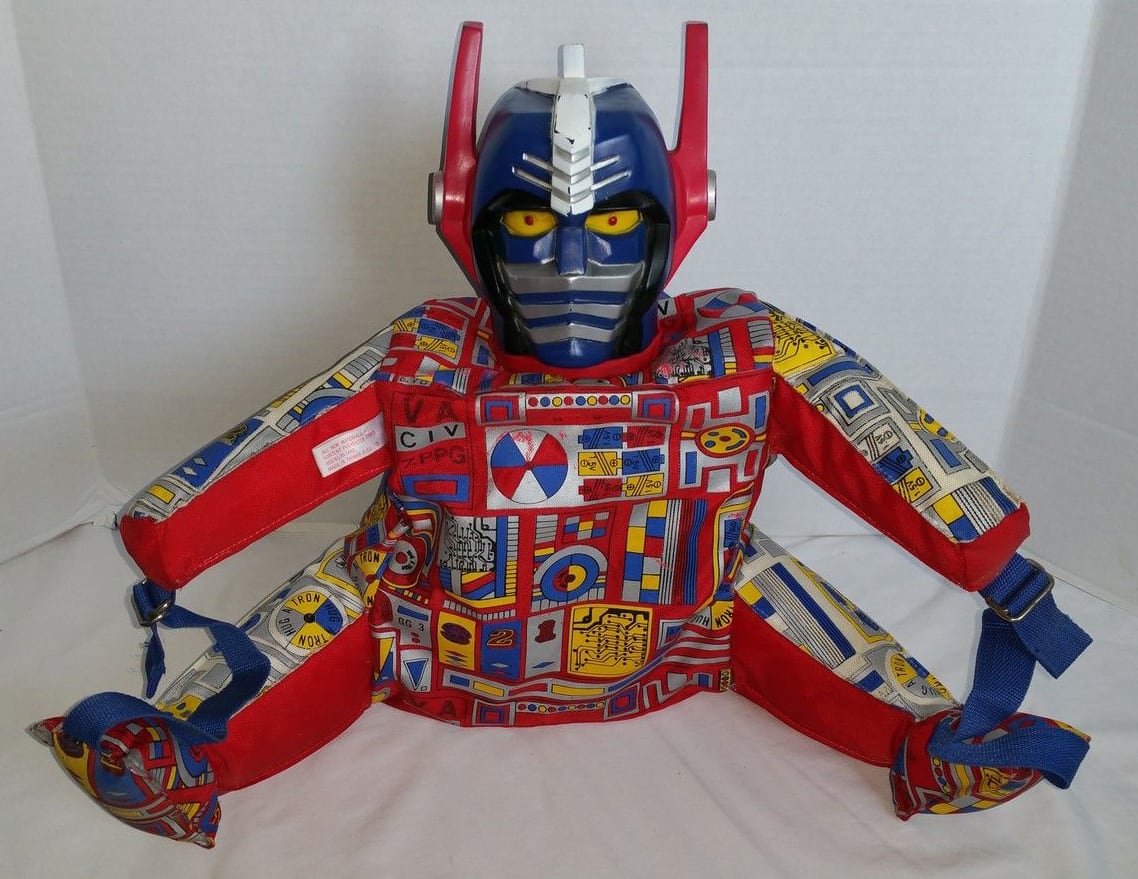 1986 Hug-a-Tron Backpack
Asking Price: $69.99
Some of the neatest Transformers collectibles technically weren't Transformers collectibles. The characters were trademarked, but nothing could stop other companies from borrowing the gimmick.
This wonderfully absurd Hug-a-Tron backpack looked like an inside-out Optimus Prime, and we imagine it made any kid who wore it the star of their schoolyard. The body was hollow and could hold books, while Hug-a-Tron's arms doubled as the straps. Bizarre, but clever!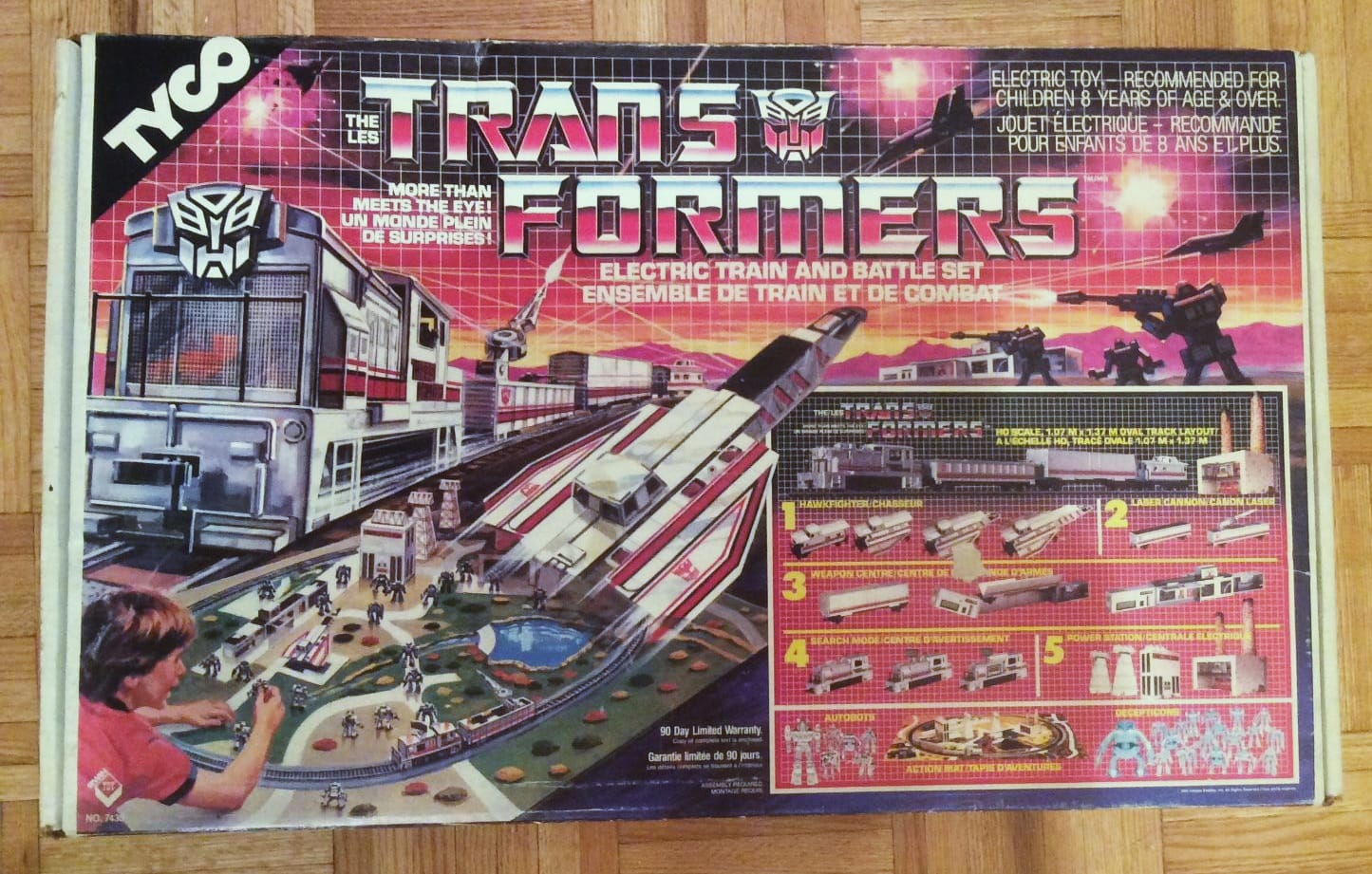 1985 Electric Train and Battle Set
Asking Price: $199.99
This was the same electric train "circle track" that had been sold a bazillion times before, but souped up with all sorts of Transformers-themed add-ons.
The train circled around a veritable Transformers city, complete with a generous pile of tiny Autobot and Decepticon figures. The playset looked so cool on its own that the train was really just a bonus!
Were you a Transformers fan as a kid? What was your absolute favorite Transformers toy? Share your memories in the comments!
---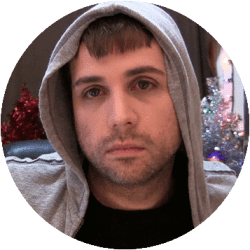 Contributing Writer
Matt has been blogging about geeky nonsense since early 2000. You can view more of his weird work on
Dinosaur Dracula
, or follow him on Twitter
@dinosaurdracula
.
DealNews may be compensated by companies mentioned in this article. Please note that, although prices sometimes fluctuate or expire unexpectedly, all products and deals mentioned in this feature were available at the lowest total price we could find at the time of publication (unless otherwise specified).