POLL: Will You Buy the Amazon Echo? (Echo... Echo... Echo...)
Prime members can buy an Echo for 50% off, but what is it exactly? We have the run-down on this new device.
In early November, Amazon announced that it'd be getting into the stand-alone, always-on, voice-activated, information-box game when it unveiled its Amazon Echo. (To our knowledge, they are the only player in this very niche field, but enter it they did!) Amazon Prime members could sign up to be put on a waiting list for an invite that would nab them the $199 list price device for 50% off, dropping it to $99. Yes, with free shipping via Prime.
Two months later, Amazon continues to offer this deal to Prime members, which has proven quite popular with our readers. So we began to wonder: What's the deal with the Echo, and will you invest in the first-generation, nascent technology?
A Stand-Alone Personal Assistant Device
If we didn't know anything about technology, we'd say the Echo was a magical cylinder in which resides a tiny wizard. However, knowing what we know of modern technological "wizardry," we're going to assume it has microchips and stuff inside it. The result is an always-on box that sits, patiently waiting for you to utter the activation word (either "Alexa" or "Amazon").
Once you do that, the Echo starts listening to you. You can ask it things like, "What's the weather?" or command it to tell a joke, and it will consult the Internet and then tell you the weather or a joke (respectively). Other answerable requests include asking for the time, setting an alarm, reading information from a Wikipedia page, playing songs from your Amazon Music library (everyone uses that, right?), getting news updates from NPR or ESPN, creating to-do lists, and more.
Better still, since it's connected to the Internet, Amazon can push updates to it which expand its capabilities. One day, you might be able to say "Amazon? Wash my car!" It won't be able to do that, but it might be able to tell you why it's not capable of doing that. What a glorious future!
With everything this little counter-top box can do, it's like finally being able to take the Siri, Google Now, or Cortana function out of your smartphone and put it into another, stand-alone device. One that costs $99 — for a limited time and if you're a Prime member! All kidding aside, we can see how an on-demand informational service like Echo could be of benefit, especially for those with impaired eyesight. However, at its current early stage, we wonder how useful the device would be.
Concerns Over Privacy, Annoying Names
Anticipating your security concerns of an "always listening" device, Amazon has thought to put a mute button on the top of the Echo, to prevent your conversations from being overheard, if only by the device itself. When pressed, the device will not connect with the Internet again until it's physically unmuted. This will may prove to be a useful button to have when you find yourself discussing that one Billy Joel song, or the river in South America.
For us, the worst part of its design is that the trigger-word is "Alexa" or "Amazon." Imagine having "Amazon" be the first thing you say every morning. "Amazon, what's the news this morning?" That's some tight brand-name reinforcement, but it'd get old quickly. We have to imagine that an OS update is in the works, one that will allow you to set a custom name.
Personally, we think we'd opt for "CTHULHU, AWAKE!" if only to taunt the cyclopean nightmares that live in R'lyeh. But what name would you choose? Tell us, in the comments below!
---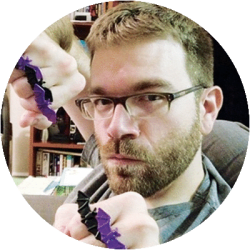 Contributing Writer
Jeff Somogyi is constantly trying to come up with ways to surprise and delight audiences the world over. He takes humor seriously ... too seriously. (Honestly, we've never seen him laugh ... it's kinda creepy.)
DealNews may be compensated by companies mentioned in this article. Please note that, although prices sometimes fluctuate or expire unexpectedly, all products and deals mentioned in this feature were available at the lowest total price we could find at the time of publication (unless otherwise specified).