Oreo Pizza, Tacos on a Bun, and Pineapple Burgers: Our 5 Fave Fast Food Fails
These five fast food meal options crossed the line from "unique offering" into "blurg!" territory.
Not content just crafting some of the finest fast food burritos available to man, Chipotle announced last month that it is investing in a new restaurant, Pizzeria Locale. This new pizza chain will allow hungry eaters to customize and consume ready-to-eat pizzas in under two minutes! We live in the future!
Though Chipotle restaurants aren't altering their menus to add pizza, this fast food annexation does remind us of a few times when other fast food chains over-reached. And although we wish Chipotle all the best with its speedy-pizza scheme, other such endeavors have resulted in epically great failures. So, we'd like to take a moment and reminisce about our top five favorite fast food fails.
Domino's Oreo Dessert Pizza
Take a standard pizza crust dough, cover it with a vanilla sauce, crumble handfuls of Oreo cookies on top, then drizzle more vanilla icing on top of that and you not only have the laziest way for a pizza joint to make a dessert, but a headstart on Type II diabetes. We get that Domino's wanted to stick to a "pizza" theme, but that's no excuse for this mess. Does Subway offer Fluff and Hershey's syrup on Wonder Bread and call it a "dessert sandwich?" Actually, that sounds kinda good. (We will sue you if you steal that idea, Subway.)
Burger King Table Service
In 1991, during the reign of spokesman Dan Cortese, Burger King thought it could get more fast food customers by slowing down a bit. For a more "quaint" experience, one could go into a BK and order a meal at the counter, like always, but then be served a plate of popcorn and told to sit down. A little while later, a dead-in-the-eyes "rapid food specialist" would unceremoniously drop a tray of food at your table, mumble "hereyouareenjoy" and scamper back to the kitchen.
Being slower than fast food and faster than a restaurant made this experience a weird gray area of dining. It didn't make Burger King's menu feel any more classy, but it sure made everyone who had ever eaten in a real restaurant regret choosing Burger King for dinner. Despite all of this, the practice was allowed to continue until 1993.
Wendy's Superbar
If you're of a certain age, you remember the salad bar explosion that happened in the 1980s. Seemingly overnight, every restaurant was allowing customers unfettered access to their greens. ("Sneeze guard" would enter the common lexicon shortly thereafter.)
In the fast-paced, cut-throat world of speedy food, one-upmanship became a way of life. Wendy's one-upped everyone, and then one-upped them again (two-upped, or is it exponentially four-upped?) by adding three bars to its establishments. One was the straight-up salad stuff (bacon bits, shredded cheese, ranch dressing). The other two: a taco bar and an Italian bar with pastas. This bounty of room-temperature foods lasted for about 10 years, until it was decided by Mr. Wendy that the cost and time it took to maintain and stock the bars was prohibitive.
Taco Bell's Bell Beefer
Created in the mid-70s to compete with McDonald's, Taco Bell's Beefer was essentially just the innards of a taco, but on a bun instead of in a taco shell. "Think outside the bun" indeed! What seemed like a convenient offering (Taco Bell already served all the fixings) turned into a headache when popularity of the dish fell off after 20 years on the menu.
McDonald's Mc ... Lots of Stuff, Actually
There were so many McDonald's failures it was hard to choose just one to talk about. There are the obviously-named McHotdog, McLobster Roll, McPizza, and McSpaghetti (none of those are jokes!), which all came and went. And then there was the McLean Deluxe, which, for the sake of creating a "low calorie" sandwich, replaced the fat in a hamburger with water and seaweed; one way to get fewer calories is to make something so unpalatable that customers only eat half, we suppose!
However, the number one most awful-sounding McCreation was the Hula Burger from way back in 1962. Designed to give meat-avoiding Catholics an option during lent, it was simply a slice of warm pineapple and a slice of cheese on a burger bun. There is nothing about this sandwich that doesn't sound gross.
However weird the attempts of fast food chains to grab new customers are, we're glad the R&D teams make the effort. It gives us something to write about, but also variety is the spice of life. (Even if that "spice" is a grilled pineapple slice with cheese.) All grossness aside, these attempts to expand menus do sometimes result in the creation of a McRib, an arguably delicious near-meat creation that fans literally beg McDonald's to bring back. So, it's no wonder that fast food joints keep trying new things; they want to create the next cult classic sandwich! As long as we get to keep trying weird and wondrous meals and services, we say, "carry on!" Or is that "carry out?"
Have a favorite fast food fail? Share it in the comments section below!
---
Related DealNews Features: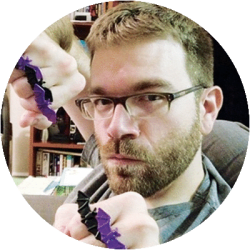 Contributing Writer
Jeff Somogyi is constantly trying to come up with ways to surprise and delight audiences the world over. He takes humor seriously ... too seriously. (Honestly, we've never seen him laugh ... it's kinda creepy.)
DealNews may be compensated by companies mentioned in this article. Please note that, although prices sometimes fluctuate or expire unexpectedly, all products and deals mentioned in this feature were available at the lowest total price we could find at the time of publication (unless otherwise specified).