Lights, Camera, Auction: 5 Terrible Product Placements in Movies and TV
From pizza brands to sneakers, we look back at companies' failed attempts at on-screen promotion. Poor Bing, it's on the list twice.
If you think the history of product placement in movies and TV goes back just a few decades, then you obviously haven't seen Wings — and we don't mean the 1990s TV show. Wings was a silent film about World War I, and the first flick to capture a best picture Oscar in 1929.
It had an astounding budget of $2 million. That's more than $27 million in today's money — not large by contemporary standards, but astronomical for 1929. But Wings' high aspirations didn't mean it was above showing a conspicuous close-up of a Hershey bar.
Fast-forward to 1982 and Hershey's does it again: After the company agreed to pay $1 million to promote E.T., Reese's Pieces were featured in the movie. And thus, Hershey's pulled off one of the most successful product placements in movie history.
But other companies haven't fared so well, from fast food chains to sneaker brands. Here's a look at the five worst attempts at product placement. (Spoiler: Poor Bing is on our list twice.)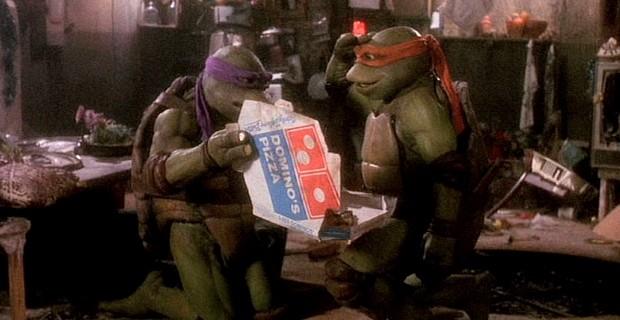 Teenage Mutant Ninja Turtles (1990): Make This Domino's to Go
Given its hip 1980s genesis in the comic book world, TMNT quickly headed down a slippery slope of merchandising that compelled kiddies to beg their parents for toys.
OK, so the four terrapins loved pizza. But did they have to favor a certain middle-of-the-road brand, plastering its box dead center on the screen? Come to think of it, those crime-fighting creatures were named after Italian Renaissance masters. Can't you just see the real-life Donatello dissing an Italian-made pie and opting for a strip-mall brand?
SEE ALSO: 10 Totally Bizarre Movie Tie-in Foods
The Amazing Spider-Man (2012): Bing's Blunder
There's a lot of search engine jealousy out there on the web: Yahoo long ago gave up its crown to Google, and Bing has suffered as the ugly duckling of the bunch. So you think a product placement for the search engine would help? Well, yes, if you need help laughing.
When Peter Parker (played by Andrew Garfield) surfs the web for the source of his spider-like abilities, Bing takes front and center on the screen, complete with its tagline: "Search less, do more."
That web-slinging backlash must've been something, as Parker switched to Google in the 2014 sequel. Either that, or the monolithic search engine ponied up more cash. Who knew Spider-Man could be bought?
Hawaii Five-0 TV Series (2010): Bing's Blunder, Part Deux
What is it with these Bing people? In the Five-0 reboot's first season, Chin Ho Kelly (Daniel Dae Kim) is looking at a strange work of art that he insists is worth $25,000. His partner, Kono Kalakaua (Grace Park), is skeptical, so he tells her, "You don't believe me? Bing it." (And she looks up the artist on a Windows Phone 7, natch.)
Now think about this: "Bing it." No one outside that episode, with the possible exception of a few Microsoft executives, has ever said that. You don't believe us? Bing it.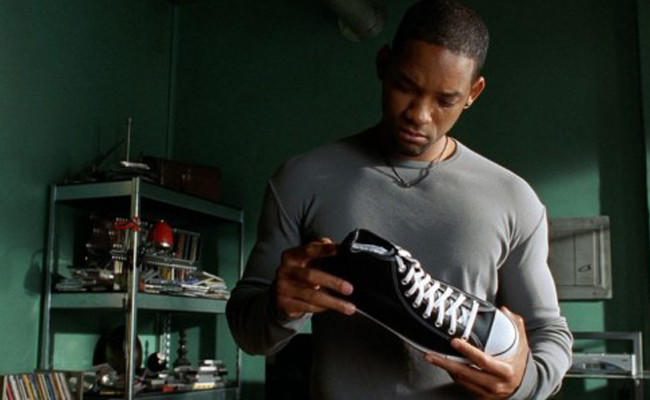 I, Robot (2004): Will Smith Dons Up-Chucks
The former Fresh Prince of Bel-Air and Philly boy is cool in just about everything he does, but when he shills for Converse in this film, it's enough to make any lover of Chuck Taylors think about donning a pair of knockoffs.
With Stevie Wonder's "Superstition" playing in the background, Smith slips on a slick pair of black leather Chucks. What happens next is a kick in the head: When Smith's on-screen granny says, "What is that on your feet?" Smith pulls his leg up on cue and gushes, "Converse All Stars, vintage 2004." That just happens to be the year the film was released, of course. When it comes to product placement, this one isn't exactly a sneaker.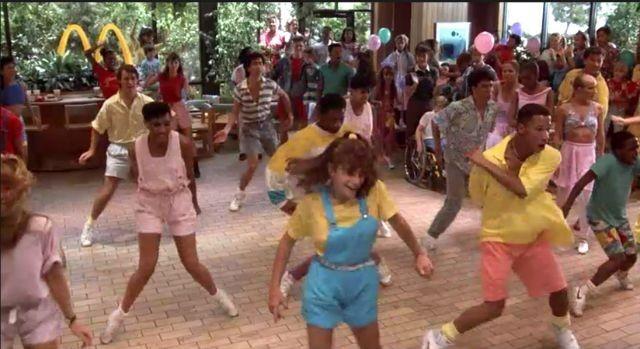 Mac and Me (1988): You Deserve a Break Today From This McDonald's Dance-Off
It may be the worst, most cringe-inducing product placement of all time. In this "comic" knockoff of E.T. — and the source of a favorite Paul Rudd video clip — there's a dance-off in a McDonald's parking lot.
To get the gist, think Footloose meets bad break dancing, throw in some frizzy perms and the obligatory boom box, and top it off with interior shots of Ronald McDonald doing his best white-clowns-can't-jump moves. In this context, the movie becomes one big product placement that, like some fast food, can induce bloating, nausea, and frequent sprints to the bathroom.
SEE ALSO: 8 Movie Days to Celebrate That Are Better Than Alien Day
Runner-Up: Transformers Wins for Quantity
If there's a dishonorable mention in this category, give it to director Michael Bay, who set the unofficial record for paid product placements in his 2009 film Transformers: Revenge of the Fallen — 47, to be precise. That's one placement for every three minutes or so of the film. And you thought infomercials were a drag!
But at least the products didn't transform themselves into big-ticket purchases — unless, of course, Bumblebee inspired you to go out and buy a Camaro, as General Motors handed Bay $3 million to feature its vehicles. As product placements go, it's an all-time hit-and-run.
Readers, what are your favorite examples of terrible (or genius) product placements? Let us know in the comments below!
---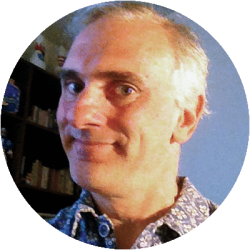 Contributing Writer
Lou Carlozo is a DealNews contributing writer. He covers personal finance for Reuters Wealth. Prior to that he was the Managing Editor of WalletPop.com, and a veteran columnist at the Chicago Tribune.
DealNews may be compensated by companies mentioned in this article. Please note that, although prices sometimes fluctuate or expire unexpectedly, all products and deals mentioned in this feature were available at the lowest total price we could find at the time of publication (unless otherwise specified).