Celebrities Have Worse Tax Problems Than You!
Ridiculous mansion shopping sprees and undeclared "Survivor" winnings? Sounds like the hijinks of our favorite celebrity tax evaders!
Once again, tax day has reared its ugly head and people across the nation are tearing their hair out in frustration over filling out their tax forms. ("Put what amount in box 11b? But I don't own farm equipment!")
Well, if you think you have it bad, consider the plight of celebrities. They make way more money than you and buy lots of weird stuff. It's no wonder so many of them get into trouble with the I.R.S.! You should thank your stars that your tax troubles are nowhere near those of these 10 celebrities.
Wesley Snipes
Along with being charged for conspiring to defraud the United States, Snipes was charged with failing to file tax returns for the years 1999 through 2004. Though acquitted of the conspiracy allegations (which sound way cooler than they really are), he was sentenced to three years for failing to file taxes for those years.
Snipes went to prison on December 9, 2010 and was released just last year, on April 2, 2013. That's two and a half years of his life gone because he couldn't be bothered to download TurboTax. Think of all the Blade movies we could have had in that time! What a waste.
Al Capone
A Brooklyn-born son of a barber and a seamstress, Alphonse Gabriel Capone would make his fortune as an alcohol salesman. A philanthropist, he gave back to the community with large donations to charitable causes. Oh, also, he was a murdering gangster and his alcohol business was during prohibition and highly illegal.
After years of trying to nail him on those prohibition and racketeering violations, the feds finally got him on tax evasion, of all things. It was the first and only time that the accountants were the coolest guys in the FBI offices.
Richard Hatch
This winner of the first season of Survivor was charged and convicted of tax evasion for failing to correctly report his winnings. Though used to surviving hostile environments, serving 51 months in prison without the benefit of an immunity idol must've been rough.
Chuck Berry
His preference for being paid in cash for live performances caught the eye of the I.R.S. who, correctly, assumed he was not paying the right amount of taxes. This led to Berry serving a short jail sentence in 1979 (four months) and having to complete 1,000 hours of community service.
That service was carried out as a series of benefit concerts, so it's not like it was hard labor. "Oh, I have to do what I love for 1,000 more hours?! How terrible!" (Though, we've never tried to "duck walk" for 1,000 hours. It's probably not that easy.)
Willie Nelson
In 1990, to cover the $16.7 million tax bill that the government handed him, Willie Nelson sold off some of his stuff and wrote a couple of albums. If only it were this easy for all of us to get out from under our tax burdens! (Sends the I.R.S. a couple of witty tweets instead of back taxes, gets arrested.)
O.J. Simpson
Since 2007, Simpson has racked up $515,007.10 in unpaid taxes. It just seems excessive, to us. After all, you'd think with $515K+ owed, the I.R.S. could overlook that last 10 cents! Thankfully, this huge tax bill is the only thing Simpson has to worry about ... oh, right.
Bud Abbott and Lou Costello
In the 1950s, just as their popularity was on the decline, the I.R.S. came a-knocking and was all, "Who's on first? Your back taxes. No, we don't get it either, we're the humorless I.R.S." To cover the costs, both of them were forced to sell off most of their assets: their homes, rights to some of their movies, and rights to their television show. The irony is that the one story we have about a pair of comedians is the least funny of the bunch.
Leona Helmsley
Turns out that asking contractors (who are renovating your vacation home) to lie on the invoices — and then reward them by not paying them at all — will lead to suspicions about your financial dealings. Such was the case with the Helmsleys. Since her husband was deemed unfit to stand trial, Leona was the one convicted on counts of conspiracy to defraud the United States, tax evasion, filing false tax returns, and other charges. It didn't help that her housekeeper testified that she overheard Leona say, "We don't pay taxes. Only the little people pay taxes" — now that's how you endear yourself to a jury!
Leona was sent to prison on April 15, 1992 (yep, tax day!) but would only serve 19 months of a 16 year sentence, plus two months of house arrest. We guess only the "little people" complete their jail sentences?
Nicolas Cage
The I.R.S. would very much like Nic Cage to pay the $6.2 million in federal income tax that he owes them on purchases made in 2007. How do you wind up owing the government over $6 million? A "shopping spree" in which you purchase three additional homes (including the "LaLaurie House," an infamously haunted house in Louisiana), 22 automobiles, jewelry, artwork, and other "exotic items."
One of these "exotic items" was the skull of a Tarbosaurus (a dinosaur), which Cage paid $276,000 for. To pay off part of this debt, Cage sold his Action Comics #1 at auction for $2.16 million, making it the second time Nic Cage lost out on Superman.
We suppose the lesson here is that we should all take comfort in the fact that we don't have the tax problems of the rich and famous. Nah, forget that! We wanna own a dinosaur skull!
---
Related DealNews Features: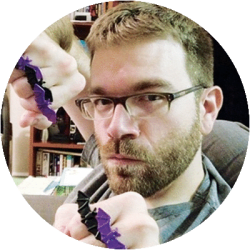 Contributing Writer
Jeff Somogyi is constantly trying to come up with ways to surprise and delight audiences the world over. He takes humor seriously ... too seriously. (Honestly, we've never seen him laugh ... it's kinda creepy.)
DealNews may be compensated by companies mentioned in this article. Please note that, although prices sometimes fluctuate or expire unexpectedly, all products and deals mentioned in this feature were available at the lowest total price we could find at the time of publication (unless otherwise specified).