May the Fourth Be With You: 10 Incredibly Odd 'Star Wars' Collectibles
To celebrate Star Wars Day, we've rounded up weird (and awesome) ways for Jedi and Sith lovers alike to spend their cash. Darth Vader poncho, anyone?
As any Star Wars fan could tell you, we never run out of things to collect. Over the last four decades, thousands of Star Wars items have been sold to wannabe Jedi Knights, from action figures to video games to toiletries. (No, really. Toiletries.) Since today is May 4, aka Star Wars Day — as in, "May the Fourth be with you" — we're looking at the coolest and weirdest ways that Jedi and Sith lovers alike can spend their dough.
So we've rounded up when we believe to be ten of the weirdest collectibles in Star Wars history. Many of them are still available on eBay, so if you have the time, the dime, and the space to store super goofy stuff, go ahead and bid. You'll make the rest of us oddly jealous.
10 Bizarre Star Wars Items on eBay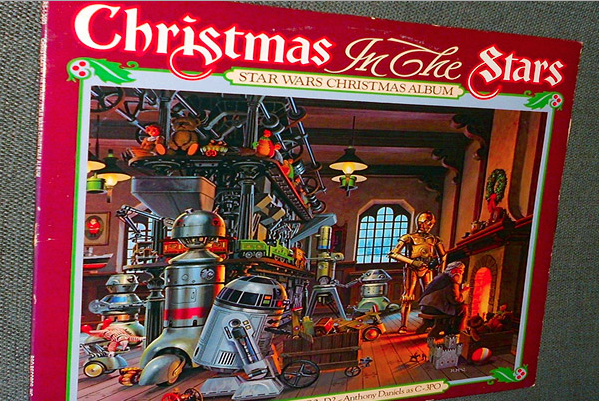 The Star Wars Christmas Album
Year: 1980
Asking Price: $66.29
The album is every bit as cheesy as the cover suggests, featuring such timeless classics as "Christmas in the Stars," and of course, "What Can You Get a Wookiee For Christmas?"
The bulk of the songs were sung by C-3PO himself, but here's a neat piece of trivia: This album features Jersey rocker Jon Bon Jovi's first professional recording. (He handled the lead vocals in R2-D2's "We Wish You A Merry Christmas." How's that for an auspicious debut?)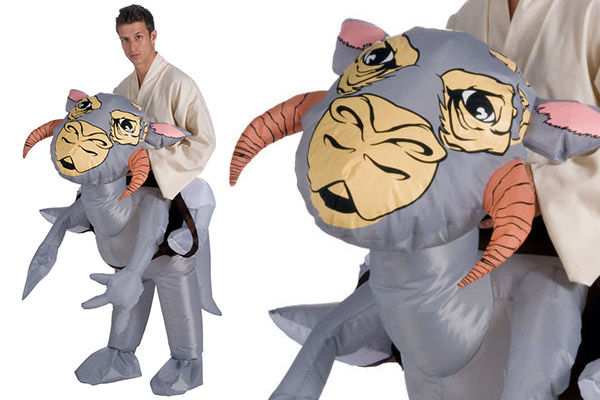 Inflatable Tauntaun Costume
Year: 2013
Asking Price: $41.99
You remember the Tauntauns, don't you? Those weird kangaroo-horse things that the Rebels rode in The Empire Strikes Back? (Come on! Who could forget Han Solo slicing a dead one open so poor Luke Skywalker could warm up in its steaming entrails?)
Well, here's your chance to ride one yourself! If we're being honest, this costume makes it look more like its wearer has merged with a Tauntaun, which is exactly the kind of nightmare fuel that's just perfect for Halloween.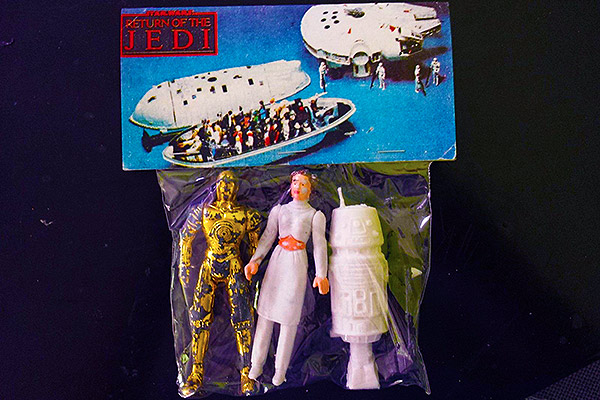 Bootleg Star Wars Figures
Year: Unknown, but probably 1984
Asking Price: $19.99
Countless times, the Star Wars name has been "borrowed" by companies who didn't want to bother with any pesky licensing fees. This was especially true in foreign markets, where official Star Wars merchandise was mimicked often — and usually badly.
While made to capitalize on Kenner's famous Star Wars action figure line, these Mexican bootlegs were crafted from cheaper materials, and bore only perfunctory resemblances to the characters they were based on. (That one-legged white droid is especially puzzling!)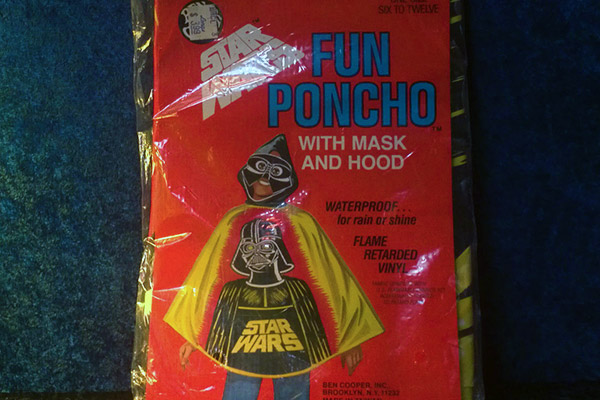 Darth Vader Fun Poncho
Year: 1977
Asking Price: $30
Whether worn as a Halloween costume or merely to stay dry, this vintage Darth Vader poncho makes a bold fashion statement. Notice how the hood gives the wearer the appearance of being Darth Vader's pitiable backwoods cousin.
The "Fun Poncho" was produced by the Ben Cooper company, which also made a more traditional line of Star Wars Halloween costumes. (You know, the smock-and-mask combos that came in the little window boxes? Come to think of it, those weren't too dissimilar from this poncho!)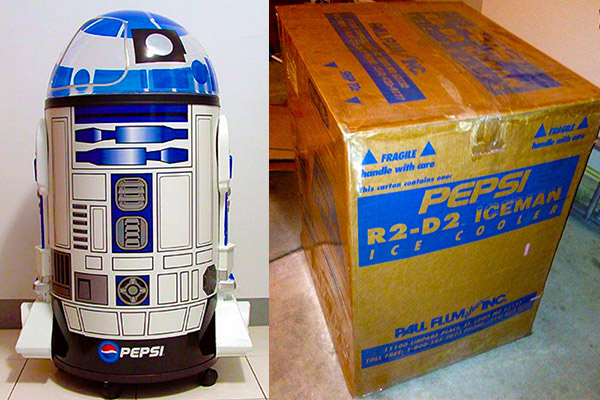 R2-D2 Pepsi Cooler
Year: 1999
Asking Price: $999.99
With The Phantom Menace kicking off the Star Wars prequel trilogy in 1999, fans were treated to all sorts of new Star Wars merchandise. Unfortunately, one of the things we wanted most wasn't really for sale!
This 48" R2-D2 Pepsi cooler was intended only as a store display, but many of them have popped up on eBay in the years since. (Often still unassembled in their original mailing boxes!) They're expensive as heck, but for the Star Wars fan who has everything, a four foot R2-D2 that keeps Pepsi cold is worth every penny.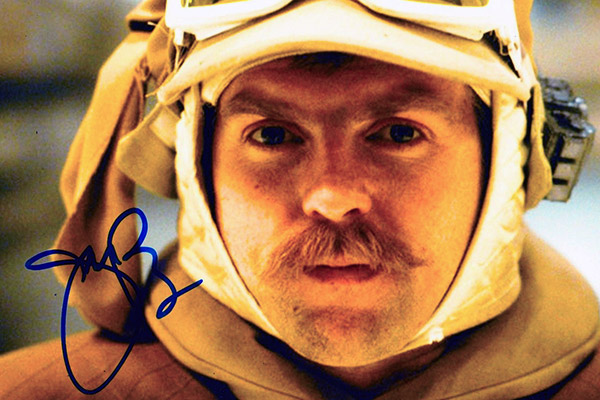 Year: Unknown
Asking Price: $85
Wait, what? John Ratzenberger? Cliff Clavin from Cheers?! Yes, it's true: Our favorite sitcom mailman had a bit part in The Empire Strikes Back, and those few seconds of screentime made Mr. Ratzenberger's autograph a hot commodity among certain Star Wars collectors.
(It's worth noting that nearly everyone who appeared in a Star Wars movie has gotten the same treatment. It doesn't matter if the actor was only onscreen for two seconds under forty pounds of latex. If you're ever in a Star Wars movie, expect a nice second career signing glossy 8x10s.)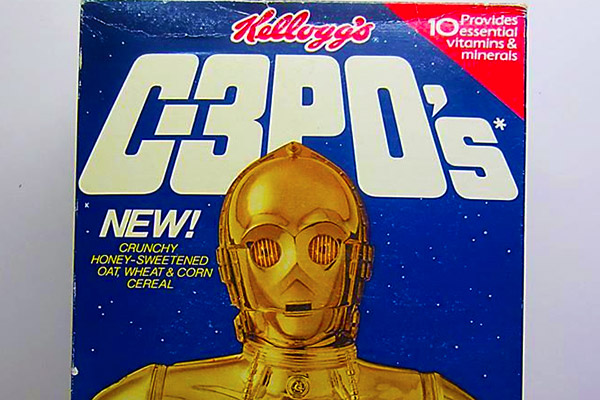 Sealed Box of C-3PO's Cereal
Year: 1984
Asking Price: $400
A handful of collectors were wise enough to hold onto these boxes for more than thirty years, and their reward is the chance to demand hundreds of dollars for extremely expired cereal. C-3PO's Cereal consisted of little corn-and-oat "droid parts," which looked a bit like brass knuckles for two-fingered men.
Empty boxes can be found for reasonable prices, but if you're aching for one with the presumably weevil-infested breakfast cereal still inside? Expect to pay big bucks!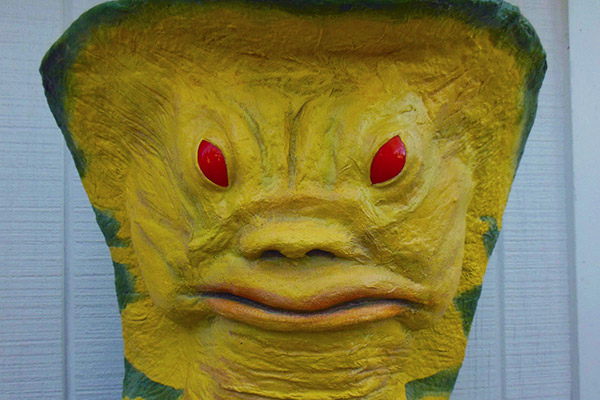 Lifesized Amanaman Statue
Year: Unknown
Asking Price: $3,757.49
According to the seller, this baby is one of a kind. We tend to believe him, because there really can't be that big of a market for six foot Amanaman statues that cost thousands of dollars.
Amanaman was one of the weirdos barely visible among Jabba the Hutt's crew of alien cronies. You could watch Return of the Jedi ten times and still not notice him. Even so, his exceptionally bizarre appearance (even by Star Wars standards) has made the character a cult favorite.
If you're a Star Wars fan who's won the lotto, keep Amanaman in mind. You'll be the envy of everyone who recognizes him — and you'll absolutely terrify everyone who doesn't.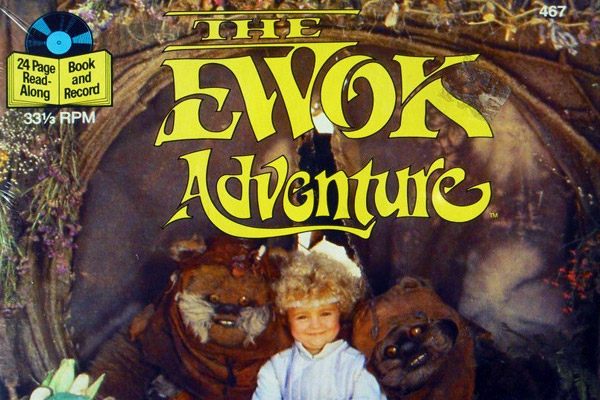 Ewok Adventure Book & Record Set
Year: 1984
Asking Price: $64.99
Oh, this one's a treat! These old book & record sets (where kids read along to stories spoken on an LP) hit us right in the nostalgia, but this is an especially rare version, based on The Ewok Adventure!
What? You've forgotten The Ewok Adventure? That was the first of two made-for-television Star Wars movies, starring the lovable Ewoks from Return of the Jedi. It debuted in prime time back in '84, and while we wouldn't say that critics baked any cakes in its honor, it was a nice bonus for younger Star Wars fans.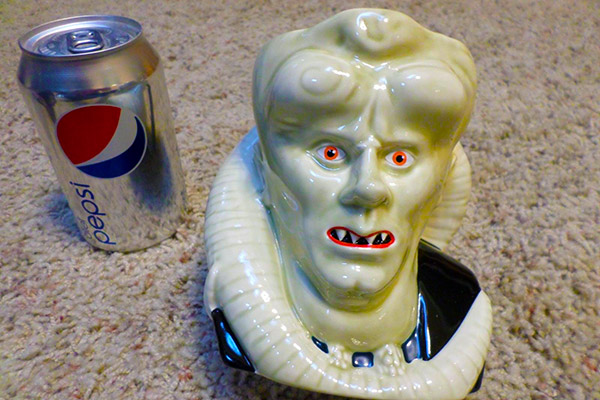 Ceramic Bib Fortuna Mug
Year: 1996
Asking Price: $25
Fans should remember Bib Fortuna as the head-tentacled alien who offered bad advice to Jabba the Hutt. Who wouldn't want to drink coffee from his severed head?
There was a whole series of these ceramic mugs available. Despite their odd appearance, the weirdest thing about them was how much liquid they could hold. It wasn't so much a "cup of coffee" as "two and a half cups of coffee." We suppose that's good, in a way. If you're the kind of person who'd enjoy seeing Bib Fortuna first thing in the morning, why not see him for an extra ten minutes?
With all-new Star Wars movies on the horizon, we can only imagine what other sorts of strange merchandise will follow in the years to come. In the meantime, if any DealNews readers think we missed a crucial piece of bizarre bric-a-brac from Star Wars history, tell us about it in the comments!
---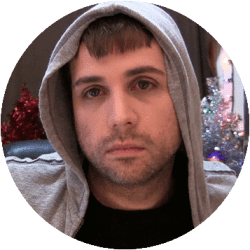 Contributing Writer
Matt has been blogging about geeky nonsense since early 2000. You can view more of his weird work on
Dinosaur Dracula
, or follow him on Twitter
@dinosaurdracula
.
DealNews may be compensated by companies mentioned in this article. Please note that, although prices sometimes fluctuate or expire unexpectedly, all products and deals mentioned in this feature were available at the lowest total price we could find at the time of publication (unless otherwise specified).