Help Yourself to Free Self-Help on Amazon
Self-help books are big business, raking in billions of dollars a year. Does hearing that make you depressed? Well, there's probably a self-help book out there that'll teach you how to cope with feeling depressed over self-help book statistics. The fact is, there are so many self-help books that you probably don't realize the scope of things you could cure yourself of just by reading them.

Sure, we could throw together a list of niche self-help books, but since this is dealnews, we wanted to go one step further and combine the glut self-help eBooks with the glut of free eBooks! At least, they were free when we first found them and they probably will be again. Let's all just relax and have fun!

Make Extra Money Flipping Houses While on Vacation
You didn't even know that spending your down time with your family was a problem? Why hang with those losers pool-side when you could be flippin' and making money?! Financial wealth and less time with your family is a win/win, bro!




How to Read a Book in the Best Way
You'll read this book all wrong and not get anything from it because you never learned how to read a book the "best" way. It's ironic and frustrating.




Is $.99 the New Free?
Clearly not, since we saw the author offering this book for free! (Discounted down from 99 cents.)




How to Make the Best Choice in Friends
Did you know that all your friends are jerks? You do now! It's them who have been holding you back. Find better ones, quickly!




Kindle Buffet: Find and download the best free books, magazines and newspapers for your Kindle, iPhone, iPad or Android
Well, we found your free eBook, so we think we're doing OK, thanks!




EASILY GETTING RID OF FRUIT FLIES!: Discover The Safe And Easy Way To Prevent And Stop The Infestation Of Fruit Flies In Your Home Easily Without Dangerous Chemicals
If the advice is to "stop eating fruit ... or start eating flies!" you should ask for your money back.




STOP BARKING NOW!
We wonder if the techniques described also work on dogs.




Eye Catching Ebook Covers Easily
SPOILERS: A giant eyeball is as eye-catching as it gets, so put giant eyes on all your covers!




25 Cool Things to Do with Wine Bottles
Though technically not "self help" it should make you feel better about all the empty wine bottles your lifestyle seems to provide for you. So that's a positive change!


There you have it! If you read each of those eBooks, you'll be on your way to becoming a better person. Somehow. Thanks, Amazon!

What about you guys? Do you have any niche hang-ups that you think a free eBook from Amazon could cure? Tell us about it in the comments below!
---
Related dealnews Features: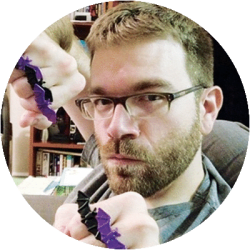 Contributing Writer
Jeff Somogyi is constantly trying to come up with ways to surprise and delight audiences the world over. He takes humor seriously ... too seriously. (Honestly, we've never seen him laugh ... it's kinda creepy.)
DealNews may be compensated by companies mentioned in this article. Please note that, although prices sometimes fluctuate or expire unexpectedly, all products and deals mentioned in this feature were available at the lowest total price we could find at the time of publication (unless otherwise specified).