10 Darth Vader Collectibles That Will Bring You to the Dark Side
Before The Force Awakens hits theaters on December 18, let's remember the Star Wars franchise's past through a series of strange Darth Vader collectibles.
Hey, have you heard about The Force Awakens? We're pretty sure you have. Even if you've somehow been able to ignore the many TV spots, media events, and screams of joy from your buddies about this movie, it seems like every store in the country is currently littered with Star Wars merchandise.
Of course, this is nothing new. Dating back to the late '70s, every Star Wars movie has signaled a massive merchandise push, spanning everything from toys to clothing to books to ... toasters? Yes, us Star Wars fans are a rabid bunch!
To illustrate that point, we've scoured eBay for 10 Darth Vader-themed collectibles that you've probably never heard of, with links to the items for reference. For a guy who spent most of his screen time being a rotten jerk, we sure do love the Dark Lord of the Sith!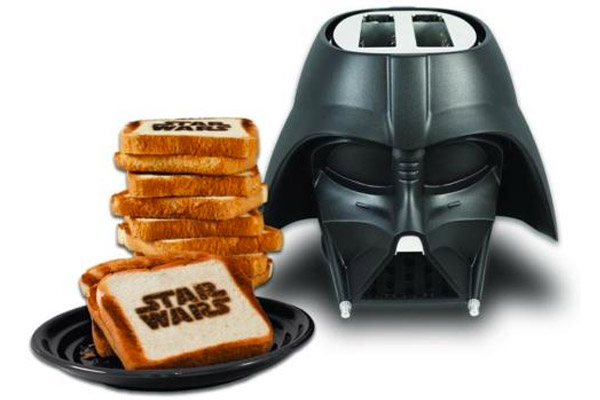 Darth Vader Toaster
Asking Price: $49.99
No one asked for it, but nobody's complaining, either. This official Darth Vader toaster literally brands bread with the Star Wars logo — a feature that's only slightly less cool than the idea of toast popping straight out of Darth Vader's head!
Oh, to be a fly on the wall at the pitch meeting that brought this product to fruition. Never doubt the powers of persuasion!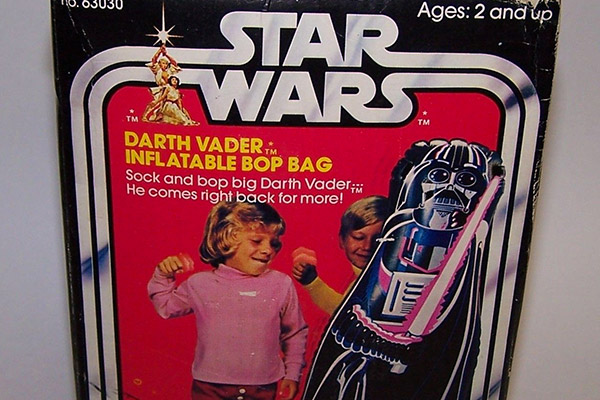 Vintage Darth Vader Bop Bag
Asking Price: $259.99
For kids of the late '70s, beating the heck out of an inflatable Darth Vader was the number one way to relieve stress. This "bop bag" reimagined the Dark Lord as a sort of oversized bowling pin, ready and willing to take your best jabs.
No matter how hard you hit him, Vader would pop right back into place, practically begging for more punishment. Since everyone who owned this toy saw what he did to poor Obi-Wan, we were only happy to oblige.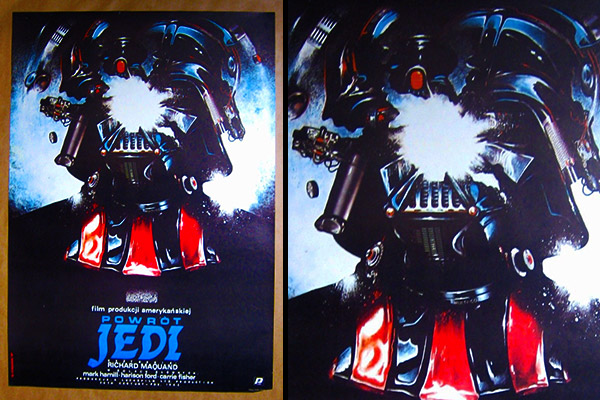 Polish Return of the Jedi Poster
Asking Price: $480
There's a big market for vintage foreign movie posters, which often forced artists to "visualize" a film with little info or direction. In this famous case, a Polish artist was charged to promote Return of the Jedi with "Darth Vader dies" being his sole point of reference.
The end result was this dramatic and aggressive work of art that's become a favorite among Star Wars fans. Reproductions of this poster can be found cheap, but this is the real-deal version from 1984 — hence the high price!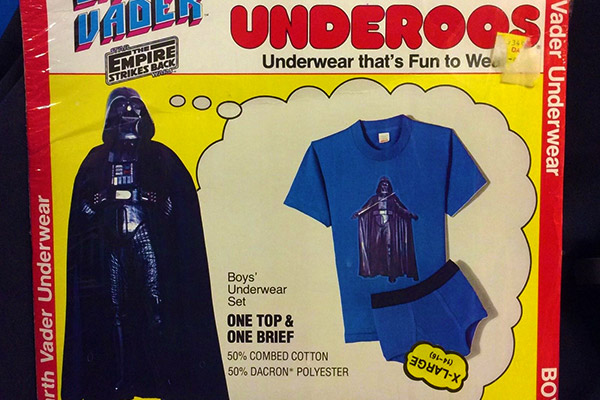 Vintage Darth Vader Underoos
Asking Price: $112.05
If you grew up loving your Underoos, here's the good news: This Darth Vader edition has actually been re-released, so you can find fresh sets at affordable prices, and in adult sizes to boot!
Of course, shown above is a true vintage set, made in 1979. It's one of the oddest Darth Vader collectibles out there, but for people of a certain age, the set conjures up some powerful memories. After all, Underoos made putting on our underwear feel like we were putting on our Halloween costumes!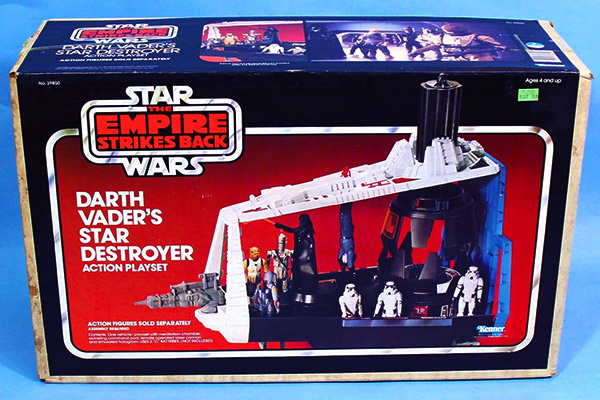 Darth Vader's Star Destroyer Playset
Asking Price: $2,500
Made in 1980 as part of Kenner's Star Wars toy line, the justification for this one's high price is the fact that it has never been removed from the box. (And trust us, whoever buys this thing is not going to change that.)
The Darth Vader's Star Destroyer playset naturally cut a few corners, as the film's version of the shuttle would've been impossible to scale down otherwise. Its neatest touch was the inclusion of a "mediation chamber," where Darth Vader could chill in silence while practicing his evil magic.
We've seen other sealed Star Destroyer playsets sell for half of this one's asking price, but considering its original retail price of around $18, it's a huge hike no matter how you slice it!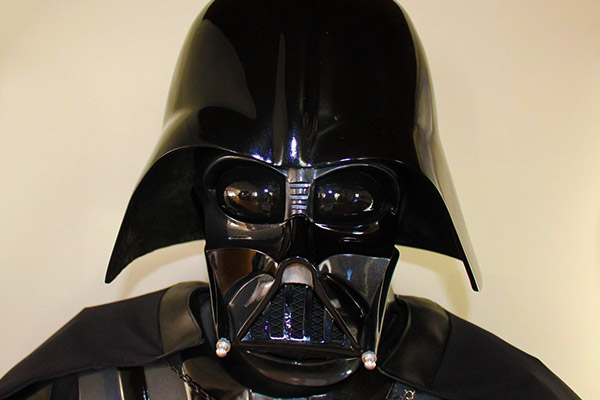 Life-Sized Darth Vader Prop Replica
Asking Price: $6,200
This is an officially licensed 1:1 scale replica of Darth Vader, so you'd be buying Darth Vader in as literal a way as allowable. The details are film-faithful and top notch, right down to the real blinking lights on Vader's chest.
The replica is specifically meant to represent Vader as he was seen in The Empire Strikes Back, and that works for me. Vader was at his most memorably mean in that movie. If you're gonna slug a giant Darth Vader statue into the corner of your living room, you want him to look as menacing as possible. You'd feel more intimidating by proxy!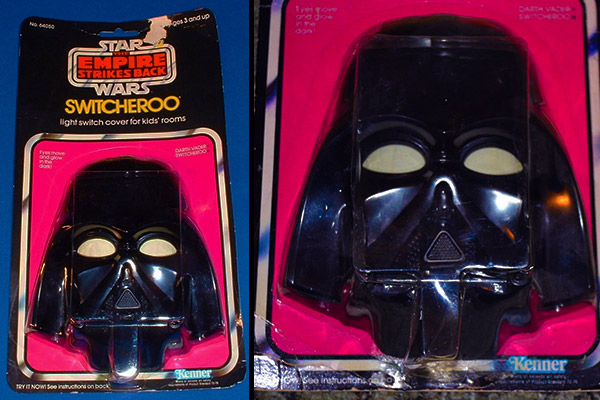 Vintage Darth Vader Switcheroo
Asking Price: $134.99
This is just one of several vintage Star Wars Switcheroos that you can find on eBay. These were character "heads" that fit directly over standard light switches, I suppose to make the act of turning on one's bedroom lights just a bit more fun?
These Switcheroos don't sell for much loose, but they're pretty tough to find sealed in their original packages. If you're having a hard time imagining someone paying this much money for a plastic light switch cover, you probably haven't spent enough time around Star Wars fans.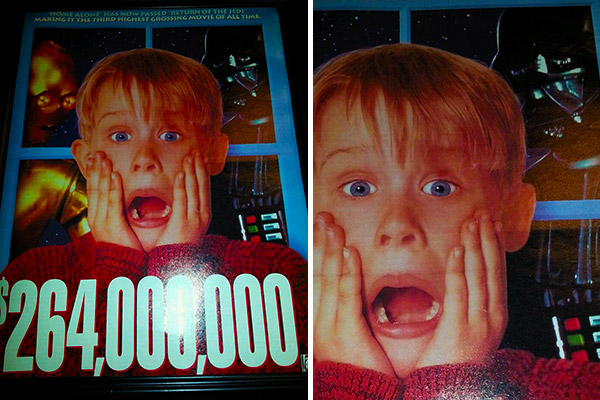 Home Alone vs. Return of the Jedi Poster
Asking Price: $52.25
By far the most ephemeral collectible on this list, I'm almost hesitant to mention it here, in fear of creating a bidding war. Yeah, I'm pretty sure that I need to own this.
To celebrate Home Alone's surprise box office success, Fox devised this clever poster to hang in theaters during the tail end of its run in theaters. Here we learned that little Kevin McCallister's adventures somehow surpassed the theatrical profits of Return of the Jedi!
(Look closely and you'll spot Vader seething with rage from behind the window. Using Darth Vader and C-3PO as stand-ins for Joe Pesci and Daniel Stern was all kinds of awesome.)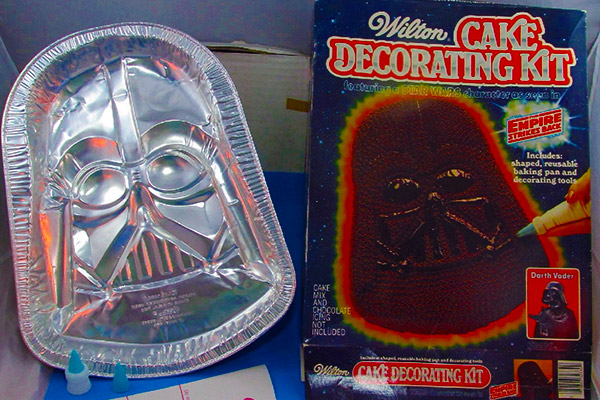 Vintage Darth Vader Cake Decorating Kit
Asking Price: $24.99
Remember when Wilton used to make cake pans shaped like every imaginable character? There's a big market for them on eBay, in part because they're now considered "collectibles," but also because the pans work just as well now as they did decades ago!
To the victor go the spoils: The lucky winner of this auction won't just receive an obscure Darth Vader collectible, but also the means to bake one hell of a cake!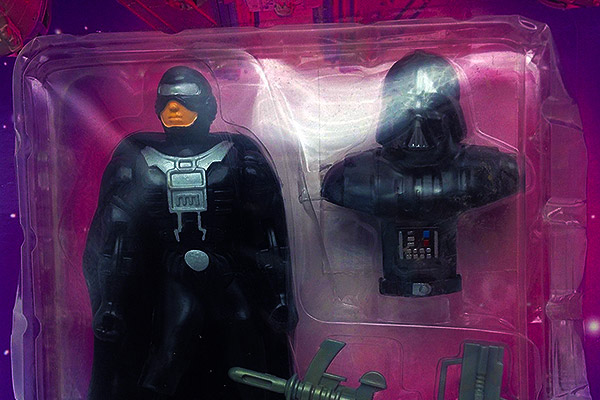 Knockoff Darth Vader Action Figure
Asking Price: $59.35
There's a seemingly endless number of "knockoff" Star Wars figures out there. The bulk of them were made to resemble the genuine articles as closely as possible, but more interesting are the ones that — for lack of a better term — threw caution to the wind.
Here, the so-called "Galaxy Cop" reimagined Darth Vader as a futuristic police officer. I have no idea how they got from point A to point Z on this one. While such toys were made overseas, you'll still find similar ones at today's flea markets, infringing on copyrights and turning "ugly" into an art form.
Say money's no object. Which of these 10 Darth Vader collectibles is right for you? Do you go for the gold with a life-sized replica, or do you see more charm in a dented old cake pan? Tell us in the comments below!
---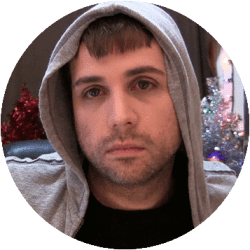 Contributing Writer
Matt has been blogging about geeky nonsense since early 2000. You can view more of his weird work on
Dinosaur Dracula
, or follow him on Twitter
@dinosaurdracula
.
DealNews may be compensated by companies mentioned in this article. Please note that, although prices sometimes fluctuate or expire unexpectedly, all products and deals mentioned in this feature were available at the lowest total price we could find at the time of publication (unless otherwise specified).