Celebrate the Final Season of 'Mad Men' With Our Savings Game
Here's how you can turn retro glamor and moral depravity into a nest egg!
While other sites are suggesting drinking games for this week's final season premiere of Mad Men, we here at DealNews think that saving money is the most fun activity of all. So grab your wallet and your College / Vacation / TV Fund Jar, and join us in the DealNews Mad Men Season 7 Savings Game.
We made some predictions for what could happen this season. For each one that's correct, throw some money in the Savings Jar. The most likely occurrences earn you the least; big shockers will demand more moolah.
Put $1 in the Savings Jar if…
Don and Megan are separated. Things have always been rocky between them, and when Don welched on his promise to take Megan to Hollywood, it seemed like she finally had enough.
Peggy chews out an underling. With Ted Chaough in LA and Don "on leave" from Sterling Cooper, Peggy is finally set to hold the reins of power.
Sally meets up with Glen to do something rebellious. It's the 60's, she's a teen, etc.
Don drinks, lies, and womanizes. Despite the last season finale's apparent breaking point for Draper, the series has been defined by Don's inability to change.
You laugh out loud at someone's new outfit or hairdo.
The show (which should take place in 1969 this season) mentions Woodstock, the Moon Landing, Nixon, the Stonewall Riots, or Vietnam.
Put $5 in the Savings Jar if...
Don goes to an AA meeting. Maybe, this time, he's serious about changing. And the group had been around for over three decades by 1969.
Stan, Ken, and Harry break off and form their own agency. They each had some major grievances by the end of last season.
Joan actually starts getting treated like a partner.
The show references The Beatles (again), the deaths of Eisenhower or Conrad Hilton, Jr. (Don's buddy's son), Chappaquidick, or Altamont.
Put $20 in the Savings Jar if...
Bob Benson becomes CEO (and still brings everyone coffee).
Ginsburg quits upon hearing Led Zepplin for the first time and becomes a roadie for the band.
The show uses CGI to make Betty look skeletally thin as the result of an eating disorder.
Sal returns.
Don has facial hair and a mop top.
Megan gets killed by Charles Manson. With Megan possibly on her way to Hollywood and a confirmed connection between her and Tate, it's plausible. And it's the kind of dark thing series creator Matthew Weiner would do.
The show references some of 1969's less-remembered events: the first ATM debuting in the US, Michigan upsetting OSU in the Rose Bowl, Allegheny Airlines Flight 853 crashing in Indiana. (The show does love both air travel and accidents.)
Put $50 in the Savings Jar (and Scream at Your TV) if...
Don actually died in that swimming pool.
Anyone turns out to be a ghost.
It was all a dream...
Throw in Some Change When...
Someone drinks or smokes. (It will add up.)
By following these simple rules, you'll turn the retro glamor and moral depravity of Mad Men Season 7 into a tidy nest egg. So raise an Old Fashioned, and toast to happy savings!
---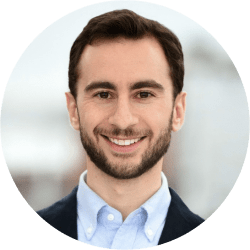 Contributing Writer
Ben was Features Editor at DealNews from 2014 to 2017, when his shopping insights were highlighted by Good Morning America, Reuters, the Washington Post, and more. Though no longer in consumer news, Ben still loves getting a great deal (and writing about it!).
DealNews may be compensated by companies mentioned in this article. Please note that, although prices sometimes fluctuate or expire unexpectedly, all products and deals mentioned in this feature were available at the lowest total price we could find at the time of publication (unless otherwise specified).