Black Friday, Twitter & Facebook: Ads and Promotions, But No Sales
Facebook, Twitter, Pinterest, and Google+. Three of these are vibrant social communities where information — or at least cute cat pictures — are passed back and forth. "Likes," and RTs, +1s, and pins fly with reckless abandon as people talk about what they love and what they hate. So it's no wonder that when it comes to something like Black Friday, which is so monetarily lucrative to merchants, that stores are going to try their best to capitalize on these communities. But, Black Friday and social media have had a rocky relationship as of late, and the way stores use popular social sites remains in flux. However, we can say that, based on what we know from previous years, we do know that retails will use social media to accomplish the following Black Friday marketing tasks.
To Distribute Ads
As in past years, merchants will continue to rely on social media to disseminate information about Black Friday sales. Twitter and Facebook are cheap ways to create buzz — certainly cheaper than sending a paper circular to every house in the country. In fact, Macy's has already taken to Pinterest (of all places!) to post a sneak peek of its Black Friday ad. Even though the deals aren't mindblowingly exciting, the ad did garner the store some buzz, as the Internet talked about this interesting approach: again, Pinterest?!
However, more and more companies are realizing that placing ads via social media outlets doesn't mean fans or followers will become shoppers. In fact, Macy's Black Friday Pinterest ad did not even require users to follow Macy's to see it. But unlike last year, we don't expect to see as many of these "free to view" ads. Last year stores began offering early access to Black Friday ads or sales in exchange for more information than a Facebook Like provides. We saw Lowe's require customers to sign up for its free MyLowe's card to get a sneak peek of its Black Friday sales; Sears gave its Shop Your Way members early access to its Black Friday doorbusters deals; and you had to be a REDcard cardholder to gain early access to Target's Black Friday deals.
So, even though many stores will still post "free" ads up on Facebook and Twitter (because it's easy) consumers should expect more merchants getting to know you better before your see their early Black Friday ads.
Not to Make Money!
According to an IBM study, of the $1.04 billion in online sales made on Black Friday, Facebook, YouTube, and other social outlets only accounted for 0.34% of that figure. OK, that's still $3,536,000, but it's a drop in the bucket. Worse yet, of that meager sum, sales made through Twitter on Black Friday accounted for exactly 0% of the total.
However, there is no study information available on the number of people who went to a retail store on Black Friday to make a purchase because of a tweet they saw online. In that case, Twitter would have had a direct effect on Black Friday sales, but not on online sales.
Garner Brand Awareness
Instead of merchants making their entire Black Friday ads or tweeting about deals available online, we instead expect social media to be used to grow awareness about the specific items stores will offer. We've already heard from Kohl's new Chief Customer Officer, Michelle Gass, who said she'll be using social media and digital means to keep fans informed about sales and promotions throughout the holiday season; we think this is a tactic that other retailers will follow suit in.
Merchants already know they can't convert tweets into a sales, so why try? Retailers also know that it's all too easy to Unlike a store page on Facebook, leaving social media a mere free soapbox from which stores can shout about their sales. But even if one person sees a promotion and says, "Sure, I'll go to the store!" that's a sale conversion for them. So instead of "Click here to buy a Black Friday Toaster for $5," you'll likely be seeing a lot more: "Black Friday Toasters for $5 at your local Walmart!"
It's important to realize that awareness cuts both ways. Merchants will surely use social media to make customers aware of them, but they're also going to be very aware of you, too. These days, consumers are more and more likely to take to social media to talk about purchases and shopping experiences, and you can bet that stores active on Facebook and Twitter will be keeping tabs on who says what about which sales. And while this is not a particularly interesting practice on a immediate level, in the long term it could mean better Black Friday ads, as stores will tailor offerings based on which sales and deals people praise.
All told, this year you're more likely to see more Black Friday announcements on social media, but fewer ads in exchange for Likes or follows. As for browsing early Black Friday ads online, well, we expect retailers to require much more than an ephemeral like; they want your SOUL! (Or for you to sign up for a credit card, which can be just as bad!) What do you guys think about the ways social media is used during the Black Friday season? Tell us in the comments section below.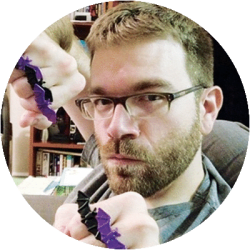 Contributing Writer
Jeff Somogyi is constantly trying to come up with ways to surprise and delight audiences the world over. He takes humor seriously ... too seriously. (Honestly, we've never seen him laugh ... it's kinda creepy.)
DealNews may be compensated by companies mentioned in this article. Please note that, although prices sometimes fluctuate or expire unexpectedly, all products and deals mentioned in this feature were available at the lowest total price we could find at the time of publication (unless otherwise specified).