8 Gimmicks That Retailers Use to Get Shoppers Into Their Stores
Online shopping is here to stay; in fact, e-commerce is slated to generate $262 billion this year — a 13% increase from 2012 — causing brick-and-mortar stores to scramble for a piece of the pie. And catch up they must, as forecasters predict online sales will outpace sales at retail stores for the next five years.
So what's a traditional retailer to do? While many stores have opted to take on e-commerce giants like Amazon head-on, others have resorted to different tactics in order to recapture the consumer's eye. From virtual dressing rooms to pimped out electronics stores, we've rounded up a few of our favorite (and not so favorite) ways retailers are using gimmicks to vie for your money.
Fry's Makes a Theme Park Out of Its Stores
Although it's not entirely clear why Fry's Electronics started giving each of its stores a central theme, one thing's for sure, anybody who's been to one of their locations will never forget the experience. With themes that vary from ancient Egyptian tombs to retro 1950s UFOs, shopping at a Fry's store is akin to being in a theme park.
Gimmick Rating: We don't mind the quirky themes so long as the prices are head-turning as well.
Souped Up Mirror Gives Shoppers a Virtual Dressing Room
Japanese clothing retailer Uniqlo (pronounced YOU-nee-klo) is living up to its namesake giving its in-store shoppers an experience they won't soon forget. At its San Francisco flagship, you'll find Uniqlo's "magic mirror": a mirror that lets shoppers virtually try on different clothing. The 60" Sharp display makes smart use of the Kinect's color-changing engine to pull off its magic. Better yet, the display also takes portraits that you can instantly share on Facebook or Twitter.
Gimmick Rating: With its Jetsons-like changing room, Uniqlo is combining tech and social media to get young shoppers back inside stores.
Attack of the Scantily-Clad Models
Sex sells. Whether it's at the movies, on TV, or in magazines, there's no cheaper or quicker way to grab someone's attention than with half-naked models. And that's precisely the motto at Abercrombie & Fitch. The company, which hasn't been having its best year, periodically greets its in-store shoppers with the same half-naked men found in the store's ads. To be fair, Abercrombie is one of many stores that uses sex to entice shoppers, but given the company's recent PR blunders, you'd think it would try harder.
Gimmick Rating: Yes, sex is ubiquitous, but many retailers have successfully lured shoppers in without appealing to their prurient senses.
Bring on the Freebies
From donuts to T-shirts, few shoppers can resist free swag. So it's no surprise when we see brick-and-mortar stores handing out refreshments and other goodies to would-be shoppers. In the New York area, Bob's Discount Furniture is one of many stores that gives its customers complimentary coffee and donuts just for setting foot inside the store.
Gimmick Rating: A well-fed shopper is a happy shopper, so we have no qualms about in-store swag. That is, as long as we don't have to jump through hoops to obtain them.
Santa Takes New York
One of the easiest ways to attract shoppers is via their children, and few stores have mastered that technique as well as Macy's. Every year the store grinds New York to a halt with its Thanksgiving Day Parade, which officially marks the start of the holiday season. In the weeks that follow, the store dresses its windows in elaborate Christmas decorations complete with a Santa Claus that lures children (and their parents) into the store. One of the original retailer gimmicks, department stores nationwide have been employing this holiday tactic for years now.
Gimmick Rating: While a Christmastime portrait with Santa is enough to warm the coldest heart, the truth is that stores becomes chaotic ... even for people who aren't there to see Santa.
The Kia That Pays You to Drive It
We're still not sure why Kia and Visa thought this would be a great idea, but at the start of the year the Korean car manufacturer offered a free $25 Visa gift card to anyone who test drove a Kia at select dealers. Obviously this was meant to entice customers to give the cars a spin, but did that actually translate into increased sales for an item that otherwise costs thousands of dollars?
Gimmick Rating: A free $25 gift card is an excellent way to get our attention, but this isn't just a standard freebie; it would likely cost several hours of your day.
Bring Out the Velvet Rope
Everyone likes to be treated like a VIP, so lately retailers have been rolling out the red carpets for their customers offering everything from free in-store yoga classes (lululemon) to an in-store DJ that plays music while you shop (Diesel). Some companies have gone so far as to outfit their stores with a 60-foot Ferris wheel and kiddie theme park (Toys "R" Us).
Gimmick Rating: We can see why a fitness apparel store would have free in-store yoga classes, but we've never been fans of in-store DJs. And the Ferris wheel is just a cheap trick to get parents to spend more money while shopping in-store.
CVS App Gives Consumers a Virtual Store
Plenty of retailers have smartphone apps these days, but leave it to CVS to create an app that mimics its stores. The company's iPad app is a 3D rendering of its physical stores complete with aisles and shelves. Shoppers must navigate through the app till they find the item they wish to buy.
Gimmick Rating: While most e-commerce apps are designed to facilitate the act of shopping, CVS' app seems to slow things down by requiring you to navigate through a virtual store, which defeats the purpose of online shopping.
The above attempts are just a few ways brick-and-mortar stores are vying for your attention and money. While some are genuinely exciting, others are as old as the industry itself. What are some of your favorite in-store freebies or gimmicks?
---
Related dealnews Features: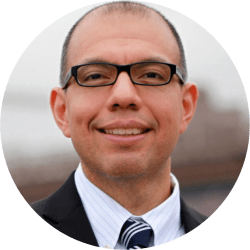 Contributing Writer
With over a decade of experience covering technology, Louis Ramirez has written for CNET, Laptop, Gizmodo, and various other publications. Follow him on Twitter at
@louisramirez
.
DealNews may be compensated by companies mentioned in this article. Please note that, although prices sometimes fluctuate or expire unexpectedly, all products and deals mentioned in this feature were available at the lowest total price we could find at the time of publication (unless otherwise specified).