10 Crazy 'Jurassic Park' Collectibles for Super Fans
Jurassic World is coming, so we rounded up the strangest and wildest toys, set pieces, and costumes from the franchise — including old cereal and William H. Macy's pants.
Jurassic World is almost here!
Of course, if you've been to many stores lately, you already knew that. The deluge of Jurassic World merchandise already spans everything from electronic toys to Marshmallow Peeps. At the moment, it's tough to go shopping and not see a dinosaur somewhere.
But if you've been with the Jurassic Park franchise since the beginning, you know that this is nothing new. Playing to our combined love of action movies and dinosaurs, we couldn't begin to count the number of novelties, action figures, and doodads that wear the Jurassic Park logo.
Think you've seen it all? Think again! We did a little "dinosaur dig" on eBay, and we couldn't believe how much Jurassic Park merchandise was out there. Here are ten of our strangest and most wonderful finds, covering everything from screen-used movie props to twenty-year-old cereal boxes! (If you have a big wallet and a peculiar passion for Hollywood dinos, some of these items are still available to bid on!)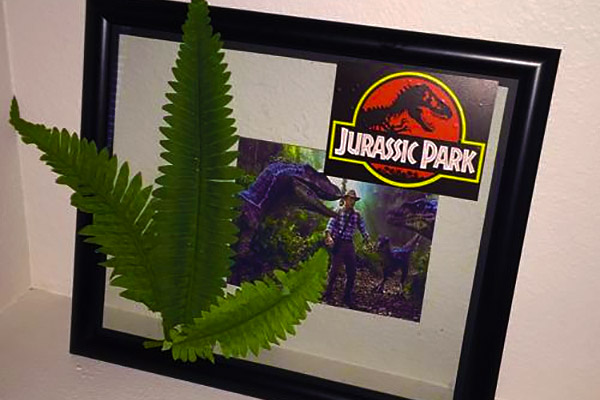 Jurassic Park III Prop Fern
Asking Price: $169.95
Many hardcore film aficionados collect movie props, but it takes a special kind of fan to go this far. From Jurassic Park III, it's… plastic leaves! Seriously!
This prop fern really was seen in the movie. Heck, it even comes with a certificate of authenticity! A hundred and seventy bucks for crudely framed plastic leaves may sound like wishful thinking, but for Jurassic Park mega fans, it's plausible. What better way to make your collection stand out? We can pretty much guarantee that none of your other JP-loving friends have $170 plastic ferns.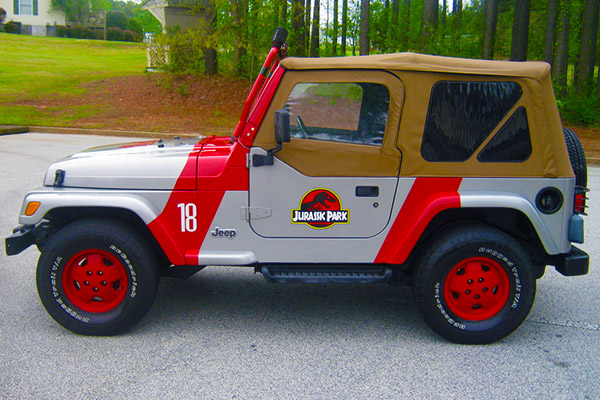 Custom Jeep Wrangler
Asking Price $7,000+
We're not sure if this was an "official" release or just some random fan's idea of pimping his ride, but either way, we want it. This 2002 Jeep Wrangler looks very similar to the ones seen in Jurassic Park, with the correct colors, the right emblems, and the same vanity license plate.
Driving around in a Jurassic Park jeep would make anyone's life a hundred times more interesting. Just imagine the neighborhood fame! Your car would be the talk of the town! Strangers would gather on your front lawn at night, for photo opportunities and mock dinosaur excavations!
Maybe you could charge them for the privilege? That's one way to afford the jeep.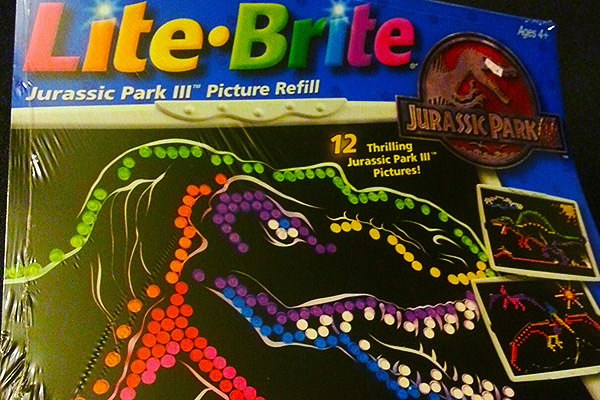 Jurassic Park III Lite Brite Kit
Asking Price: $16.99
The original Lite Brite — which sadly seems to be out of production as of this writing — will forever be known as one of history's greatest toys. Sticking a thousand plastic pegs into a sheet of backlit plastic was never much of party, but tedium was a small price to pay for such high art.
While many of us preferred "free-styling," let's not forget that Lite Brite sold dozens of template kits. This one let kids create 12 different light-up pictures based on the dinosaurs from Jurassic Park III. Rendered in a series of pink and yellow pegs, Tyrannosaurs looked a whole lot friendlier.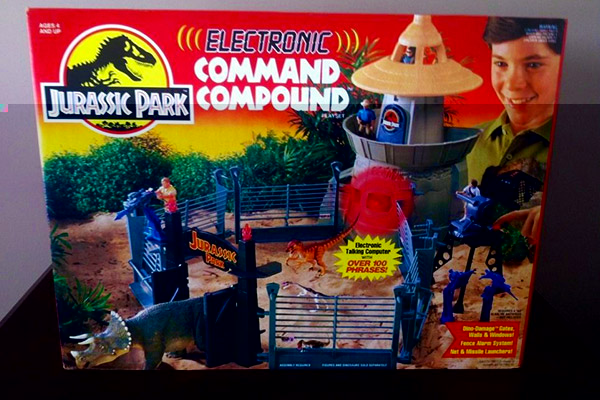 Jurassic Park Command Compound Playset
Asking Price: $699.99
It's no surprise that Jurassic Park inspired its own toy line, but can you believe the price on this thing?
The Electronic Command Compound from 1993 is one of the largest and rarest toys in the set. Even unpackaged versions with missing pieces cost a bundle. We've seen unopened versions sell for cheaper than this one, but they never go for less than several hundred dollars.
If you're a Jurassic Park fan who doubles as a toy collector, say hello to your holy grail!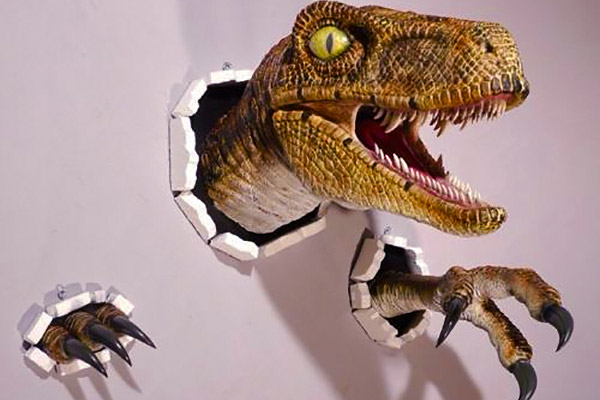 Wall-Mounted Raptor
Asking Price: $380
While not an officially licensed Jurassic Park product, this was clearly inspired by the franchise's infamous velociraptors. Pairing a wall-mountable head with wall-mountable claws, the idea is that you'll be able to make your living room look like it's under attack by raptors.
(When we put it that way, the 380 bucks really doesn't sound so bad.)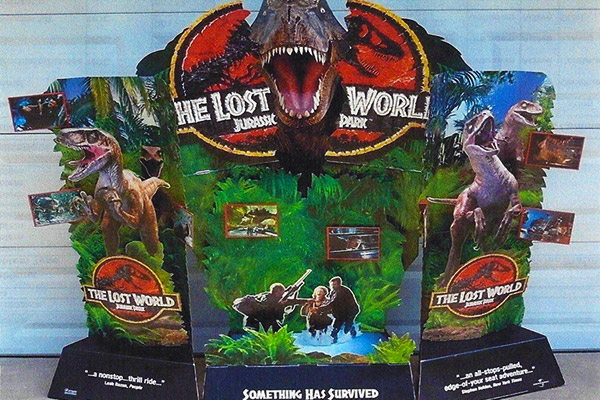 The Lost World Video Store Standee
Asking Price: $124.99
Promotional video store displays have become a hot market in recent years, and it's easy to see why. For movie fans who've grown tired of the same old posters, these are the ultimate decorations.
Given their ephemerality, such displays rarely come cheap. Still, $125 seems like a fair price to satiate our hunger for Jurassic Park goodies and make our houses look like old Blockbusters. Talk about your conversation pieces!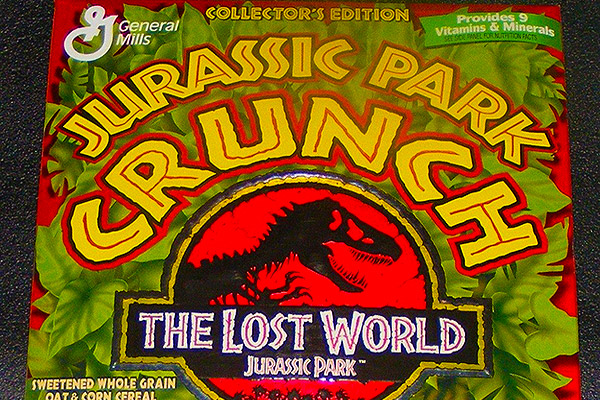 Jurassic Park Crunch Cereal Box
Asking Price: $40
From 1997, Jurassic Park Crunch hit supermarkets just in time for The Lost World's theatrical debut. Resplendent in its shiny, foil-embossed box, it looked more like a toy than a foodstuff. (That was one way to get kids to break from their Lucky Charms norm!)
eBay is rife with collectible cereal boxes, but this is a rarer case where the cereal is still inside. Yes, for a mere forty dollars, you can own a boxful of extremely old dinosaur-shaped marshmallows. Good luck figuring out what to do with them.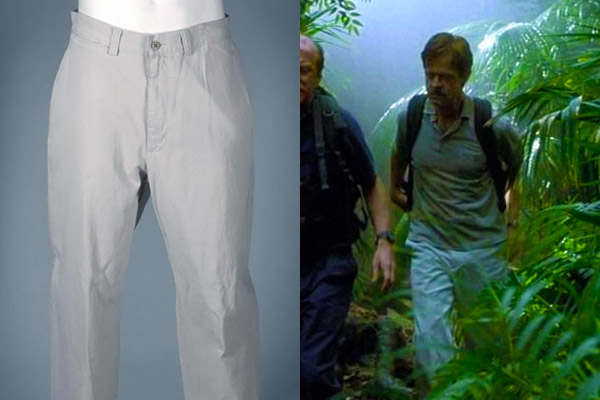 William H. Macy's Pants
Asking Price: $154.20
William H. Macy was one of the stars of Jurassic Park III. Unafraid to mix fashion with action, he spent two hours avoiding dinosaur doom in a pair of super suave Ralph Lauren khakis.
According to the seller, these pants are the real deal. William H. Macy actually wore them in the movie. We're sure that most collectors would simply hang the pants on a wall as a sort of odd decoration, but wouldn't it be more fun to wear them around town?
Nobody would know the truth. Nobody would know that you're wearing William H. Macy's Jurassic Park pants. You could spend a whole evening out with friends, and only drop that crucial bit of information at the very last moment. "By the way... I've been sitting here in William H. Macy's pants all night." That is so worth 150 bucks. Honestly, it's worth double.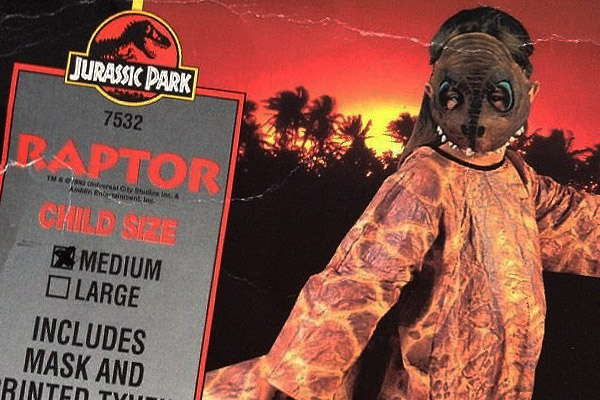 Jurassic Park Raptor Costume
Asking Price: $50
Velociraptors quickly became the "official" dinosaurs of the Jurassic Park universe, and they were a major hit with kids, who ignored their occasionally villainous representation to see raptors for what they truly were: The franchise's reptilian antiheroes.
If a kid wanted dress up as a Jurassic Park character for Halloween, it wasn't going to be Alan Grant or Ian Malcolm. No, it was gonna be a killer raptor. (We're willfully ignoring the fact that this costume looks as much like a giraffe.)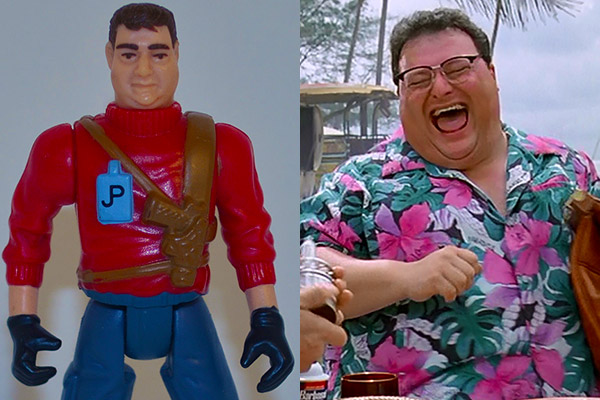 Dennis Nedry Action Figure
Asking Price: $14.99
Ha! You should remember Wayne Knight's stunning turn as Dennis Nedry, one of Jurassic Park's semi-antagonists, who ended up getting his just desserts by way of a hungry dilophosaurus.
But you should also remember Wayne Knight as Newman from Seinfeld — which arguably makes this chunk of plastic double as an honest-to-goodness Newman action figure! Looks like the sculptors took some creative liberties on Mr. Nedry's physique. Wayne Knight probably didn't mind.
Are you a Jurassic Park nut? Tell us about your collection, in the comments! And keep your eye out for new Jurassic World items — we weren't kidding about those Marshmallow Peeps!
---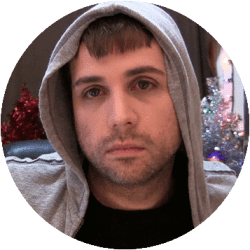 Contributing Writer
Matt has been blogging about geeky nonsense since early 2000. You can view more of his weird work on
Dinosaur Dracula
, or follow him on Twitter
@dinosaurdracula
.
DealNews may be compensated by companies mentioned in this article. Please note that, although prices sometimes fluctuate or expire unexpectedly, all products and deals mentioned in this feature were available at the lowest total price we could find at the time of publication (unless otherwise specified).