Get Your Nerd on With Free Digital Comics at Comixology
These days, you're behind on the pop culture front if you don't keep up with comics. There's a constant stream of blockbuster movies and TV shows based on comics, and familiarity with the source material is never a bad thing. Luckily, Comixology offers a selection of digital comics for free, so you can brush up without going broke.
Below, we've rounded up several freebie issues, including a mix of already popular characters and lesser-known properties.
11 Comic Books You Should Download Immediately
Turtle Power
Teenage Mutant Ninja Turtles (2014) #1 Digital Comic for free (a low by $2)
Take your childhood fandom to the next level by enjoying the heroes in a half shell in comic form. Since they're all wearing red, you'll have to pay extra attention to their personalities (and, okay, their weapons) to know who's who.
Uncanny Valley
Uncanny X-Men (2013-2015) #1 Digital Comic for free (a low by $14)
Do the X-Men movies have you a little burned out on familiar characters like Cyclops and Magneto? This book will feel fresh, thanks to new mutants with powers like stopping time. There's also the whole revolution plot, which you may or may not find relevant to our current political climate.
Mech Warrior
Lady Mechanika #0 Digital Comic for free (exclusive)
Behold the awesome steampunk private investigator Lady Mechanika, who has mechanical limbs and no idea where she got them. This short lead-in to issue #1 will introduce you to our Lady and the alternate Victorian world she inhabits.
Crime Fighting Kids
Tiny Titans #1 Digital Comic for free (a low by $2)
Before they were Teen Titans, they were tiny. Watching Robin, Beast Boy, and friends navigate elementary school is perfect for young readers just getting into comics. (Or for adults who need a lighter read. No judgment.)
Cosmic Warfare
Shekhar Kapur's Devi #1 Digital Comic for free ($3 off)
Who is Shekhar Kapur? A movie director, most notably of 1998's Oscar-winning Elizabeth. But much more interesting is Tara, the protagonist of Devi, who's stuck in the middle of a battle between ancient gods and demons. Among her concerns: fate, choice, and survival.
The Truth Is Out There
The X-Files: Origins #1: Chapter One Digital Comic for free ($1 off)
This is just the first chapter of the X-Files: Origins series, but the worst that can happen is you'll get addicted and have to buy the rest. Best case, you'll be satisfied with this short glimpse into the life of a teenage Fox Mulder solving mysteries.
Power Play
One-Punch Man: Special Preview Digital Comic for free (exclusive)
Here's an opportunity to decide whether One-Punch Man suits your tastes. It's a Japanese superhero parody about Saitama, who's so overpowered that he seeks out worthy opponents to cure his boredom. Think Sherlock/Moriarty, but with physical strength.
Still Angry
Super Angry Birds #1 Digital Comic for free (a low by $2)
These birds have been taking over the world since their first game dropped in 2009, so why not become comic heroes? If nothing else, you'll enjoy the surreal experience of seeing the birds turned into muscled figures — they stand up to the evil pigmen who run New York. Sure, why not?
Achieving Inner Peace
The Sadhu #1 Digital Comic for free ($3 off)
When something terrible happens, do you find contentment through letting go or seeking revenge? That's the story here, as sadhu James must decide how to use the supernatural abilities he gained after his family was murdered.
Men of Action
G.I. Joe (2009) #1 Digital Comic for free (a low by $1)
G.I. Joe comics have existed in some form since the 1940s, and this modern take maintains the feel of older versions while updating as necessary. It takes place before the group knows anything for sure about Cobra — and knowing is half the battle.
Behind the Scenes
Batman Black & White: A Black and White World Digital Comic for free (exclusive)
This Neil Gaiman story comes from the Batman Black & White Series and depicts Batman and the Joker as actors who perform staged events. If you ever wanted to see the Clown Prince and the Dark Knight chat and have lunch together, your wish has come true.
Readers, what are your favorite comic series? Is there a particular character you'd love to see brought to the screen? Let us know in the comments!
---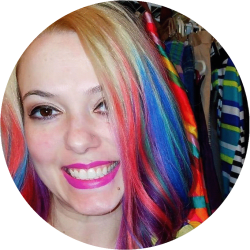 DealNews Contributing Writer
Elizabeth Zimmerman is a former Associate Editor at DealNews. She specializes in tap dancing, wearing a lot of colors, making cakes, and sneaking Beatles references into deals. Goo goo g'joob.
DealNews may be compensated by companies mentioned in this article. Please note that, although prices sometimes fluctuate or expire unexpectedly, all products and deals mentioned in this feature were available at the lowest total price we could find at the time of publication (unless otherwise specified).