8 Clever Shirts From BustedTees' 50% Off Sale
Graphic tees are an easy way to communicate your interests, and they make getting dressed possible when you're not in the mood to do more than the bare minimum. For these reasons, it's important to know that BustedTees is taking 50% off select regular-priced T-shirts via coupon code "FCKQHNP". (Shipping adds $6.99, but orders of $80 bag free shipping. Some exclusions apply.)
We've picked out eight shirts that are a bit more clever than just literal logos, so you can feel good about wearing your fandom.
8 Graphic Tees You Can Wear With Pride
Goodnight Death Star
That's No Moon T-Shirt for $10 via code "FCKQHNP" ($10 off)
In the great green room
There was a Stormtrooper
And a red balloon
And an ultimate weapon outside that wasn't a moon.
Buy Now
Yippie-Ki-Yay
Nakatomi Christmas Party 1988 T-Shirt for $10 via code "FCKQHNP" ($10 off)
Welcome to the party, pal! The holiday season is fast approaching, and you'll be all set to get together and have a few laughs with friends in this festive shirt. It's also a great piece of evidence on the "Die Hard is a Christmas movie" side of the debate.
Buy Now
Seussian Se7en
What's in the Box T-Shirt for $10 via code "FCKQHNP" ($10 off)
What's in the box? You already know.
It's not a fox, not from John Doe.
He knows you're wrathful, you'll see red.
When you open it and find her head.
Buy Now
Fistfighter
Hadou-Ken T-Shirt for $12 via code "FCKQHNP" ($12 off)
Who's to say Ken from Street Fighter and Ken from Barbie's Dreamhouse aren't the same person? It's totally possible that Ken Masters grew tired of the warrior life, got a haircut and wardrobe makeover, changed his name to Ken Carson, and started dating an iconic fashion doll.
Buy Now
Lord of the Property
You Shall Not Pass Go T-Shirt for $10 via code "FCKQHNP" ($10 off)
Gandalf would definitely be a stickler for playing Monopoly by the book — woe betide any player who attempts to collect $200 on the way to jail. The wizard's ire when confronted with a rule breaker would make his tangle with Durin's Bane look like child's play.
Buy Now
Don't Be a Snitch
I'm a Keeper T-Shirt for $10 via code "FCKQHNP" ($10 off)
Cormac McLaggen, Oliver Wood, Ron Weasley, and you: It's a list of players who refuse to let the quaffle in, and so what if it's only because you've never actually flown in a quidditch game. You're still in great magical company.
Buy Now
Is Any of It Real?
Mr. Rogers T-Shirt for $10 via code "FCKQHNP" ($10 off)
Hello, friend. Are you seeing this, too? Mr. Rogers always said to look for the helpers, and sometimes I dream of saving the world. But I'm not that special. I'm just anonymous, a template that Rogers has now filled. Is he working for Evil Corp? Are you? Am I?
Buy Now
Hope You Enjoy Last Place
Central City Running Club T-Shirt for $10 via code "FCKQHNP" ($10 off)
Potential members of this club include Barry Allen, Wally West, and Jesse Quick... all of whom are possessed of Speed Force and therefore not beholden to the regular limits of human ability. But if you don't mind losing 100% of the races you run, some of them do seem like cool people.
Buy Now
Readers, what's your all-time favorite pop culture property? Is it represented in the BustedTees sale? Let us know in the comments!
---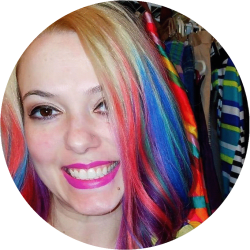 DealNews Contributing Writer
Elizabeth Zimmerman is a former Associate Editor at DealNews. She specializes in tap dancing, wearing a lot of colors, making cakes, and sneaking Beatles references into deals. Goo goo g'joob.
DealNews may be compensated by companies mentioned in this article. Please note that, although prices sometimes fluctuate or expire unexpectedly, all products and deals mentioned in this feature were available at the lowest total price we could find at the time of publication (unless otherwise specified).