11 Tips for Keeping Your Credit and Cash Safe This Holiday Season
You can't be too cautious! Strategies like adopting the latest credit technology and avoiding questionable stores will help.
Are you ready for the holiday shopping season? Sure, you've probably been looking up the best Black Friday sales and working on a shopping list, but there's one important consideration you may be overlooking: shopping safely. In your hunt for the deepest discounts, it's easy to forget that you need to keep your financial information safe.
Because if there's one thing that will sink your holiday shopping list, it's having your credit card information — or your credit card itself — stolen.
Fortunately, it's not difficult to keep yourself safe, online or offline. Let's review some sensible tips for shopping securely during the holidays, no matter where you're doing it.
Shopping In-Store
Get a Chip Card
If you don't already have a chip credit or debit card, ask your bank for one. When you use this type of card in-store with a chip reader — where you insert your card into a reader instead of swiping it — the card generates a one-time use code for the transaction. While your card information might be stolen (as card data was stolen from Target in 2013), a thief can't use that code to buy anything.
Of course someone can still physically take your card, or the card number can be stolen from online stores where you have to use the number instead of the chip. But it's still the most secure way to do in-store shopping.
SEE ALSO: Would YOU Pay Extra Fees to Use Chip-Enabled Cards?
Be Careful at the ATM
You may think getting cash at the ATM is easy — and, unlike credit cards, cash can't be hacked — but you may not be as safe as you think. Thieves can steal your ATM card information directly from the ATM by attaching a card skimmer to the machine. These devices can look like they're part of the ATM and scan your card to collect your information, leaving you none the wiser.
Your best defense here is to use ATMs at bank branches, which are monitored by cameras; sometimes, these ATMs are even locked inside and only accessible by account holders for extra security. If anything looks off about an ATM, just walk away and find another.
Remember Personal Safety
As basic as this is, it's easy to forget simple safety tips when you're in the midst of a shopping spree. Stay alert walking to and from your car, don't let strangers help with your packages, and keep your phone, wallet, and any other valuables secure from pickpockets. This may be low-tech advice, but it's still important to keep in mind when you're out shopping.
No-name retailers may be trying to lure you in to take your money. Shop with a store you trust to protect your information.
Shopping Online
Shop at Reputable Stores
Have you heard of the store you're shopping at? Is it a big, familiar brand? In that case, it's probably a safe bet. However, no-name retailers may be trying to lure you in to take your money. Shop with a store you trust to protect your information.
Enter Card Numbers on a Secure Page
In your browser, look for an "https" at the beginning of the web address with a lock icon next to it. That means you're browsing securely. If you don't see either of those things, avoid entering your personal or credit card information. Similarly, don't give out your personal information over email, because no legitimate source will request your credit card number using this method.
SEE ALSO: 5 Simple Ways to Protect Yourself From Identity Theft
Keep Your Computer Up to Date
Computer security is an important part of online shopping, because viruses and malware can easily grab credit card numbers and passwords. The best way to avoid that is to keep your operating system, browser, and anti-virus software current. Set all of them to update automatically, and configure your anti-virus software to scan automatically, too. This will keep hackers out and ensure your credit card information stays yours.
Use Strong Passwords
It doesn't matter if hackers can't access your computer if you have easily guessable passwords — like "password" or "12345." Without a strong password, hackers might get into your bank account or accounts at specific stores and have a serious shopping spree. Keep them out by creating good passwords, which should be at least eight characters long; use letters, numbers, and symbols; and not include personal information (like your birthdate or apartment number). The better the password, the less likely that someone will get into your account.
Avoid Public WiFi
While public WiFi is convenient, it's hard to tell who's watching when you're on a network anyone can access. Browsing the web isn't a big deal, but if you want to shop, it's better to wait. Even if you're entering financial information on a secure page, doing it at home is safer.
While public WiFi is convenient, it's hard to tell who's watching when you're on a network anyone can access.
Shopping Anywhere
Watch Your Bank Account
No matter what kind of shopping you're doing, look closely at your bank statements — or, better yet, check your account online regularly. If anyone has stolen your credit card information, that's the first place you'll see it. So keep an eye out and contact your bank immediately if you suspect fraud.
Use Your Credit Cards
Sure, most banks offer the same fraud protection for both credit and debit cards, but paying with a credit card while shopping is still better. Credit cards offer stronger protection, allowing you to dispute charges if an item you purchased never arrived, arrived damaged, or arrived but wasn't what was described.
With a debit card, protections can be very hit-and-miss — and even if you are protected, the money is out of your checking account immediately, which can be more of a problem than a charge sitting on your credit card. On top of that, some credit cards can offer extended warranties or other handy protections that your debit card probably doesn't have.
SEE ALSO: Cash, Credit, or Debit: Which Is Safest When Traveling?
Be Wary of Deals That Are Just Too Good
Sure, we're all hunting for that perfect sale, but a deal that's a little too good — like that $100 iPad Pro on Craigslist — may just be a scam. Regardless of whether you're shopping or not, don't hand your credit card information over to someone you don't trust. If you're suspicious, it's better to walk away than risk getting your financial information stolen.
Readers, how do you stay safe and shop smart during the holiday season? Do you feel like it's more secure to shop online or in-store? Share your thoughts in the comments below!
Excited for Black Friday? Check out the DealNews Black Friday hub for the latest updates! You can also subscribe to the DealNews Select Newsletter, download the DealNews apps, or read more buying advice.
---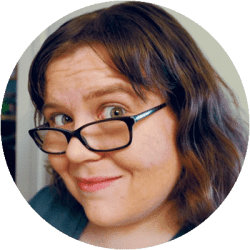 Contributing Writer
Originally working in IT, Elizabeth now writes on tech, gaming, and general consumer issues. Her articles have appeared in USA Today, Time, AOL, PriceGrabber, and more. She has been one of DealNews' most regular contributors since 2013, researching everything from vacuums to renters insurance to help consumers.
DealNews may be compensated by companies mentioned in this article. Please note that, although prices sometimes fluctuate or expire unexpectedly, all products and deals mentioned in this feature were available at the lowest total price we could find at the time of publication (unless otherwise specified).