10 Streaming Love Stories for Valentine's Day You Probably Haven't Seen Before
Tired of "When Harry Met Sally?" These romantic (and not always romantic) movies are off-the-beaten-path love stories involving vampires, criminals, and the trials of real love.
Perhaps more than any other holiday, there are endless movies that are tailor-made for Valentine's viewing, as films that deal with the subject of love aren't exactly hard to come by. Classics like The Notebook, Gone With the Wind and Titanic rank among the most beloved, and we can be sure that they'll be getting a lot of views in the coming days.
For those of you, on the other hand, looking for something a little different to warm your heart this Valentine's Day, we've put together a list of some lesser-known love stories that you might want to check out (in the midst of deciding what to buy for the holiday). We can't guarantee that you'll fall in love with them all, but they're all worth the watch, and there's truly a little something here for everyone.
So step outside your comfort zone and read on for 10 lesser-known romantic movies that you can instantly stream this month!
Still Mine
Best For: Anyone looking for a love story that doesn't feature the typical young Hollywood leads.
You'd be hard-pressed to find a more realistic portrayal of genuine love than the one on display in Still Mine, which stars James Cromwell as a farmer who's battling both a government bureaucrat and his wife's increasingly failing health. Though Irene's dementia pushes him to the breaking point, George never gives up on her, and this slice of heartwarming romance proves that love does indeed conquer all.
Romantic Moment: When Irene confesses that she can't remember falling down the stairs, George tells her that it doesn't matter that her memory is fading: they have each other, and "everything else is a bonus."
Where to Watch: Netflix Instant
True Romance
Best For: Those who want a Bonnie-and-Clyde style crime spree with their romance.
Before he became a household name with films like Reservoir Dogs and Pulp Fiction, Quentin Tarantino wrote the 1993 film True Romance. (It's directed by Tony Scott.) As the title suggests, it is indeed the most romantic movie with the name Tarantino attached to it, though it's certainly not without its fair share of his trademark violence. But underneath the blood and bullets is a true love story, about two people who will do anything to live their dream life together.
Romantic Moment: It's love at first sight when Clarence and Alabama meet at the movie theater, during a triple-feature of kung fu movies. Alabama dumps her popcorn bucket in Clarence's lap, and he falls for her almost immediately.
Where to Watch: Amazon Instant
Thirst
Best For: Those who feel that Twilight just doesn't cut it in the vampire love department.
If you're looking to inject a little horror into your Valentine's Day, then I can't think of a better movie to cozy up on the couch with than 2009's Thirst. A Korean film, Thirst is the story of human female Tae-ju and vampire male Sang-hyun, and though that set-up may sound familiar, I assure you that this is a vampire love story that you haven't quite seen before. (Did I mention Sang-hyun is a Catholic priest, and Tae-ju is his best friend's wife?) This one comes with the late Roger Ebert's stamp of approval.
Romantic Moment: In their first encounter, vampire Sang-hyun finds Tae-ju running away from home, barefoot. He literally sweeps her off her feet, and places her into his shoes.
Where to Watch: Amazon Instant
In Your Eyes
Best For: Anyone who believes in fate and is looking for an unfamiliar telling of a familiar story.
Two people from opposite ends of the country, and from the proverbial opposite side of the tracks, come together in this unconventional tale of romance, written by Buffy creator Joss Whedon. In the film, strangers Dylan and Rebecca have shared a telepathic link since childhood, seeing through each other's eyes and feeling each other's feelings. This one's not for everyone, but those who can suspend the necessary disbelief will find a sweet love story that'll tug at the heartstrings.
Romantic Moment: The telepathic lovers take turns looking into the mirror, seeing each other for the first time — through each other's eyes.
Where to Watch: Netflix Instant
Labor Day
Best For: Those who understand that love can be found in the unlikeliest of places.
Kate Winslet and Josh Brolin star as unlikely lovers in Labor Day, which takes place over the course of a long summer weekend. Brolin, an escaped criminal, essentially kidnaps shut-in Winslet and her son during a trip to the store, and in each other they find what neither of them had any idea they were looking for. A story of what love can give you and what the loss of love can take away from you, Labor Day is romantic in the most unconventional of ways.
Romantic Moment: After a neighbor drops off a barrel of peaches, Frank teaches Adele how to make peach pie, in what is the foodie equivalent of Ghost's iconic pottery scene.
Where to Watch: Netflix Instant
Blue Valentine
Best For: Anyone who loves Ryan Gosling, but wants an unsentimental, gritty alternative to The Notebook.
If The Notebook wasn't your cup of tea but Ryan Gosling is, then look no further than Blue Valentine — a much more realistic, at times devastating, depiction of love. Tracking the evolution of a relationship from magical courtship to bitter disintegration, this one features one of the most raw and honest depictions of love to ever hit the screen. It paints a heartwarming and heartbreaking portrait of the American marriage. Far from a fairytale, but a love story well worth watching.
Romantic Moment: Ryan Gosling plays a love song on the ukulele, while Michelle Williams tap dances along. Yes, Gosling sings. Enjoy, ladies.
Where to Watch: Amazon Instant
Drinking Buddies
Best For: Anyone looking for a different kind of romantic comedy.
Sometimes, there's a fine line between a romantic relationship and a male-female friendship, and Joe Swanberg's Drinking Buddies explores that idea. In this mostly-improvised little indie gem, brewery employees Luke and Kate seem to be more on the same page with one another than they are with their significant others, and it gets even more complicated than that. A romantic comedy that doesn't play by the rules, this one's as refreshing as a pilsner on a summer's day.
Romantic Moment: Luke falls asleep in Kate's bed after helping clean her apartment, and Kate makes the first move by crawling into bed beside her best friend.
Where to Watch: Netflix Instant
Elizabethtown
Best For: Those who want to go on a cross-country journey full of life and love — from the comfort of their couch.
Though reviled by most critics, Cameron Crowe's romantic comedy Elizabethtown is a beautiful celebration of life itself, starring Orlando Bloom and Kirsten Dunst. After losing both his job and his father, Drew meets flight attendant Claire while on a trip back to his hometown, the two instantly making a connection. Claire's positive attitude about life is just what Drew needs, and the two forever change one another. Elizabethtown proves that distance can't stand in the way of true love, and comes backed by a fantastic soundtrack that you'll instantly want to buy.
Romantic Moment: After spending all day and night on the phone, Drew and Claire decide to meet up in person, making a late night drive into each other's arms.
Where to Watch: Amazon Instant
I Give It a Year
Best For: Anyone who just wants to laugh this Valentine's Day.
There are romantic comedies that are more romantic than I Give It a Year, but you'd be hard pressed to find one that is funnier. The film chronicles the first year of marriage for newlyweds Josh and Nat, who don't exactly make the best mates. In many ways, this one is a spoof of romantic comedies, but there's a surprisingly sweet story underneath all the laugh-out-loud humor, one that stresses the importance of choosing the right person to spend your life with. More than anything though, it's just really, really funny.
Romantic Moment: A friend tells Nat that marriage is about loving the imperfections of the one you're with, even if they drive you mad.
Where to Watch: Netflix Instant
Edie and Thea: A Very Long Engagement
Best For: Those who want to celebrate love, through thick and thin.
This award-winning 2009 documentary centers on same-sex couple Edie Windsor and Thea Spyer, tracking their first encounter all the way up to their eventual marriage. Edie and Thea's story is one of sticking by your lover's side through everything; the couple made a 'til death do us part' vow long before they were legally allowed to do so, and stuck to it. This is an intimate portrait of true love.
Romantic Moment: The ladies recount a Halloween party from 1983, where they dressed up as newlyweds — a fantasy that the law, at the time, didn't allow them to actually live out.
Where to Watch: Netflix Instant
Readers, what are some of your favorite love stories to watch in honor of Valentine's Day? Let us know in the comments below!
---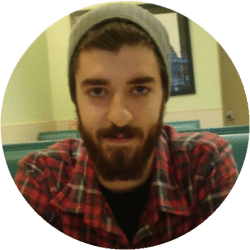 Contributing Writer
John Squires is a freelance writer in the horror community, contributing regularly to the websites Dread Central, Shock Till You Drop, iHorror, and Halloween Love. Follow him on Twitter
@FreddyInSpace
.
DealNews may be compensated by companies mentioned in this article. Please note that, although prices sometimes fluctuate or expire unexpectedly, all products and deals mentioned in this feature were available at the lowest total price we could find at the time of publication (unless otherwise specified).