Black Friday Who? How to Prepare for Cyber Monday!
With all the hub-bub surrounding Black Friday, it's often easy to overlook how to prep yourself for the biggest online shopping day of the year! Well, not this year!
All things considered, it's relatively easy to prepare for Black Friday. Companies start to "leak" their ads up to a month in advance and we at DealNews whip up our price predictions even earlier, so you can know what to expect and prepare yourself. But then, just days after Black Friday, ka-POW; you're blindsided by a neck-chop from Cyber Monday! Oh no, we forgot about the biggest online shopping day of the year!

For the most part, Cyber Monday sales go unadvertised, and that makes it hard to prepare — but not impossible! While you won't find many stores that release Cyber Monday specific ads, there are several ways in which you can go into the holiday with the knowledge you need to score the best deal.
Update Your Black Friday Wishlist
You've probably already spent a lot of time prepping for Black Friday, including making a list of things you were hoping to buy. Well, the first way to prepare for Cyber Monday is to dig through the garbage and find that list! For many product categories and items, Cyber Monday is your second chance at a big deal. Though it might not be the best time to get all things, it does give you one more chance at saving some cash on that purchase that you either missed or forgot about on Black Friday. By knowing what you want and, specifically, what you missed, you can keep an eye out for those items more easily.
Know What Items See the Best Deals
While Thanksgiving and Black Friday take the cake for discounts on many things, several items and categories are even better buys on Cyber Monday. That includes cameras, toys, travel, clothing, shoes, and beauty.
Spam Yourself With Newsletters
Like we said, there are few, if any, "Cyber Monday Ads" that stores leak to get you excited or even let you know what to expect. (This is likely because they don't want to cannibalize Black Friday sales by tempting you with ads that take place after the big event where they hope to get a lot of people in-store.) Therefore, the best way to get a heads-up on Cyber Monday deals is to subscribe to as many newsletters from your favorite stores as you can.
According to SilverPop, an email marketing firm, 10% more email is sent from retail outlets on Cyber Monday over Black Friday, so email will be a great way to know what's out there. Following stores on Facebook and Twitter will also get you up-to-the-second notifications as the deals drop, but that doesn't help much if you're hoping to plan ahead.
Might we also suggest that you create a DealNews alert, which will inform you when we see a deal on a specific item or category that you're looking for? While subscribing to a store newsletter might allow for earlier notice of a sale, the alerts allow you to cover all possible stores for a specific item.
Google Up Some Coupons
Use your Cyber Monday (formerly Black Friday) Wishlist to single out stores that might carry what you're looking for, then Google for coupons or check out our coupon page. In the market for a TV? Do a scan for coupons at Best Buy, Staples, Newegg, etc. Looking for a sweater? Any promo codes at Macy's, JCPenney, or Kohl's? Prepping yourself and understanding what discounts are available at a few stores might help you avoid a rushed, poor decision. That $200 TV sure looks nice, and it's gonna sell out in 5 minutes, but is there a coupon on that same TV that makes it even cheaper elsewhere? In the heat of the moment, you won't have time to do your due diligence, so do what you can ahead of time.
Size Yourself Up
If one of the items on your Cyber Monday Wishlist(TM) happens to be clothing, do yourself a favor and take the time to measure all your dimensions beforehand. (If you're buying a TV rather, there is very little reason to know that you're a 40" waist.) This essential preparation is two-fold: Firstly, even on Cyber Monday, speed is of the essence, and the split-second it takes to figure your size out could be the difference between you sporting a snazzy new cashmere sweater and wearing last year's Ugly Holiday Sweater to family Christmas. Secondly, whipping out a tape measure at work to accurately document your body is awkward for everyone (but especially you, when called before HR to explain why you were measuring your inseam at your cubicle).
Sizing is one thing, but fit is quite another. Prepping for how a particular brand will fit you is impossible — or is it?! In the days before Cyber Monday, head out to the stores of brands you might potentially buy clothing from, like Old Navy, Gap, J. Crew, etc, and try on a sampling of their clothes to see what actually looks good and what you're interested in buying. Rather than visiting every store, we've done some research and can predict which stores are most likely to have Cyber Monday sales.
Showroom Like You've Never Showroomed Before!
Our research into stores that are most likely to have Cyber Monday sales also covers non-clothing merchants, too. For instance, if you're looking for appliances, keep an eye on the Home Depot. While there's no guarantee about what will be on sale, this again gives you a lay of the land so you have a better idea of what you actually are willing to buy. One category that we can readily say will see deals however are smartphones, iPhones, and iPads, so it might not be such a bad idea to touch those, before you buy them sight-unseen.
"What's the Passwoid?"
Since Cyber Monday takes place while you're supposed to be working in an office, you might not have your online shopping passwords stored on your work computer. Or, maybe you use really difficult, high-security passwords that are hard to remember off the top of your head (which you should be doing). You certainly don't want to miss out on a deal just because you're waiting for the "forgot your password?" email to come through, so make sure you either memorize all your passwords or bring your cheat sheet to work with you. You can also subscribe to a password app, like 1Password, LastPass, or iCloud Keychain — just don't forget to enter all your passwords into it before you head out the door on Monday morning. (Also, don't forget the password to that password managing software! Cyber Monday irony!)
Stay Late and Be Prepared to Slack Off on Work
Our data shows that the best deals are all going to hit between 9 am and 11 am ET, so be prepared to actually get to work on time, for once! (In other time zones, make sure to adjust your alarm clocks, accordingly!) For many of you, that means you'll have to keep one eye on deals, as you give a half-assed performance at your job (which is OK for some jobs, but not so much if you're a heart surgeon). If your boss has put you on Double Secret Probation, it might be best to wait for the brief surge of deals that come right at the end of the day, around 6 pm ET. So stay a bit late and reap some deal rewards. Plus, it can't hurt your situation for your boss to see you working late, can it? You wont even have to stay that late, either, since the release of Editors' Choice deals slows down by 7 pm ET.
One last note on scheduling: We'd suggest that you bring your lunch with you that day, too. Not only will it be healthier than whatever fast food you'd pick up on your break, but it'll mean you don't have to leave your desk and miss any possible deals, just because you're waiting in line at the deli counter. Alternately, you could install the DealNews App and you can check the latest deals while in line, so that might be a better solution if you simply must get Arby's for lunch. For the really hard core Cyber Monday shoppers, there are also alternative measures you can take to avoid having to leave your desk to use the restroom, too; however, we're not going to go into those, but we'll only say that DealNews does not have an app to help you with that.
While there are no sure-fire ways of knowing what's going to happen on Cyber Monday, those are all the things you can do to prepare to make the most of the day. Just remember to be fast on your feet and never, ever, leave your desk for any reason, because you just know that that's when the TV you've been waiting for is going to go on sale.
Have other tips? Let us know how you're preparing for Cyber Monday, in the comments below!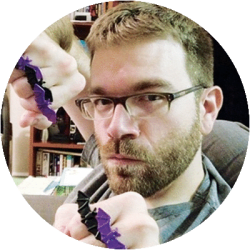 Contributing Writer
Jeff Somogyi is constantly trying to come up with ways to surprise and delight audiences the world over. He takes humor seriously ... too seriously. (Honestly, we've never seen him laugh ... it's kinda creepy.)
DealNews may be compensated by companies mentioned in this article. Please note that, although prices sometimes fluctuate or expire unexpectedly, all products and deals mentioned in this feature were available at the lowest total price we could find at the time of publication (unless otherwise specified).