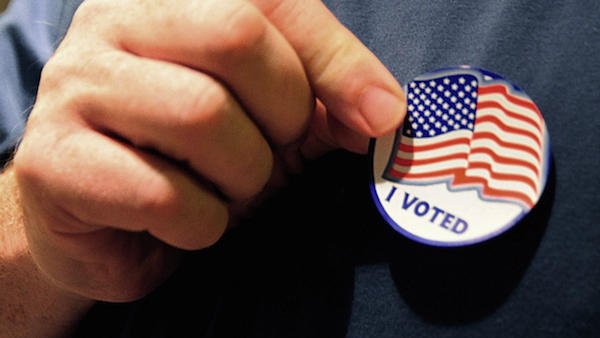 Most everyone can probably agree it's been a tough election season. Thankfully, the big day is today and no matter whom you support, we strongly encourage you to get out and vote! Then, hang on to that "I Voted!" sticker, because it turns out you can score some pretty awesome freebies — and save on other items — just for exercising your right. (Plus, if you've served in the military, you can snag military discounts and freebies every day.)
SEE ALSO: The 169 Best Military Discounts in 2019
All the Best Election Day Freebies and Discounts
7-Eleven: Download the app from this popular convenience store in order to snag an extra-large coffee in a 7-Election Stay-Hot cup for $1.


BurgerFi: Show your "I Voted!" sticker at participating locations and try the Conflicted Burger (one Angus beef patty and one veggie patty) for $5 (they're normally around $8 or $9).


California Tortilla: Treat yourself to free chips and queso with any purchase at this Northeastern US chain. Snag this deal by saying one of these phrases while ordering: "I vote for queso", "I'm with queso", or "Make queso great again".


Great American Cookies: This is another one you'll have to show off your sticker for, but you'll bag a free regular cookie with no strings attached when you do! It's available at participating locations only.


Krispy Kreme: Show off that sticker again and score a free doughnut of your choice at participating locations.


Nestle Toll House Cafe: This is another one to save your sticker for. Show that you voted and you can score a free chocolate chip cookie at participating cafes.


World of Beer: While you anxiously await to hear the results of the election, stop off here and ask your server for a pint of common good. Your first beer will be $1.


Uber: If you've never taken an Uber, today's the day to try it! First time users save $20 off their first ride via the code "VOTETODAY". Plus, there's a special in-app feature to help you find your polling place.


Zipcar: If you need a way to get to the polls, select Zipcars will be free tonight, from 6 pm to 10 pm local time. While there's no hourly reservation charge during this time period, other taxes and fees will still apply.


Gold's Gym: If you need to workout after indulging in a few too many sweet treats, show off your sticker and get free access today only at participating locations. Find a Gold's Gym near you here.


YMCA: If you need a babysitter while you vote, the YMCA has you covered. They're offering free childcare to parents; however, make sure your local branch is participating.


Hillsdale College: Get a pocket copy of the Constitution for free when you fill out this short form.


Noodles and Company: Vote for your favorite grown-up variety of mac and cheese, and score BOGO coupon.


East Coast Wings & Grill: Each entree comes with an order of five honey barbecue chicken wings for free.


Firehouse Subs: Show them your sticker and you'll receive a medium drink for free, no strings attached.


Maven: GM's ride-sharing service will offer $5 off all day, according to a GM spokeswoman.


Bananas: Once the election is all over and done with, you can treat yourself at this smoothies and frozen yogurt shop. Snag an "Orange You Glad It's Over?" smoothie tomorrow at participating locations for only 45 cents in honor of electing the nation's 45th president.
Readers, know of any freebies we missed? Let us (and your fellow deal-seekers) know in the comments below!
---