dealnews Staffers Gush About Their Proudest Purchases
By Alison Barretta, dealnews Senior Content Editor
You might think the daily grind at dealnews would make the staff jaded toward any and all discounts, but it's quite the contrary — we get just as excited about finding the perfect buy as our readers! And just like that friend who loves to proudly demand that people guess how much she paid for her dress, we also love to brag about our most memorable purchases from the site. Once we hit that "submit order" button, we'll tell anyone who will listen about our conquest: Family, friends, pets, the pizza delivery guy, and even perfect strangers on Twitter.
For example, I scored a $50 credit to EN Japanese Brasserie for $25 via Google Offers. I had seen (and purchased) the same offer from Groupon a year ago, so I was thrilled to see this deal appear again. EN is one of my favorite Japanese restaurants in New York City, and I plan on taking the train to Manhattan one Sunday morning for a delicious brunch (with my credit in tow).
So what else on the site has made the dealnews staff's heart skip a beat?


Molly Griffin, dealnews Ireland
Brother LC-61 Compatible Cartridge 8-Pack for $7 + free shipping
Molly's parents often wondered what exactly it was their daughter did for a living. (Professional shopping does seem suspect.) So, during a recent visit home, she managed to give her mother and father a perfect example of how dealnews can be used, while also saving them nearly $80 and a trip to the store. Their home printer, a Brother LC-61, was in need of ink. Instead of letting her parents trek across town for supplies, Molly showed them what a quick search for that model number on dealnews yielded. As a result, mom and dad not only nabbed some ink on the cheap, but also gained a newfound appreciation for their daughter's career choice.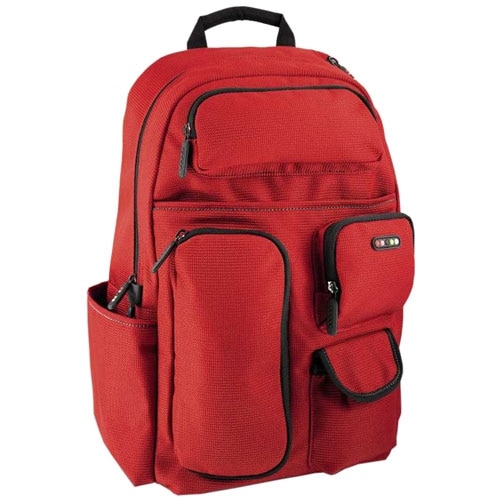 Kristen Hains, Content Editor
5dot Carrying Cases, Sleeves, and Backpacks for $4 + free shipping
Kristen is in the process of preparing for the new school year, and her son is reportedly prone to going through school bags "faster than Lady Gaga goes through meat dresses." Fortunately for Kristen, a generous selection of 5dot backpacks were heavily discounted during her pursuit. (She saw the same bags retailing for $40 at her local Walmart that same day!) Now Kristen's son has a collection of high-quality backpacks to last him until after college. Meanwhile, Kristen notes, "With the money I saved, I can work on weaving that bacon sweater vest for my son for the first day of school."
Nathan Cox, Content Editor
Skyway Sigma 2 20" Duffle for $6 + free shipping via Prime
At $6 shipped and a $24 price low, Nathan thought he had stumbled upon a price mistake. Fortunately, the deal was valid, although it barely lasted half an hour. With all of the traveling he's been doing lately (including a move from Alaska to Alabama), Nathan figured an extra carry-on bag would be wise to have. Plus, the bag is a size convenient enough for long weekends, and could ultimately save Nathan more money by avoiding costly airline baggage fees.
Chuck Phillips, Content Editor
2 Star Wars Sandwich Cutters with Vintage Tin for $10 + free shipping
"Sheer awesomeness" is why Chuck purchased this Star Wars-inspired bundle, which includes sandwich cutters shaped like a Millennium Falcon and Tie Fighter. Since he laments not having anything like that when he was in school, Chuck plans to share his sandwich cutters and lunch tin with his 2-year-old son (and to of course live vicariously through him when his classmates look at his lunch in envy).

Daniel Hendley, Senior Content Editor
Pisen DSLR Lens Cleaning Pen for $1 + free shipping
Daniel, our resident photo guy, purchased several of these inexpensive photo lens pens since they're almost identical to the Nikon Lens Pen — but at least $8 cheaper. Despite being just a buck, the pen performs as well as its more expensive, name-brand counterpart. Daniel gives the Pisen lens cleaning pen a glowing review, noting that it does a "fantastic job" of removing fingerprints and smudges from his lenses.
Jim Adams, Senior Content Editor
Up to 90% off Publisher Pack PC Game Downloads
Buying cheap PC game downloads is one hobby of Jim's. (Playing them all is another hobby, albeit a tad more time consuming.) This sale allowed Jim to purchase a bevy of older games for around the same price of one new release. Included were multi-title bundles from Rockstar, THQ, Square Enix, and other notable game publishers.
Jeffrey Contray, Managing Editor
Canon EOS Rebel T3i 18MP DSLR w/18-55mm Lens for $756 + free shipping (now $746 with free shipping)
Jeffrey and his wife recently welcomed into the world their first child, an adorable baby boy. While they were still expecting, Jeffrey was seeking a brand new Daddycam digital SLR with which he could capture his son's finest moments. In May, Best Buy had an unadvertised sale on DSLRs, which featured significant markdowns on several models, including the exact Canon camera Jeffrey had been looking for — available at an all-time price low (as of May) to boot! The Rebel T3i has served this new father well; the dealnews staff has been treated to some wonderful photos of the Contrays' pride-and-joy. (Next on the list: A new lens.)
Louis Ramirez, Senior Feature Writer
2 Bottles of Wine via $25 Credit + free shipping for new members at Lot18
As a self-proclaimed "wine geek," Louis loves trying new wines. He signed up for a Lot18 membership immediately after he spotted the deal, while thinking in the back of his mind that it was too good to be true. In this case, it wasn't a farce, and Louis got two bottles of wine for free. They were even better than some of the $10 wines he's tried!
Jeff Somogyi, Media Editor
Some Summonings Are Suspect (horror short story) eBook downloads for $1
Unlike our other accounts, Jeff's memorable deal isn't a purchase he's made. In May, Jeff's first short story hit the Amazon Kindle Store, and the staff took it upon themselves to celebrate his achievement by promoting it on the site. The host of the dealnews podcast appreciated the gesture: "It was touching that our company, with no profit to be gained from doing so, would promote my personal project...it just goes to show the kind of company dealnews is, and the caliber of people I work with, every day." The story is now available for free at Amazon, and two additional titles have since been published (also free).


Feeling inspired by these touching tales of dealnews retail therapy? Tell us about your proudest purchases in the comments! Or, keep an eye out for future brag-worthy deals; the best way to stay up-to-date is to subscribe for email alerts, which arrive in your inbox as soon as your desired deal posts to the site. (It's the next best thing to being a dealnews editor.)
DealNews may be compensated by companies mentioned in this article. Please note that, although prices sometimes fluctuate or expire unexpectedly, all products and deals mentioned in this feature were available at the lowest total price we could find at the time of publication (unless otherwise specified).