It's the perfect time of year to give your patio furniture a refresh, or even an upgrade. To help you on your way, we've rounded up five of this week's best patio deals, including sales from Wayfair, BrylaneHome, and Frontgate.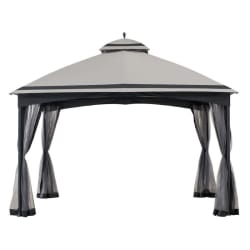 Sol 72 Outdoor Sale
Store: Wayfair
Discount: Up to 50% off EXPIRED
Shipping: $4.99 s&h, or free shipping w/ $35
Expiration: August 20

If you're looking to enjoy the rest of the summer sat comfortably in your backyard with a glass of juice and some form of floppy hat, then this is the sale that can help make that happen. From sofas and chaise lounges to umbrellas and gazebos, you'll find discounts on everything you need to indulge your relaxation goals: what we'll term a very determined staycation.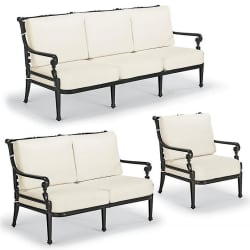 Outdoor Living Sale
Store: Frontgate
Discount: Up to 50% off EXPIRED
Expiration: July 29

This sale is definitely catering to a certain market of patio enthusiast. (The kind who'll spend almost $700 on a set of bronze statues depicting what can only be described as "extremely buoyant" beachgoers and their incredibly cool dog that definitely either solved or committed a crime before hitting the shore.) But much like that dog, the discounts are are pretty cool – you can save on monogrammed doormats, a beach ball pillow, some LED light strands for when you need to order another sangria from the Upside Down, and lots more.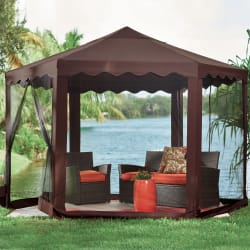 BrylaneHome 13-Foot Screened Hexagon Gazebo
Store: BrylaneHome
Price: $169.99 EXPIRED
Shipping: $44.99 s&h
Lowest By: $190
Expiration: August 2

For full disclosure, this roundup was originally going to include a pergola, until that deal expired, so I'm going to quickly use the joke I had lined up for that deal: "Pergola" was originally how Italian soccer players got paid.

Ahahaha.

This gazebo isn't a pergola, but it is more than half off, almost $200 down from its list price. It features a rust-resistant, white powder coated, heavy-gauge tubular steel frame, nylon netting, and a fire-retardant, waterproof PVC coated polyester canvas canopy. It measures 13 feet x 8.75 feet x 11.5 feet, and includes guide ropes and ground stakes.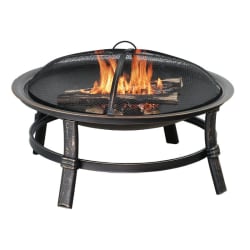 Fire Pit Sale
Store: Wayfair
Discount: Deals from $37
Shipping: Free shipping
Expiration: August 13

I know what you're saying. You're saying "Give me the secret, DealNews. Clue me what to do. Give me the power of man's red flower so I can be like you." So here's what I'll do: I'll point you towards this fire pit sale, full of prices so low, we've named them Lowgli. Now I bet you're asking yourself: "Two Jungle Book references in this deal already. Is he going somewhere with this?" And y'know, you'd think I would be.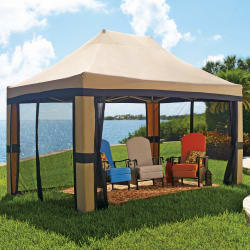 Outdoor Furniture Sale
Store: BrylaneHome
Discount:

Up to $352 off

If none of the above sales cut it for you, we've got one last ditch hope. Or, more accurately, 25 of them, since that's how many items are in this sale. As you're browsing the discounts on chairs, gazebos, and tables and such, remember that shipping starts around $5.99, and also quickly earns surcharges of around $20 on larger items.