If you're resolute in your desire to eat better (or at least cook more) in the new year, we've got a selection of this week's best kitchen deals to help you on your way. It includes an ice cream maker to make things fun, a 12-piece T-Fal set to get serious, and a food processor to make things easy.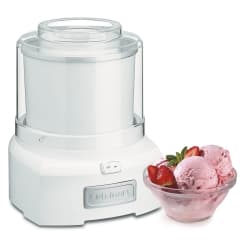 Cuisinart 1.5-Quart Ice Cream Maker
Store: Walmart
Price: $39.99 EXPIRED
Shipping: Free shipping
Lowest By: $9
Expiration: March 24

You might have committed to homemade meals for the New Year... but dessert is technically a meal, right? And ice cream is one of the main food groups, depending on which book you're looking at. So indulge your sweet tooth in a mature, responsible way – first by saving $9 on this ice cream maker, and then by using it to make some unholy flavor combinations. The machine creates fresh and frozen treats in less than 20 minutes, and features an easy-lock lid, double-insulated freezer bowl, and advanced mixing paddle.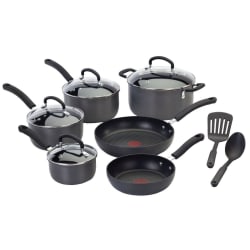 T-Fal Ultimate Hard Anodized Aluminum 12pc Cookware Set
Store: Home Depot
Price:

$99.99


Shipping:

Free shipping


Lowest By: $50

Take your stovetop cooking up a notch by investing in the right utensils for the right job. This T-Fal set includes a dutch oven, two frying pans, three sauce pans, four lids, a spatula and a spoon. That means stir fries, pasta dishes, rice dishes, perfectly-fried steaks, slow-cooked sauces, and casseroles are all instantly available to you, many of which should have plenty of leftovers. Which makes our next item a perfect complement.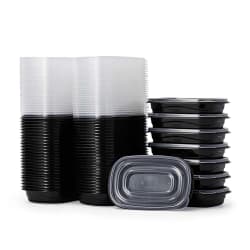 Rubbermaid 4-Cup Food Storage Container 60-Pack
Store: Amazon
Price: $29.75 EXPIRED
Shipping: Free shipping
Expiration: January 13

Sixty 4-cup containers, each with a lid – the perfect way to store and plan your meals when you make chili for eight, and only serve for four, or you cook up a beef bourguignon for four, but serve for two. You can fix those numbers as you like, but cooking a little extra on the night so you have easily-heated lunches throughout the week is a timesaver, money-saver, and assuming you're keeping an eye on things, calorie-saver. So this Staff Pick Rubbermaid set is a lifesaver.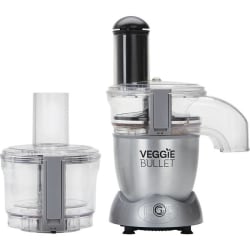 NutriBullet Veggie Bullet Spiralizer & Food Processor
Store: Walmart
Price: $34.99 EXPIRED
Shipping: In-store pickup, or free shipping with $35
Lowest By: $35
Expiration: January 9

If you're all in on buying the ingredients, following the recipes, and eating the profits, but just can't seem to make your knives do the work in between, this may be the answer you need. With settings for slicing, shredding, and spiralizing, it takes the hard work out of cutting fruit and vegetables. Fittingly enough, Walmart has cut the price, all the way to half-off – you can either pick it up in-store, or pad your order to over $35 to get it shipped for free.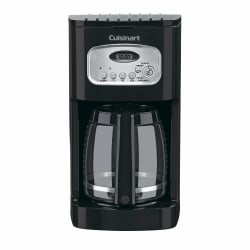 Refurb Cuisinart 12-Cup Programmable Coffeemaker
Store: eBay
Price:

$32.99


Shipping:

Free shipping


Lowest By: $18

Kitchen-centric savings don't start and end at food. Taking the Starbucks stop out of your commute in favor of a homemade coffee (held in an environmentally-friendly reusable mug!) will save you plenty in the long run, and take some of the temptation of the mostly-sugar concoctions out of the mix. If you don't mind buying refurbished, this Cuisinart 12-cup coffeemaker saves you $18 over buying new. The self-cleaning appliance features 1- to 4-cup settings, and includes a 12-cup carafe with ergonomic handle, dripless spout, and knuckle guard.

A 90-day Cuisinart warranty applies.