The Complete Guide to Home Security Systems
Traditional systems give you the assurance of 24/7 monitoring, but smart devices are making DIY home security easier and more affordable.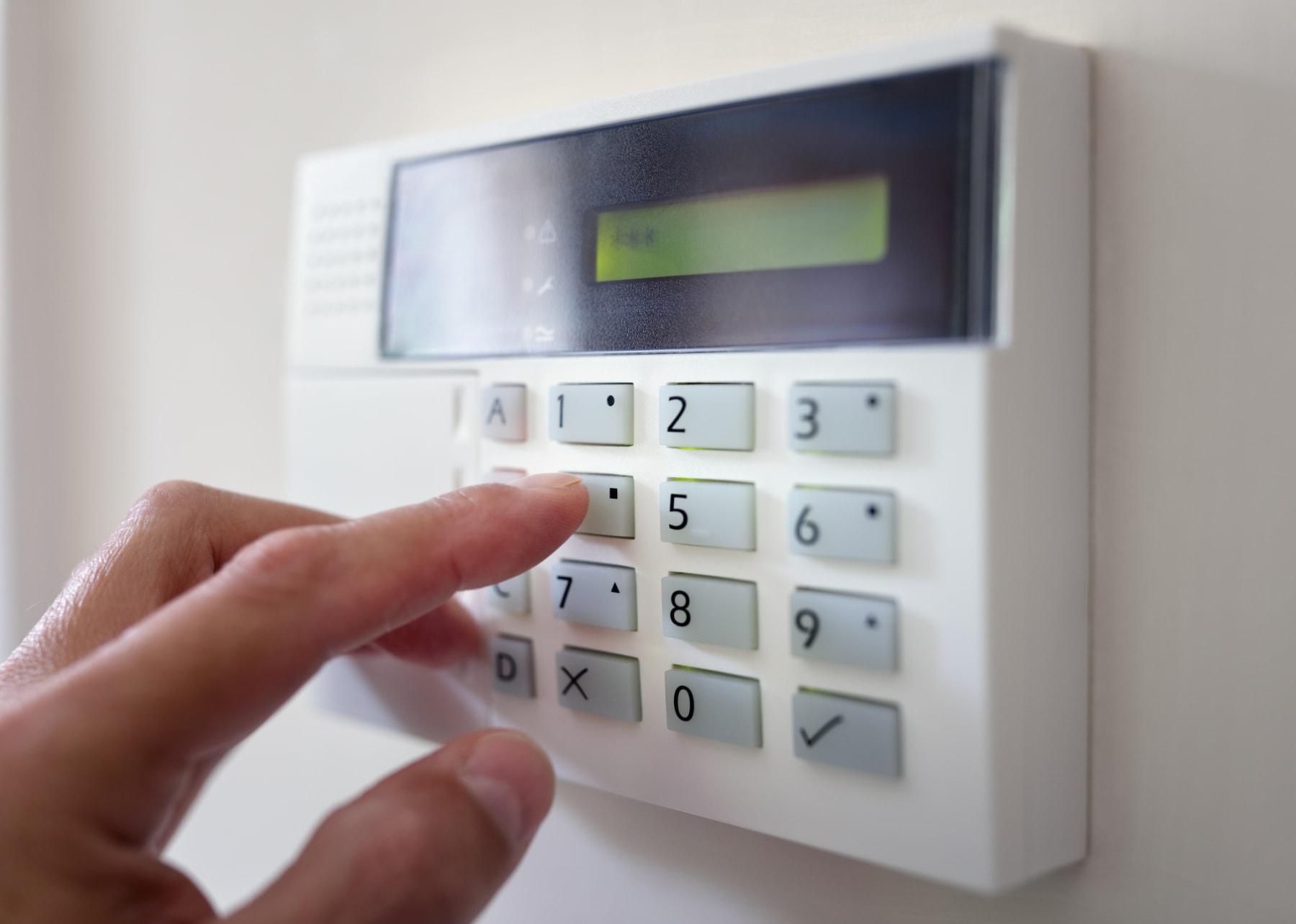 According to the FBI's most recent estimates, there were over 1.5 million burglaries in 2016, with an average dollar loss of $2,361 for each offense. That's where home security systems come in. There are more options than ever, and prices can vary greatly depending on the size of your home and how you want to secure it.
Read on for everything you need to know about home security.
Traditional Security Systems
Though the bells and whistles differ from system to system, most plans include entry detection sensors, an audible alarm, a control panel to turn the alarm on and off, and 24/7 monitoring. The monitoring is what makes these systems shine. There are real people keeping an eye on your home all the time, and they'll call the police or fire department in an emergency.
A traditional home security system offers 24/7 monitoring. Real people will keep an eye on your home, and they'll call the police in an emergency.
The downside is cost. While you might have the option to pay for hardware upfront or lease it from your provider, you'll always have a monthly bill for monitoring, and that cost adds up. And most providers also require a 36-month contract.
Frontpoint
It's not the cheapest option, but with some of the most transparent pricing in the industry, Frontpoint is a definite favorite. On top of making it easy to tell what your security system will cost, the service offers a 30-day trial period with no restocking fee or return shipping costs — if you don't like the system, just send it back.
Frontpoint offers three plans that are all monitored by cellular service, which is more reliable than using your home phone line. They also all include protection against intrusion, environmental hazards, fires, and medical emergencies. Expect to pay an add-on fee for certain devices, though, such as a carbon monoxide sensor or a "panic" button.
At higher price points, you'll get what Frontpoint calls Crash and Smash Protection, which contacts the company if the system is broken (for example, if the control panel is smashed by a burglar). Interested in home automation? You can get that, too, with remote monitoring via your mobile device, live video streaming, as well as remote light, lock, and thermostat controls.
You'll pay $100 to $500 upfront for equipment (which is wireless and self-installed), as well as $35 to $50 per month with a 3-year commitment.
Protect America
An option that's easy on the budget, Protect America has no upfront activation, installation, or equipment fees. Starting at $19.99 a month, the service has the lowest monthly pricing on this list — and it'll lock in your rate, so you won't be hit by unexpected increases. However, there are some trade-offs to this low-cost system. For instance, there's no lengthy, risk-free trial and the lowest pricing tier only does monitoring via your phone line.
SEE ALSO: 5 DIY Projects You Should Leave to the Pros
The self-installed system offers the basics with door and window sensors, as well as a motion detector, but you'll have to pay for Smart home features. You can get automatic door locks, monitored smoke detection, HD video surveillance, and even mobile garage door control, but they'll require an upgrade to your plan.
Base subscriptions run from $19.99 to $42.99 a month with a 36-month commitment — it's a great deal if you want a no-frills system.
ADT
ADT is one of the biggest names in home security — it's been in operation since 1874, when the company provided telegraph-based alerts. Today it offers a bevvy of high-tech home security systems, which can include intrusion detection, video monitoring, and fire, flood, and carbon monoxide detection.
Smart home features can be added, too, with options for mobile access, as well as control of your locks, lights, thermostat, and appliances. ADT has an especially robust monitoring network, with multiple monitoring stations to watch your home in case one station has an outage. And if your home is burglarized, ADT offers up to $500 in theft protection.
The downside to ADT is its price — and a general lack of price transparency. Basic pricing only includes intrusion detection over a phone line, so if you want important extras like cellular monitoring, fire protection, carbon monoxide protection, or any home automation features, the costs can balloon. Professional installation is required, and fees run $99 and up.
Base subscriptions can range from $28.99 to $52.99 a month with a 36-month commitment — but if you're looking for a system that's customizable and reliable, ADT may be worth the cost.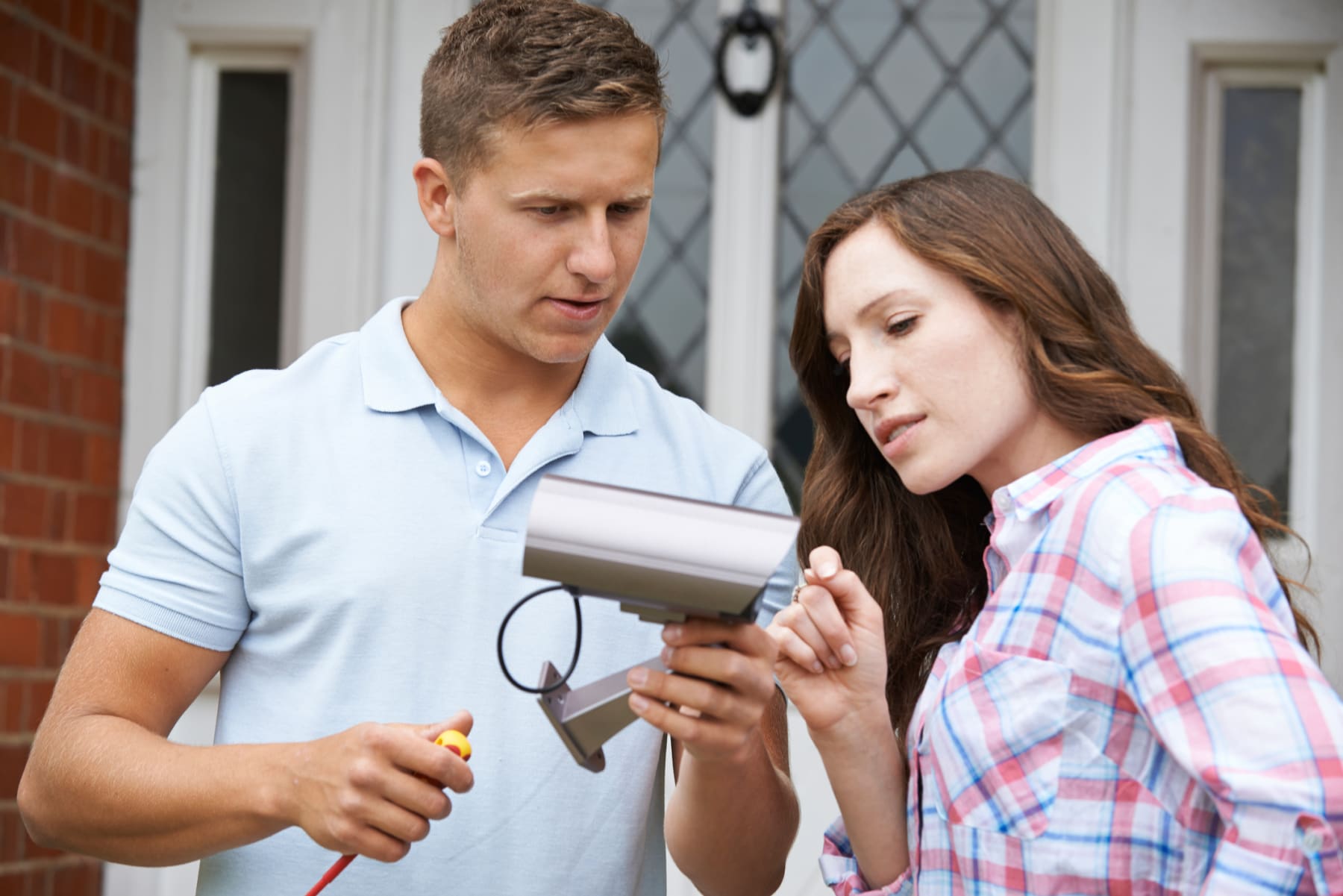 DIY Home Security Options
Incorporating Smart home technology into your security is easy with web-connected cameras, fire alarms, and door locks. Pricing is also much more predictable than with a traditional security company; Smart home options will typically have a clear upfront cost, no long-term commitment, and often no subscription fees.
Smart home security options will typically have a clear upfront cost, no long-term commitment, and often no subscription fees.
The big downside to such systems is that professional, 24/7 monitoring may not be available. While you can get alerts from the system on your mobile device, it's on you to do something with that information. Still, these cost-effective systems boast a wide range of potential configurations to meet your needs and budget.
Canary All-in-One
As its name suggests, this serves as an an all-in-one security option. The Canary All-in-One is a single device that features a 147-degree, 1080p camera with night vision as well as motion detection. Plus, it can monitor temperature, humidity, and air quality. It plugs into a wall outlet and connects via your home's WiFi network or an Ethernet cable. If you want to use voice support, the Canary All-in-One is compatible with Amazon Alexa or Google Assistant.
Should a burglar enter your house, you can use the Canary app to sound the device's 90 decibel siren or contact emergency services.
The Canary All-in-One retails for $169, though you may be able to find it for as low as $115 on sale. You can also bundle the device with a membership, or purchase a membership separately for $9.99 a month or $99 a year (for up to five devices). A membership will get you premium features such as a 30-day video history, two-way talk, and desktop streaming.
iSmartAlarm
Instead of an all-in-one device, iSmartAlarm is a system of connected devices. It includes a hub that controls the system, plus components you can connect to it, like several different types of cameras (one of which includes night vision), Smart switches, motion sensors, contact sensors, and a 110 decibel siren.
SEE ALSO: 7 Winter Home Improvements That Will Lower Your Heating Bills
iSmartAlarm will send you notifications if there's unusual activity. In addition to monitoring and controlling your iSmartAlarm system through an app, you can also use a key fob to control basic features.
iSmartAlarm costs vary depending on which components you want, but package and bundle prices range from $179.99 to $613.90 — though only two of those include a camera. There's no monthly fee.
Amazon Cloud Cam
If you're only looking for monitoring, perhaps all you need is the Amazon Cloud Cam. This 1080p connected camera will let you view live video streams on the Cloud Cam mobile app or a computer, and will send you alerts if it detects activity. It also works with Alexa, so you can ask to view the live feed on the Echo Show, Fire Tablet, and other Amazon devices. Two-way audio is also compatible with certain Amazon products.
The Amazon Cloud Cam costs $119.99 and requires no subscription, but if you want to keep video clips for more than 24 hours or use advanced features, you'll have to pay between $7 and $20 a month — or $70 and $200 a year.
Home Security From Your Cable Provider
Looking for an alternative that falls somewhere between traditional security services and the DIY options? Some cable companies offer Smart home services. Prices and offerings vary greatly, but all include professional monitoring, which adds reliability. While the prices aren't better than what you'd get from any other security system, you may find it more convenient to deal with a single vendor.
Here are some major options:
Readers, have you secured your home with one of the options above? Or have you left your belongings in the cruel hands of Fate? Share your thoughts (but not your address) in the comments below!
---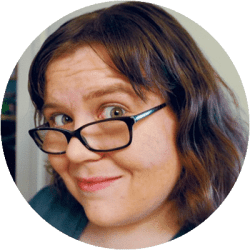 DealNews Contributing Writer
Originally working in IT, Elizabeth now writes on tech, gaming, and general consumer issues. Her articles have appeared in USA Today, Time, AOL, PriceGrabber, and more. She has been one of DealNews' most regular contributors since 2013, researching everything from vacuums to renters insurance to help consumers.
DealNews may be compensated by companies mentioned in this article. Please note that, although prices sometimes fluctuate or expire unexpectedly, all products and deals mentioned in this feature were available at the lowest total price we could find at the time of publication (unless otherwise specified).