Where do office workers go to dance really awkwardly in an attempt to stave off the inevitable RSI and/or DVT? The desk-otheque! Ah, we have fun at DealNews dot com, but we also round up five of the best desk deals to cross our path this week. They include a 3-drawer wheeled desk at Home Depot that's a shade off half-price, and a wide-ranging sale at Wayfair.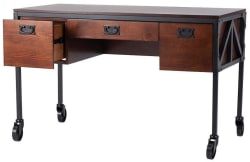 Home Decorators Collection 3-Drawer Desk w/ Wheels
Store: Home Depot
Price: $269.46 via code "HDOFFICE10" EXPIRED
Shipping: Pickup, or $55 s&h
Lowest By: $230
Expiration: August 31

This classic farmhouse desk features "warm wood tones accented by black metal", which sounds like a Norwegian guitarist's YouTube review of a new ESP guitar, but remains true of this desk nonetheless. Thanks to the coupon code "HDOFFICE10", you're paying just a hair over half price for it. It measures measures 30" x 53.5" x 29.5", and features 4" fixed wheels.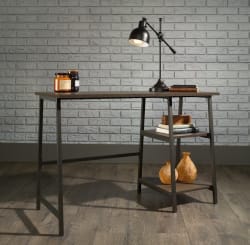 Desk Discounts
Store: Wayfair
Price: from $30 EXPIRED
Shipping: Free shipping w/ $35
Expiration: September 16

From simple slabs to replace damaged or decrepit desktops to riser attachments to full standing desks, everything you need to make your working space more presentable is on sale in this Wayfair selection. I saw at least one desk with a pull-out keyboard tray, which I can't imagine doing without, if only for the satisfaction of triumphantly pushing the tray away at the end of a workday (or angrily doing the same thing when Windows bluscreens or something).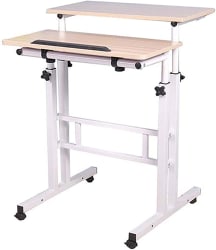 Mind Reader 2-Tier Sit and Stand Mobile Desk
Store: Amazon
Price: $68.45 EXPIRED
Shipping: Free shipping
Lowest By: $29
Expiration: August 21

This desk should appeal to anyone who's ever had to deal with a shifting glare on their computer screen: an extremely mobile station that can be used sitting or standing. The name makes it sound like it would automatically adjust its height based on how it psychically perceives your mood, but I think it's just a brand name, and you'll be manually adjusting (for now). You'll also be waiting a little while – this model is temporarily out of stock. You can order it now at this price though, and it'll ship when available.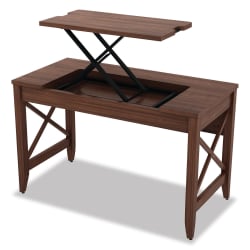 Alera Sit-to-Stand Table Desk
Store: Sam's Club
Price: $279.98 for members EXPIRED
Shipping: Free shipping
Lowest By: $42
Expiration: September 14

If you're looking for a more stationary sit/stand desk, this one comes in $42 less than you'd pay elsewhere, and even includes leveling glides so uneven floors can't foil you. (Non-members pay a $28 handling fee, so you might prefer to just fork out the $45 for a 1-year membership, and reap extra savings for 12 months.) It features a height-adjustable work surface with 14" range, and measures 29.5" (to 43.75") x 47.25" x 23.63".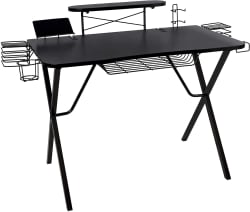 Atlantic Gaming Original Gaming Desk
Store: Amazon
Price: $125.64 EXPIRED
Shipping: Free shipping
Lowest By: $20
Expiration: August 31

This gaming desk comes with features that are easy to mock but also really useful. Will I make a joke about the a jumbo Mtn Dew sitting in the drink holder? Yes. Am I also wishing I had that drink holder? Darn tootin'. Built-in controller stands, headphones hook, smartphone stand, monitor riser... it's genuinely a feature-rich desk that doesn't suffer from the typical Classic Gamer RGB-obsessive aesthetic. The product pics even show my exact Logitech speakers, which is the most niche form of relatability I've experienced in this job.