Dash cams are so popular these days, it's not surprising to find footage from one showing a meteor streaking across the sky or an unbelievable near-miss accident. These gadgets are handy and a good investment for any driver, whether you want to protect against insurance fraud or record your epic road trip. Check out our roundup of the week's best automotive deals to find a dash cam that fits your needs and budget.
Pilot Automotive 720p Dash Cam
Store: Walmart
Price: $13.43 EXPIRED
Shipping: In-store pickup, or $5.99 s&h
Lowest By: $6
Expiration: October 22

Record every second of your daily commute with this affordable 720p dash cam. It records both video and audio, and has date and time stamps so you can keep all your footage organized. It features a video looping function, and has everything you need to get started right out of the box. The camera has a 2.4" LCD, and it comes with a suction mount, USB charger, car charger, and 4GB microSD card.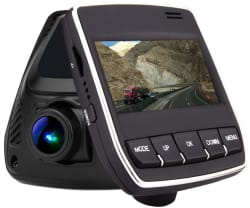 Vovdogg 1080p Dash Camera
Store: Amazon
Price: $39.89 via code "2UNWJY5A" EXPIRED
Shipping: Free shipping
Lowest By: $59
Expiration: October 22

Catch all the important details of your time on the road with this 1080p dash camera. The wide-angle lens will pick up filming in both day- and nighttime situations, providing high-quality video even in the dark. The gravity sensor is designed to sense a crash in case of emergencies, and automatically saves the video file so you'll have documentation of the incident. Features include 1080p video recording, a 2.5" screen, and 165° wide-angle lens.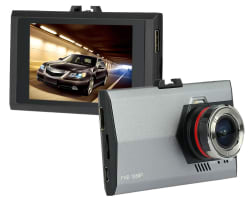 KKmoon 3" 1080p Car Dash Camera
Store: Cafago
Price: $15.99 via code "K446S" EXPIRED
Shipping: Free shipping
Lowest By: $6
Expiration: November 6

Install this 3" 1080p car dash camera in no time thanks to the included suction cup. The G-sensor ensures any significant or sudden movement is detected, and those particular files are locked so they're not recorded over. Otherwise, loop recording automatically overwrites oldest footage with newest filming. Features include a 3" HD LCD, up to 1080p video recording, 12-megapixel still capture, 170° wide-angle lens, night vision, motion detection, built-in microphone and speaker, TF card slot, and rechargeable battery. It comes with a car charger.

Note: This item ships from China and may require two to five weeks to arrive. The countdown timer on the product page does not reflect an actual expiration time and resets daily.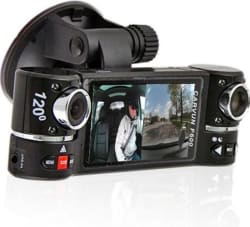 Indigi Dual Rotating Driving Recorder DVR
Store: Walmart
Price:

$82.98


Shipping:

Free shipping


Lowest By: $6

Cover all your bases with this dual rotating driving recorder DVR. It powers on automatically when the engine is turned on, and has dual cameras to record everything in front and inside of the car. With support for GPS and G-sensors, if an unfortunate incident should happen, you'll have plenty of information to provide to the insurance company. It supports up to a 32GB microSD card, and features a 2.7" 16:9 split LCD screen and continuous recording.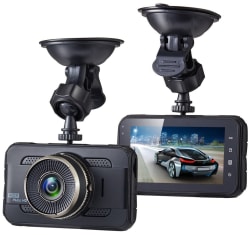 Sebikam 3" 1080p Car Dash Camera
Store: Amazon
Price: $33.57 via code "QRWRSLKR" EXPIRED
Shipping: Free shipping
Lowest By: $66
Expiration: October 19

Ideal for capturing a cross-country road trip, this 3" 1080p car dash camera will film your surroundings with clarity, providing a beautiful memento of your travels. The wide-view angle provides full lane coverage, and will automatically record and store images in the event of an intense collision or sudden turn, so you'll have evidence of what happened. It features a 170° wide-angle lens, motion detection, and support for microSD cards up to 32GB.