How to Buy a Pillow
Don't waste hundreds of dollars on the wrong pillow! Pick the pillow that suits your budget and your sleep style.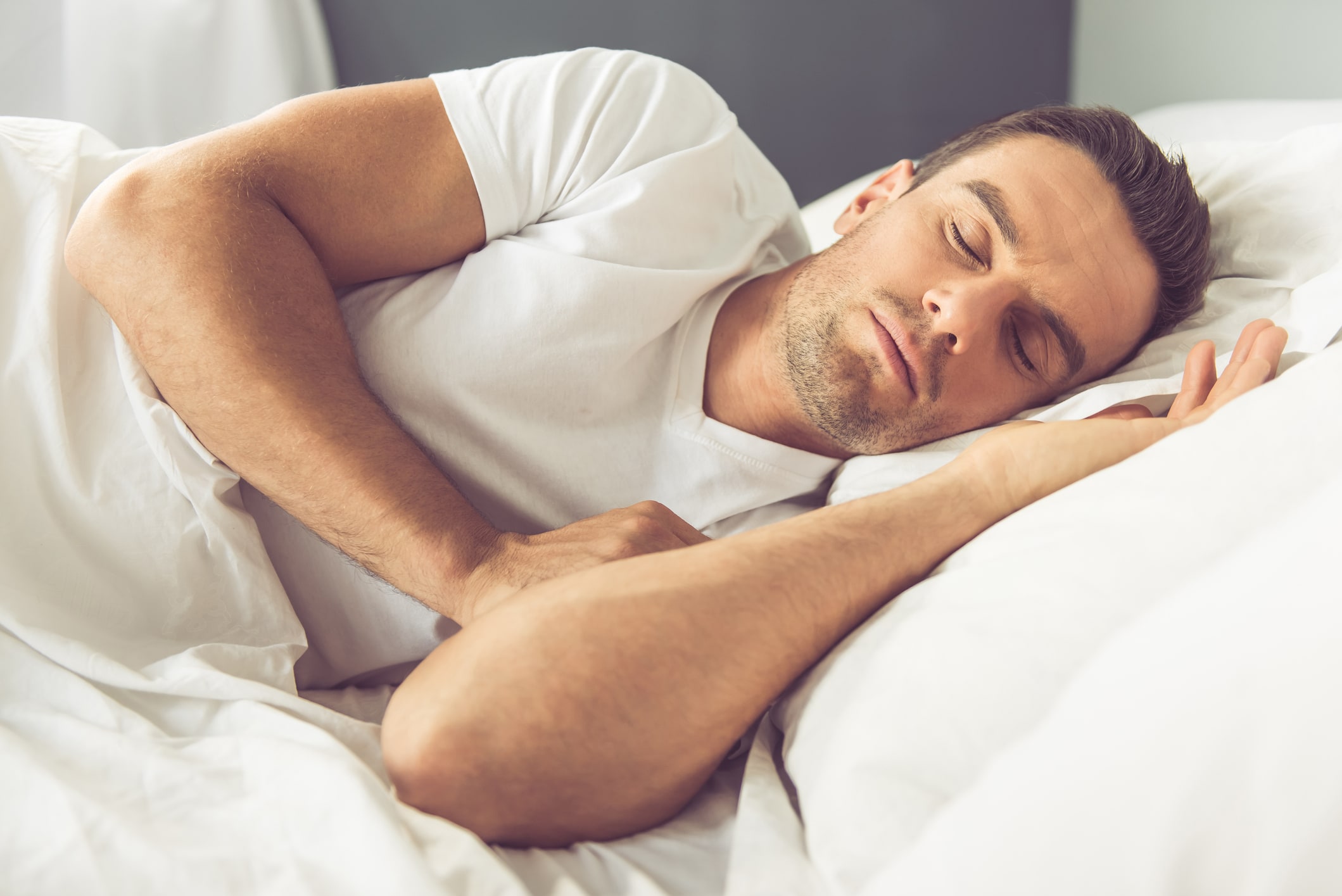 There's no denying that sleep is important, and quality rest plays a key role in keeping you mentally and physically healthy. Having the right mattress is a huge part of ensuring better sleep, but it's not the only part. You also need a pillow that will help you wake up refreshed, not sore.
We put together a handy infographic with lots of pillow-buying tips. Check it out, then read on below for our in-depth pillow buying guide.
SEE ALSO: What It's REALLY Like to Buy a Mattress Online
How to Buy a Pillow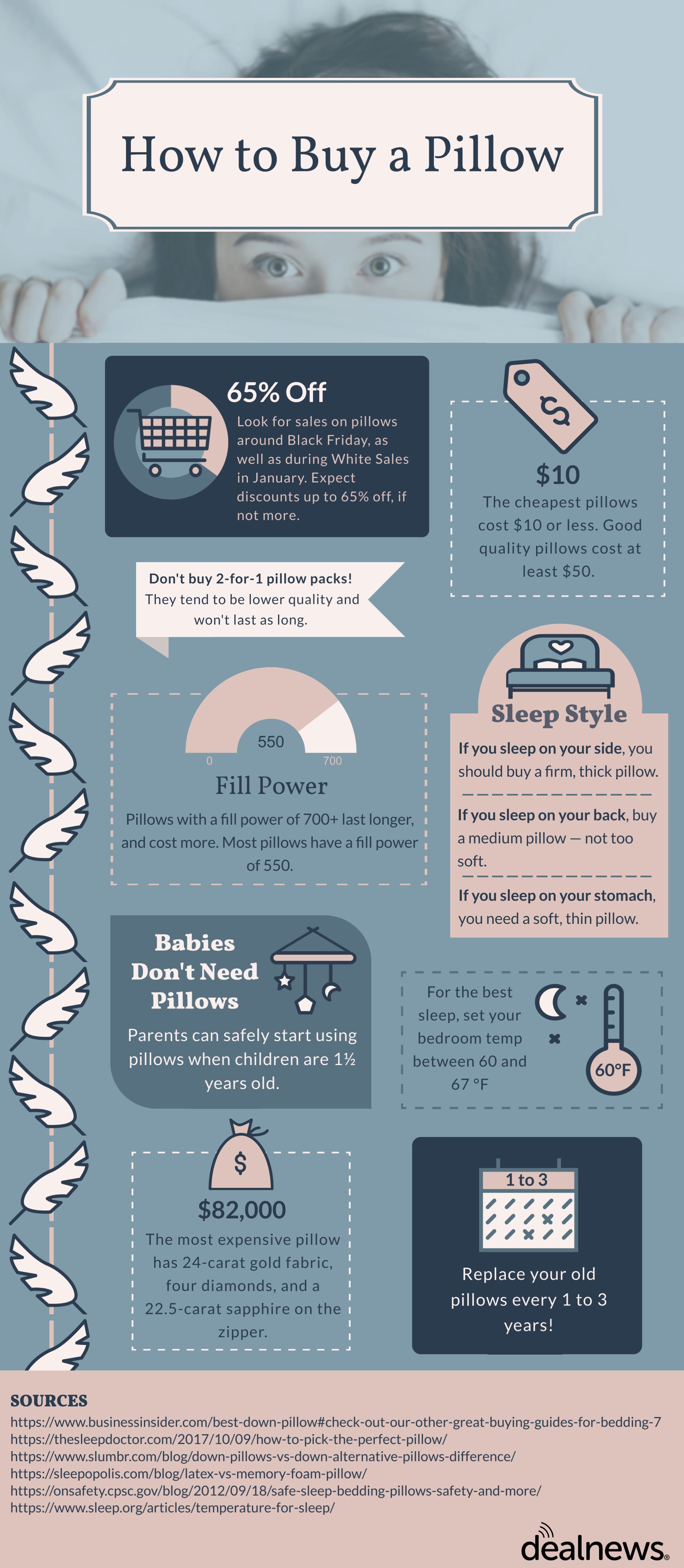 4 Questions to Ask When Buying a Pillow
There are quite a few things to consider when you're planning to buy a pillow. Everyone is different, so here are four big questions you need to answer before making a pillow purchase.
1. How firm does my pillow need to be?
Pillow firmness depends on your sleep style. People who sleep on their side need a different firmness from people who sleep on their back or stomach.
If you're a side sleeper, you need a firm pillow. According to Consumer Reports, side sleepers need a fuller pillow in order to make up for the space between the bed and your upper back and shoulder.
If you're a stomach sleeper, you need a soft pillow. Stomach sleepers lay flat, but keep their heads turned to the side. Because of that, you'll be fine with a thinner, soft pillow with low fill density to keep everything aligned.
If you're a back sleeper, you need a pillow with medium firmness. When sleeping on your back, supporting your neck is key. Look for a medium pillow to keep your spine aligned without pushing your head forward. The pillow's loft is more important than its density for you, so opt for a thick, soft pillow.
In-store shopping is ideal for pillow buyers, so you can hold the pillow in your hands and feel its weight. You want to give it a good squeeze, moving the filling around to see how it'll feel at night. If you buy a pillow online, be sure to review the return policy first to be sure you can return or exchange a pillow that doesn't work for you.
2. Should my pillow keep me cool?
Many mid- and high-end pillows tout special features like cooling gel coatings or proprietary fillings. But even if you sleep hot, you may not really need these expensive additions. Studies have shown that simply sleeping in a cold room - between 60 and 67 °F - can help you fall asleep faster, among other benefits.
If you suffer from night sweats, it's worth purchasing a more breathable pillow.
That said, if you suffer from night sweats in the dead of winter, it's worth purchasing a more breathable pillow. Consumer Reports notes that, the more dense the filling, the less air flow a pillow will have. Look for pillows that are made of polyester or shredded foam to be the coolest.
3. Does my pillow need to be washable?
One big thing to know before buying a new pillow is what caring for it will entail. Not all pillows can be washed and dried like clothing, and the last thing you want is to buy a new pillow that you won't bother to keep clean.
Pillows absorb a ton of shed skin cells, sweat, and oils. If you get sick, your pillow can spread the germs to your partner. Washing your pillows regularly is also crucial to keeping your allergies in check..
SEE ALSO: How to Wash Cats, Pillows, and Other Awkward Items
You can find some basic pillow washing guidelines here, but we recommend always checking the care label before you toss a pillow in the washing machine.
4. What should my pillow be filled with?
The type of pillow fill you opt for will be dependent on what feels most comfortable to you — as well as the kind of support you need. In general, there are five types of fill you'll come across:
Down Pillows: These tend to be the fluffiest pillows you'll find, but they're also more pricey. Pillows that are filled with a mix of down and feathers tend to be cheaper. Because down comes from geese and ducks, this filling can be irritating to allergy sufferers. Down pillows are very durable, and can last several years with proper care.


Down Alternative Pillows: These are great for anyone who has a down allergy, and they also tend to be cheaper than down. Quality down alternative pillows typically stand up better to washing than cheaper Poly-Fill pillows.


Memory Foam Pillows: Pillows with this fill are common now, and come in either solid or shredded styles. Solid memory foam pillows can provide more support, but they're less breathable than shredded models. Shredded memory foam can be moved around, which allows you to shape a pillow to your preference.


Latex Pillows: Latex fill is spongy like memory foam, but springs back faster than memory foam — it doesn't have the slow, sinking feel you get from memory foam. They can also come in solid or shredded styles like memory foam. In general, people tend to prefer either memory foam or latex, but not both.


Poly-Fill Pillows: The very cheapest pillows are made of Poly-Fill or similar synthetic materials. Not to be confused with higher-end synthetic fillings, this filling tends to get warped and lumpy when you wash it. Further, these pillows' cheap construction doesn't last long with daily use. If you don't mind replacing your pillows more often — every 6 months or so — these pillows are extremely budget friendly.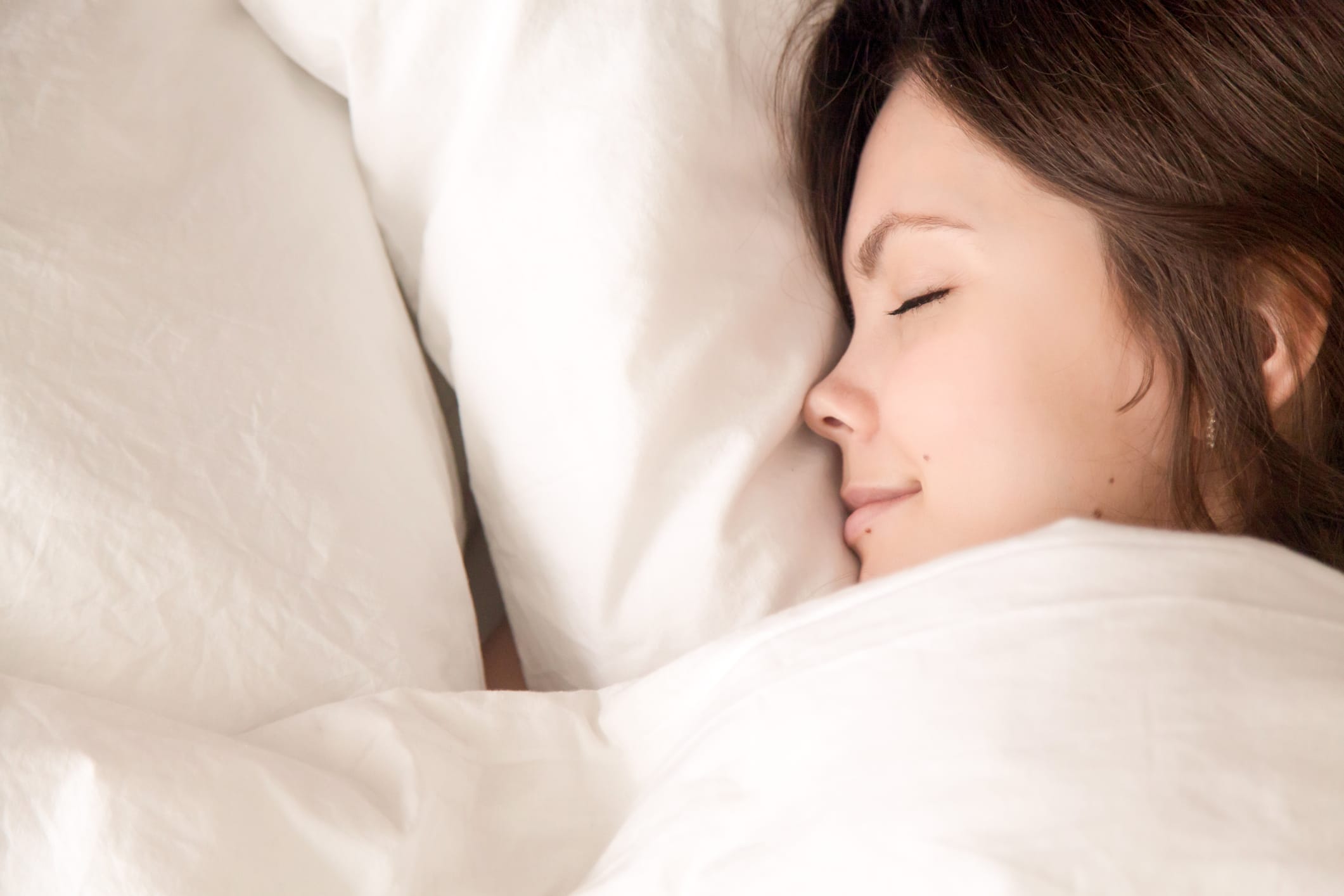 Pillow Prices Are All Over the Map
To say that pillows have a huge range of prices would be an understatement. You can find them as cheap as $2 around Black Friday, but luxurious models can easily go for hundreds or even thousands of dollars. In fact, the most expensive pillow — the Thijs van der Hilst's Tailor Made Pillow — will apparently set you back $82,000.
Aside from the extremes, there's a pillow for every budget. Here's what you can expect to pay for low-, mid-, and high-end pillows:
Budget Pillows
Price Range: Under $10
What You Get: Stores like Kohl's and Target offer Poly-Fill pillows that are labeled as "overfilled" for extra support. While they're a step up from the very cheapest models, these pillows will likely be bigger than what you need — unless you're sleeping on a very firm mattress. Despite the overfilling, these pillows will lose their shape quickly.


Mid-Tier Pillows
Price Range: Around $50
What You Get: Around $50 is where you'll see many pillow brand names, like Sealy and Sleep Number, as well as select sizes from The Company Store. Shredded memory foam is a popular filling in this tier, but traditional down alternatives are also available in this price range.


High-End Pillows
Price Range: $100 and Up
What You Get: Right at the $100 mark, you'll commonly see memory foam or latex pillows. Fancier down alternative pillows are also in this bracket. Down pillows typically start at $200.
When Do Pillows Go on Sale?
Like most everything else, Black Friday is a great time to shop for pillows and bedding. Department stores will drop already low prices even lower — think Kohl's dropping a $9 pillow to $3. No matter what kind of pillows you want, Black Friday is a good time to stock up.
Black Friday is a great time to shop for pillows and bedding.
Outside of Black Friday, look to white sales in January as a good time to buy bedding. Some discounts will be modest, knocking $8 to $10 off already affordable pillows. Department stores like Macy's will have sales that take up to 65% off more expensive brands and styles.
Keep an eye out around other times of year, too. Memorial Day and Labor Day sales both tend to offer bedding deals. We've seen mattress brands like Casper and Purple offer their proprietary pillows for free when you purchase a mattress during some holiday sales.
Avoid These Pillow Pitfalls
There aren't a ton of mistakes to make when pillow shopping, as much of the process is based on personal comfort. That said, it's easy to overspend on pillows. Avoid these mistakes, and your budget will thank you:
1. Don't forget your mattress.
If you aren't thinking about your mattress, you're already off to a bad start. Choose the correct pillow firmness to complement your mattress firmness. With softer mattresses, the distance between your head and the mattress is smaller. This means you'll need a less firm pillow, because you'll need less head support. If your mattress is very firm, you'll need a firmer pillow to provide more support.
2. Don't buy two-for-one pillow packs.
These BOGO deals are common in department stores and warehouse clubs, typically costing around $20. While these cheap Poly-Fill pillows are good for a while, they wear out fast. Because you have to replace them more frequently, they aren't a good long-term solution.
3. Don't buy designer pillows.
Designer brands like Ralph Lauren don't make their own pillows — they're manufactured elsewhere and marked up because of the name on the label. If brand is really important to you, opt to purchase a mid- or high-tier pillow from a respected pillow or mattress brand.
4. Don't wait too long to replace your pillow.
When factoring in the cost of your new pillow, one thing to remember is how often you're supposed to replace it. As a general rule of thumb, quality pillows should be replaced every 1 to 3 years. If you're sleeping on a super cheap pillow, you should consider replacing it every six months.
Readers, what kinds of pillows do you prefer? Let us know in the comments below!
---
Senior Staff Writer
Julie joined DealNews in 2015. Her work has been featured on MSN, Business Insider, Lifehacker, The Motley Fool, GoBankingRates, and Moneyish. In her spare time, she enjoys baking sweets, reading thrillers, and listening to an ever-growing list of podcasts.
DealNews may be compensated by companies mentioned in this article. Please note that, although prices sometimes fluctuate or expire unexpectedly, all products and deals mentioned in this feature were available at the lowest total price we could find at the time of publication (unless otherwise specified).