When to Buy an iPad mini & How to Get a Deal on the iPad 5
October 22 is shaping up to be a busy day for Apple. Not only is the company expected to announce the new iPad mini 2, but rumors indicate we'll also witness the debut of the iPad 5.
As with all Apple announcements, consumers should gear up for discounts on previous generation devices. But just how low will prices go, and when will we see deals on the new tablets? Our DealNews data indicates the next few weeks will see more iPad deals than you think.
Refurb 1st-Gen iPad Minis Will Drop to $239
With the iPad mini 2 a day away, the first question on everyone's mind — aside from will it have a Retina display — is what will happen to the original iPad mini? Will Apple chip away at the mini's price as it has with other product lines, or is the mini going to fade into the sunset? Unfortunately, there's more of a chance that Apple will discontinue the first-gen mini rather than have it directly compete with the iPad mini 2 at a cheaper price.
So in the same way that Apple killed the iPad 3 when it released the iPad 4, we're likely seeing the end of days for the first-generation iPad mini. But it's not necessarily bad news for bargain hunters. When the iPad 4 was announced, MacMall instantly discounted the iPad 3 to $449, or 10% off. A month later, deals dropped further to 20% off the iPad 3's list price. In the likely scenario that the iPad mini is dropped from Apple's lineup, you can expect to see same-day discounts of 10% off the mini's list price (dropping it to $297) and discounts of 20% or more a month later in December, for an effective price of $264.
Alternatively, if you opt for a refurbished iPad mini from Apple, $279 is already the lowest price we've seen. However, immediately after last year's iPad 4 announcement, Apple slashed an additional 15% off iPad 3 refurbs. A similar price drop would put iPad mini refurbs at about $239. However, refurb deals will likely move fast, and with limited inventory you'll want to jump on the first refurb deal you see.
Related Stories
No iPad Mini 2 Deals Until 2014
If you prefer to unwrap the newly-minted iPad mini 2, you'll want to wait until the new year to save. Last year, deals on the iPad mini didn't trickle in until January when retailers took 10% off the 16GB model. Likewise, if you prefer to wait for a refurb iPad mini 2, you might be waiting a full five months, which is how long it took the first-gen iPad mini to show up as such. Even then, it was only discounted to $288, or 12% less than the mini's full retail price.
The iPad 4 Will Drop to $339, 12% off the New iPad 5
In addition to refreshing its iPad mini line, Apple is expected to release the 5th generation iPad. The current-gen iPad 4 will most likely replace the iPad 2 in the lineup, and thus see a price cut of 20%, dropping it to $399. Come Black Friday, retailers could lower the price on the iPad 4 even further to $339.
There's also good news if you decide you want a new iPad 5, because unlike the mini 2, we do expect to see deals on the iPad 5 this holiday. Last year, retailers discounted the 16GB iPad 4 to $440 (12% off) just weeks after its debut. As a result, we think this November you'll be able to find similar discounts on the new iPad 5. Based on last year's data, we also expect refurb iPad 5 tablets to debut sometime in February at 10% off the full price, so you'll potentially save more money with the first batch of iPad 5 deals than you would by waiting for a refurb.
The Bottom Line
The release of the iPad mini 2 will most likely result in the end of life for the original mini, in which case we recommend looking for deals on the first generation. On the full-size iPad front, it's more likely that Apple will keep the iPad 4 in the lineup, dropping it to $399. Based on last year's iPad sales, we also expect to see deals on the new iPad 5 come Black Friday week, so within the first few weeks you'll see deals on both the iPad 4 and the new iPad 5.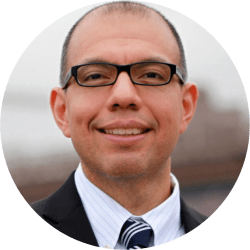 DealNews Contributing Writer
With over a decade of experience covering technology, Louis Ramirez has written for CNET, Laptop, Gizmodo, and various other publications. Follow him on Twitter at
@louisramirez
.
DealNews may be compensated by companies mentioned in this article. Please note that, although prices sometimes fluctuate or expire unexpectedly, all products and deals mentioned in this feature were available at the lowest total price we could find at the time of publication (unless otherwise specified).