3 Ways to Make Your Time at the Airport Less Terrible
Who says you have to wait in a never-ending security line? A little time and money can get you free checked bags, shorter waits, and access to comfy lounges.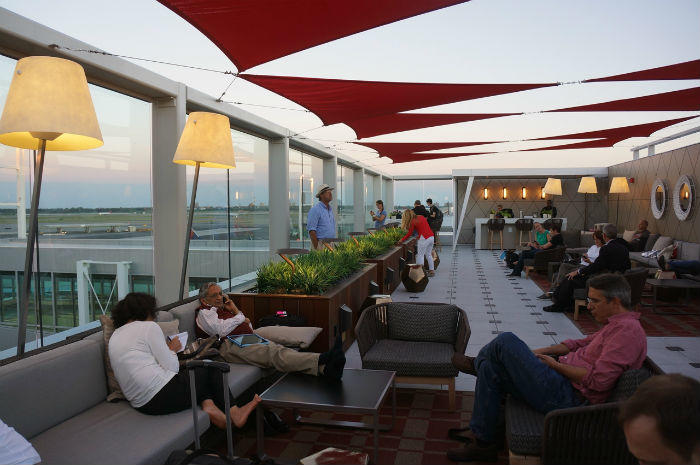 Everyone who's endured air travel recently has probably said to themselves, "I will never do this again." An 8-hour ride in a minivan might have seemed appealing when compared to standing in an interminable security line, undressing for the metal detector, waiting in a long line to board, and then sitting in the middle seat in the back of a plane.
But travelers thinking about the 4th of July holiday weekend still have time to upgrade their airport and flying experience. With just a little bit of legwork, you can zip through security, enjoy a drink in the lounge, and board your next flight early. Here are three ways to make your next air travel experience more comfortable.
Apply for Global Entry to Speed Up Security
First, you need to get access to TSA PreCheck lanes. They're generally much shorter than regular airport security lines, they don't require that you remove your shoes or belt, and you can leave your electronics in your bag. Plus, children who are 12 years old or younger can pass through PreCheck lanes with an adult.
SEE ALSO: How to Hack a Free Flight This Year With Rewards Points
PreCheck costs $85 for five years, but you should apply instead for Global Entry, a similar program that not only includes PreCheck privileges, but also expedited passport control and customs when returning to the United States. Global Entry costs $100 for five years and is well worth the extra $15, even if you only use it once during that time. One difference from PreCheck, though, is that children need to have their own Global Entry membership to use the system when they return from an overseas trip.
Assuming you live near one of the Global Entry enrollment centers (or are passing through an airport where one is located), you'll generally be able to complete the process in a couple of weeks. First, you'll need to fill out a quick application online, which is typically approved in a few days. Once you receive initial approval, you'll set up a 10-minute interview at an enrollment center. If you receive final approval there, you'll be ready to breeze through security.
Get Airline Lounge Access via eBay or a Credit Card
Once you've slid through the shorter security lines, you'll have extra time on your hands at the airport. Why not spend it waiting in a comfy airline lounge, rather than sitting on the floor, hoping you can find a plug for your cell phone? You can gain lounge access by getting passes on eBay or using certain credit cards.
eBay
If you plan to fly only once or twice this year, it may be worth going on eBay and purchasing lounge passes. United Club passes are most readily available and often cost less than $20 each. Considering food, drinks, and WiFi are included, a pass may pay for itself if you don't have to purchase a meal at the airport.
Credit Cards
If you'll be flying with any frequency over the next year, consider getting one of these three credit cards that include lounge access:
United MileagePlus Club Card: This card costs $450 annually and comes with unlimited Club visits for you and your travel companions. You'll have to determine whether you're better off buying one-time passes from eBay instead of getting the card.
American Express Platinum Card: If you're flying Delta, the American Express Platinum Card can be a great deal, even with its $450 annual fee. The card grants access to Delta Sky Club lounges for you and eligible guests. It also offers a $100 fee reimbursement for Global Entry, as well as an annual airline fee credit of up to $200.
Citi Prestige Card: For those flying American Airlines, the Citi Prestige card comes with a $100 Global Entry fee reimbursement, a $250 air travel credit (good for fees or tickets), and American Airlines lounge access. Though the card requires a $450 annual fee, if you use those fee reimbursements, you're only paying $100 out of pocket for unlimited lounge access — that'll make the time at the airport fly by.
Board Early, Receive Free Checked Bags With an Airline Card
Most airlines offer a credit card (some with the first-year fee waived) that gives you free checked bags and priority boarding. If you don't have any status on an airline, this can be a great deal — even if you're paying the annual fee — since you make up for it with the free checked baggage for you and your family members. Plus, you'll receive priority boarding. That means there will actually be overhead bin space when you board the plane!
SEE ALSO: 7 Features to Consider When Buying Carry-On Luggage
There's still time to take advantage of these perks. A little planning ahead, and a couple small investments of time and cash, could make your 4th of July airport experience far more comfortable.
Readers, what are your favorite tips for making air travel less stressful? If you've used any of the strategies mentioned above, how did they work for you? Let us know in the comments below!
---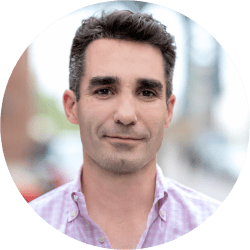 DealNews Contributing Writer
Jared Blank was the Chief Marketing Officer for DealNews. For several years, he was the general manager of the U.S. online retail business for Tommy Hilfiger, and he has extensive experience with the travel industry as well. He launched the site Tripmela.com, and he was the Senior Travel Analyst at Jupiter Research.
DealNews may be compensated by companies mentioned in this article. Please note that, although prices sometimes fluctuate or expire unexpectedly, all products and deals mentioned in this feature were available at the lowest total price we could find at the time of publication (unless otherwise specified).