10 Ways to Gear Up for Game of Thrones
Celebrate the start of a new season with cookbooks, plush dragons, and awesome action figures.
The seventh season of Game of Thrones premieres on July 16, and WE CAN'T WAIT.
As wonderful as the series has been so far, it's clear that showrunners David Benioff, D.B. Weiss, and company are about to up the ante in a big way. We're entering uncharted territory, with the show now completely ahead of the books. Every moment will be a surprise for every fan, no matter how dedicated!
To celebrate, we're showing off 10 of the coolest Game of Thrones collectibles money can buy.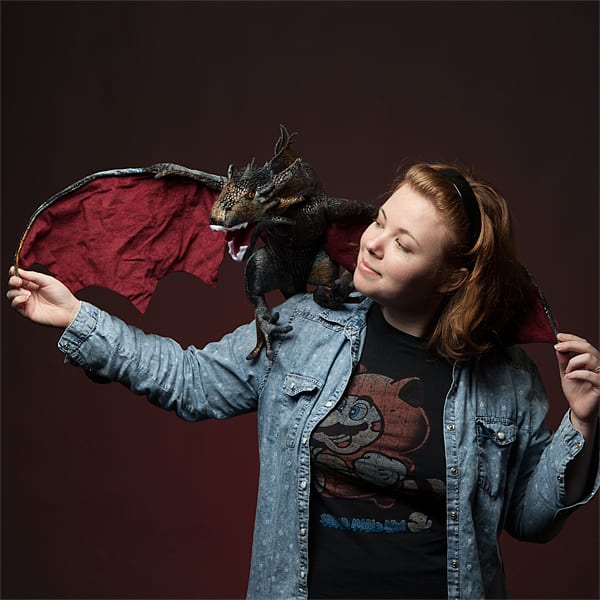 Jumbo Plush Drogon
Price: $24.99
The largest and fiercest of Daenerys' dragons is downright adorable in plush form, but this is no run-of-the-mill doll. At 16" tall with a 42" wingspan, this jumbo Drogon has wire joints that make it fully poseable!
Pet it, love it, and maybe whisper "dracarys" in its ear to see if it attacks any pillows.
SEE ALSO: 9 Awesome Guardians of the Galaxy Collectibles You've Gotta See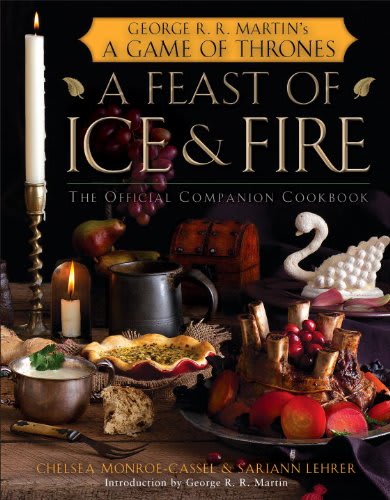 Price: $19.70 (hardcover edition)
This thorough cookbook provides real recipes for all the fictional foods described in the novels, complete with gorgeous photos. Whether you're in the mood for King's Landing's infamous "bowl of brown" or Sansa's beloved lemon cakes, they're all here.
In fact, you'll often see two recipes for individual foodstuffs, which'll let you choose between preparing them in modern or medieval fashion. We know this sounds like some hurried novelty book, but trust us: it's a true labor of love.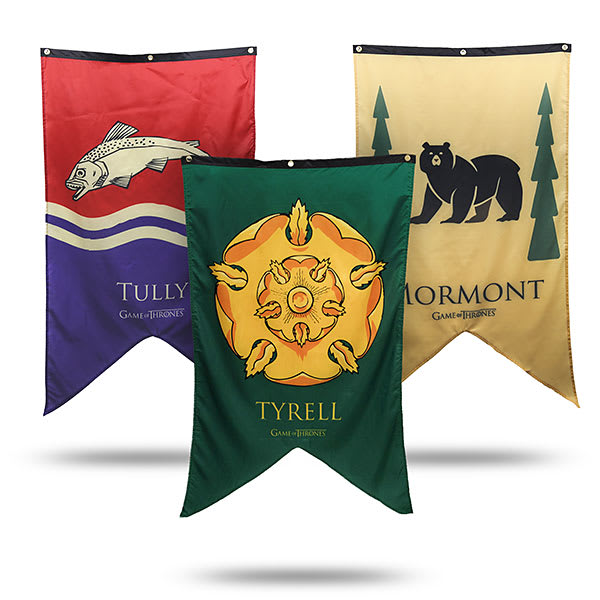 Game of Thrones House Banners
Price: $19.99 each
That there are banners bearing Game of Thrones house sigils isn't terribly surprising, but we love that this collection isn't limited to only the most famous houses. After all, some people might relate to the Arryns way more than they do the Lannisters.
From Baratheon to Baelish, lots of houses are available. Each polyester banner is an impressive 50" tall.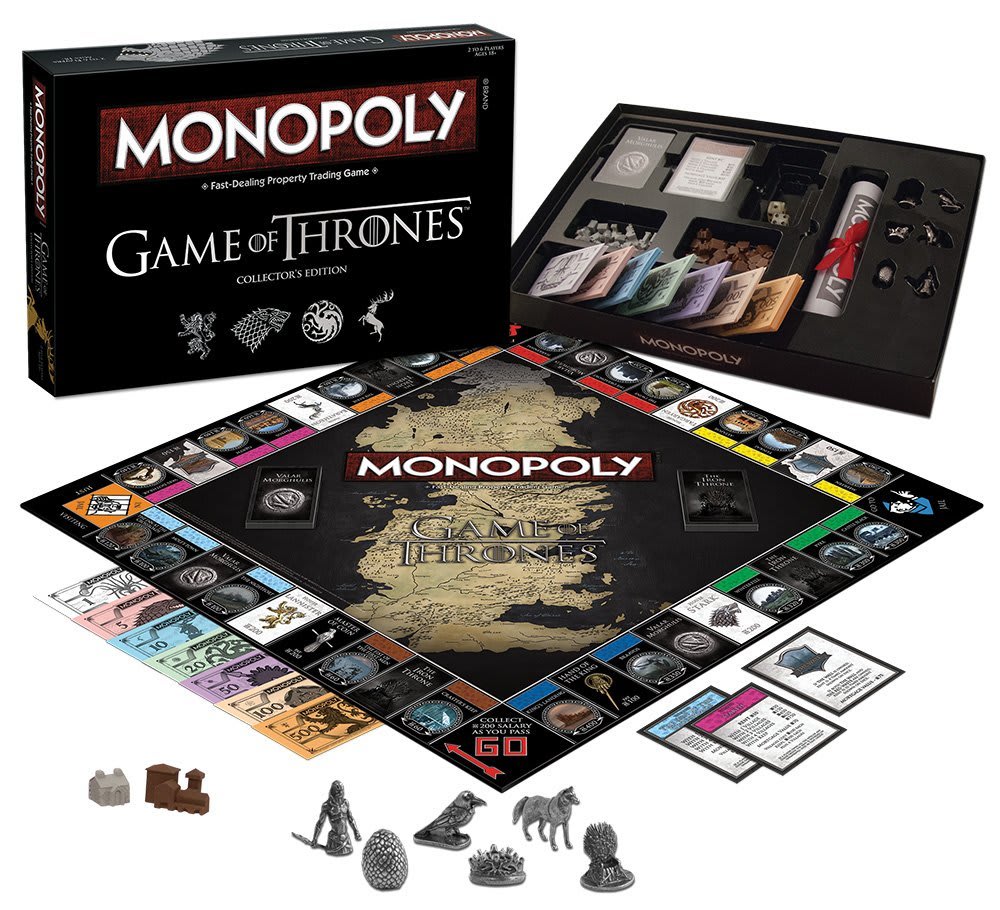 Price: $42.95
Well, you knew they were going to make it eventually.
This Game of Thrones version of Monopoly replaces the Atlantic City streets with hot spots from Westeros, and the alterations don't end there. The player pieces are all Game of Thrones-themed — we call the Three-Eyed Raven! — and even the houses and hotels have received on-brand makeovers.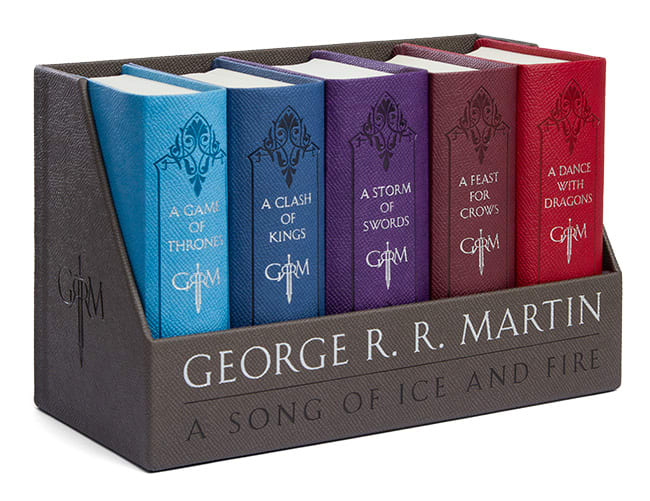 Cloth-Bound Boxed Book Set
Price: $39.99
If you haven't read the books and think that it's too late to start, NOPE. Though it's true that people who've seen the HBO series have already been spoiled to many of the surprises, George R.R. Martin's A Song of Ice and Fire series gives you many more details than a TV show ever could.
This cloth-bound set includes the first five books, which (as of this writing) are still the only five books. (Hey, Mr. Martin? Feed us.)
SEE ALSO: 10 Totally Amazing Wonder Woman Collectibles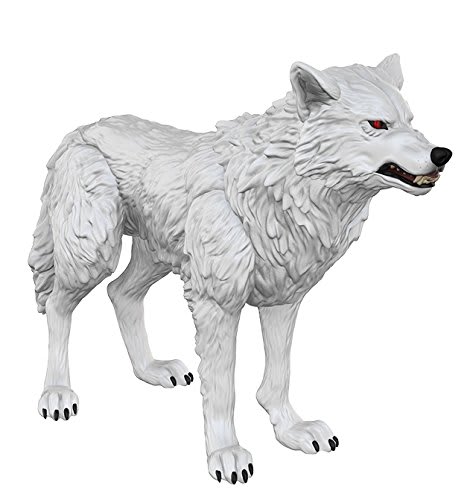 Price: $9.39
If you're in the market for Game of Thrones action figures, you'll be happy to learn that there are plenty of them. For our money, this Ghost figure might be the best one to start with.
Jon Snow's loyal direwolf has five points of articulation, which is toy-speak for "You can move his paws around." Yes!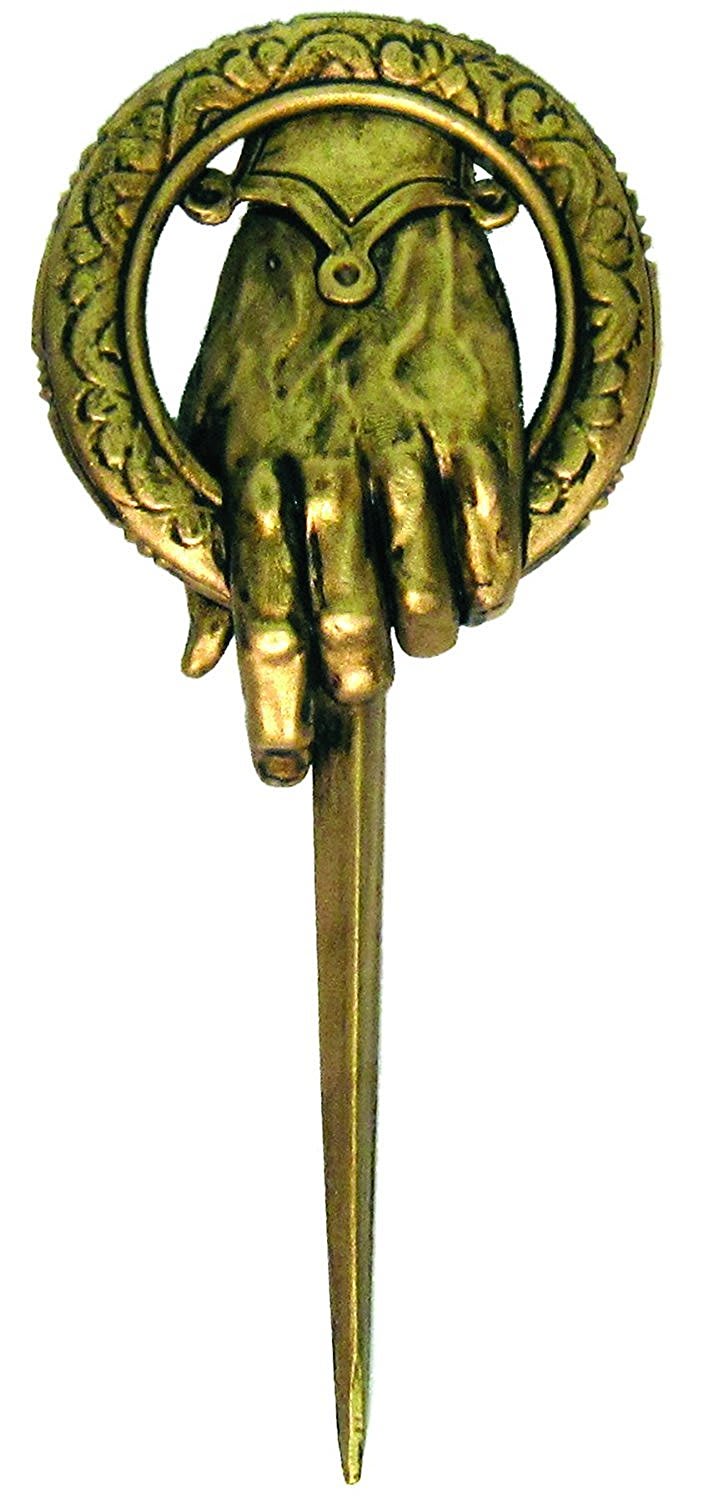 Price: $7.99
On the show (as in the books), the "Hand of the King" is the person charged with making the king's wishes a reality. While this would seemingly make the Hand the second most powerful person in Westeros, nothing in Game of Thrones is that simple!
The best thing about being promoted to Hand of the King is obviously the way-cool pin you get to wear. This replica from Dark Horse hits all the right notes, and we'd much rather pay a few bucks than take orders from Joffrey to get it.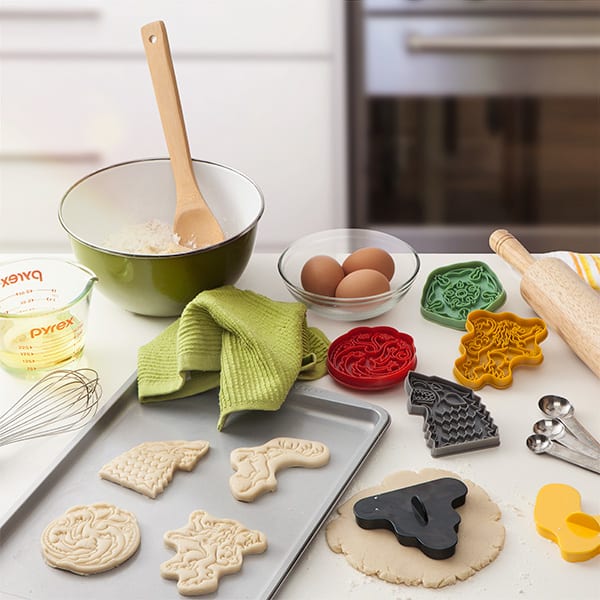 House Sigil Cookie Cutters
Price: $14.99
If you're planning a party for the Season 7 premiere, you kinda need this set, which is available exclusively from ThinkGeek.
You'll receive six different Game of Thrones cookie cutters, patterned after the sigils for Houses Baratheon, Greyjoy, Lannister, Stark, Targaryen, and Tyrell.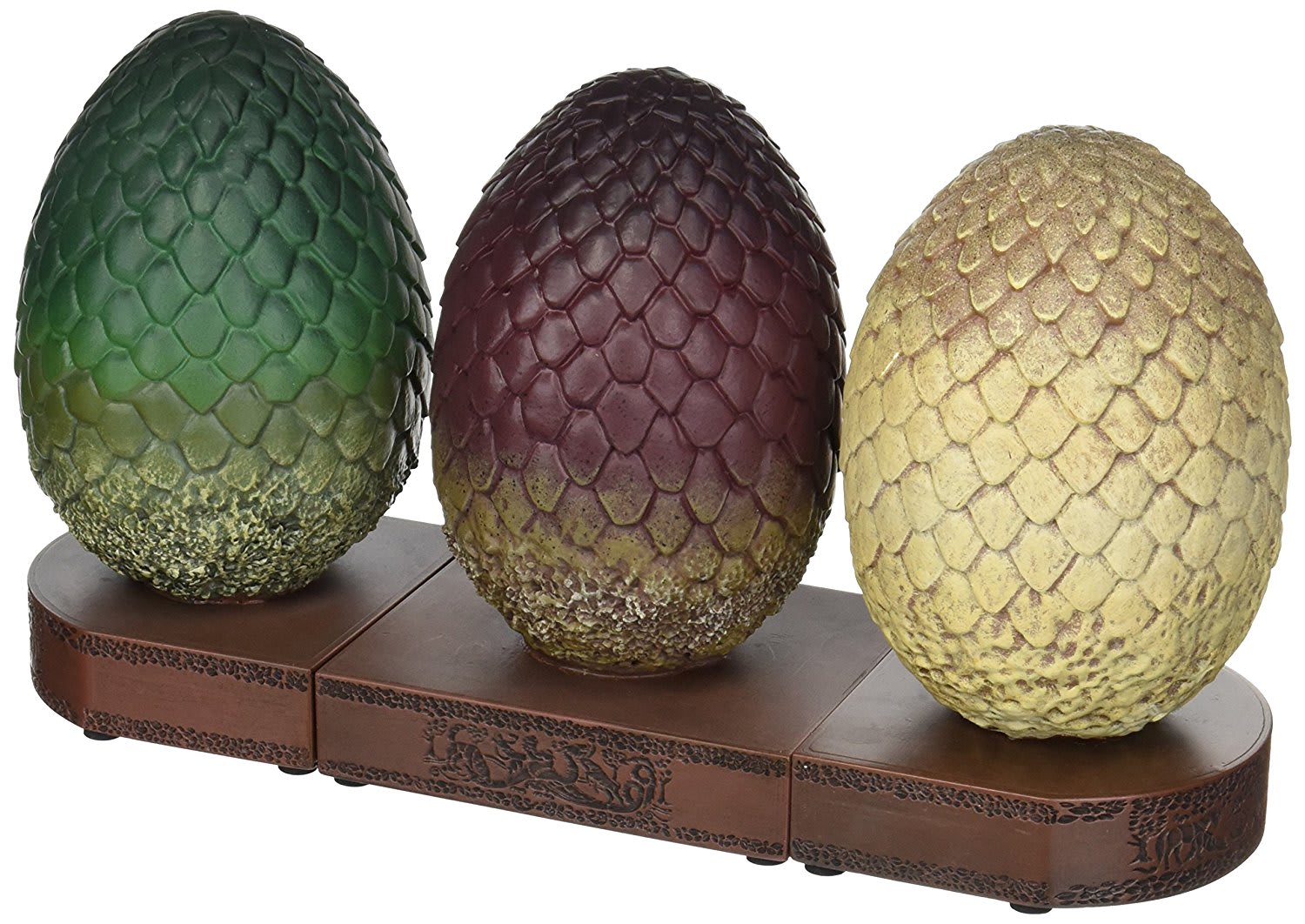 Price: $129.05
Yes, we understand that dragon eggs haven't been a plot point on the series since way back in the first season, but these are just too beautiful not to mention.
Actually, calling these "bookends" kind of fails them, because of all the many Game of Thrones dragon egg replicas, these honestly seem to be the best ones. Large, heavy, and detailed, they look exactly as they should, and we totally would not be surprised if baby dragons popped out of them.
Each comes on a wooden base, and they really are heavy enough to work as functional bookends. (Preferably for old, weathered, leather-bound books. It'd be a waste to use these on back issues of Entertainment Weekly.)
SEE ALSO: 9 Retro Transformers Collectibles for the Forever Fan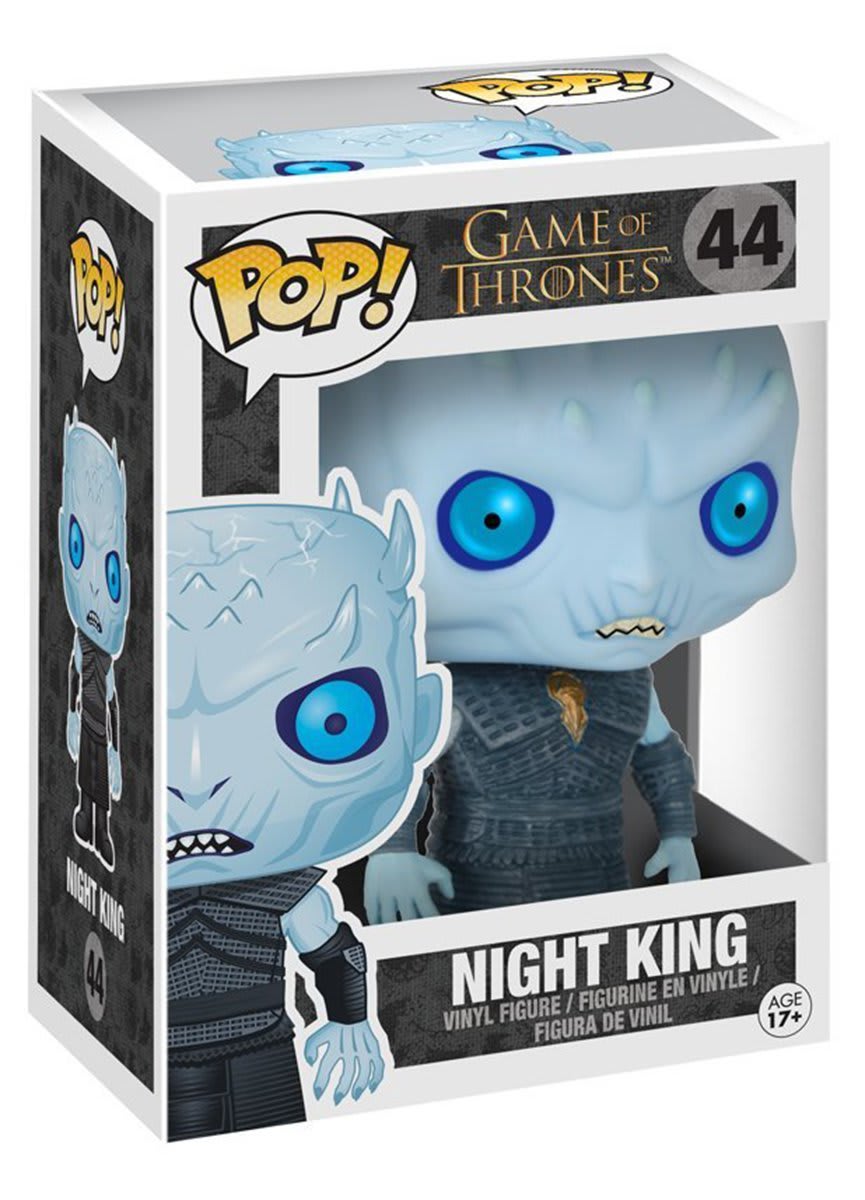 Price: $9.25
As you can imagine, there are many (many many MANY) Game of Thrones Funko POP figures. Possibly too many, even if we personally can't get enough of them.
It was tough to pick just one to feature here, but we have to go with the Night King — the spookiest and perhaps most mysterious Game of Thrones character of 'em all.
Learning more about that cool blue killer is one of our biggest wishes for Season 7, and what better way to get amped than with this strangely cute tribute to him?
With six seasons of Game of Thrones now under our belts, we gotta ask: What's been your favorite moment from the series so far? Tell us in the comments!
(And stay away from the comments if you're still avoiding spoilers!)
---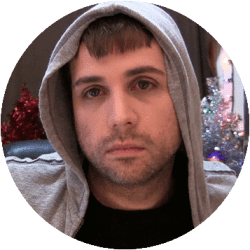 DealNews Contributing Writer
Matt has been blogging about geeky nonsense since early 2000. You can view more of his weird work on
Dinosaur Dracula
, or follow him on Twitter
@dinosaurdracula
.
DealNews may be compensated by companies mentioned in this article. Please note that, although prices sometimes fluctuate or expire unexpectedly, all products and deals mentioned in this feature were available at the lowest total price we could find at the time of publication (unless otherwise specified).