Combat Daylight Savings This Weekend With Some 'Unique' Alarm Clocks
It's hard enough to get up in the morning without Daylight Savings Time stealing an extra hour. These unique alarm clocks will ensure you're up at the right time.
On Sunday, March 9, Daylight Savings Time shows up and moves the clocks ahead by an hour. The upside: It's kinda like time-travel. The downside: It's already hard enough to get up in the morning without some government-mandated time-chicanery stealing an hour from us.
Today, we're investigating a bunch of alarm clocks with unique methods of waking you up that'll ensure that the time change doesn't lead to a job change (when they fire you for being an hour late, that is). Sure, most of them get you out of bed by frightening or aggravating you, but hey, at least you're up, right?
89.99 with $7.83 s&h, a low by $2
The most gentle of all alarm clocks on this list, the wake-up light alarm clock gradually increases the intensity of its internal light to mimic a sunrise. Once it reaches its brightest intensity, the alarm goes off. So, if you've not been gradually waking up with its "rising sun," you'll be awoken by an alarm and a sun-like light beaming into your eyes ... much like an interrogation. "Where were you on the night of the 9th?!" "Sleeping. Until some jerk shined a light in my eyes...."
$9.99 with free shipping, a low by $4
Still half-asleep, eyes welded shut with sleep-goo, you'll search your bedroom to find the whirligig that launched off of this alarm clock — and which is the only way to silence the infernal, shrieking alarm. However, your search will be in vain, because the 'copter flew out the window. Slowly, the incessant alarm will drive you insane. (Or you can just opt to remove the batteries, if you want to stay sane, sure.)
$4.88 with free shipping, a low by $5
As far as we can tell, this alarm clock doesn't do anything other than change color. But it is a pyramid, and we all know that the pyramids were created by space aliens. So who made this alarm clock then? We're not saying it's aliens ... but it's aliens.
$15.50 with free shipping via Prime, a low by $24
Sleepers, you get to snooze this alarm clock just once. Once! When it goes off a second time, the whole thing will leap — up to three feet into the air — off your nightstand and race around your room on its giant wheels ... all the while beeping uncontrollably. Groggy, you will heave your limbs out of bed and go stumbling after the wheeled little devil, knocking furniture out of your way, Beethoven-style (the dog from the series of films, not the composer — though history is vague on his wake-up habits). The realization that you've destroyed most of your bedroom is what'll really wake you up.
$35 with free shipping, a low by $3
Not only does this alarm clock feature a remote device that, when placed under your mattress, will literally shake you awake, it also emits an alarm at 113 decibels! For perspective, that's as loud as being in the front row of a rock concert and actually louder than a motorcycle. No reports on how it compares to riding a motorcycle at a rock concert, which would be a pretty rad thing to do, right? We bet Meatloaf has done it.
$20.99 with $8.95 s&h, a low by $6
When it's time to get up, this clock expects you to use the included toy laser gun to accurately hit a bullseye to silence its alarm. Over time, your marksmanship will improve to the point where you can literally hit the target in your sleep. Yes, it negates the effectiveness of this clock's gimmick, but you'll also find fame as The Half-Asleep Marksman, the guy in a traveling side-show that has to take a handful of Unisom before you can accurately shoot a cigarette out of the mouth of your assistant. Exciting!
Dumbbell Alarm Clock
$18.99 with free shipping, a low by $1
This one won't shut up until you do 30 reps, so it combines your hatred of waking up with your hatred of exercise. Science is working on a new version that'll force you to eat broccoli at the same time, too.
$23.99 with free shipping via Prime, a low by $6
Recent studies show that abject panic is a great motivation to wake up, so why not make an alarm that will go off like a bomb if you don't pull out the correct wire to "diffuse" the alarm?! Pro Tip: Don't use this one as a travel alarm clock.
$15.99 with free shipping via Prime, a low by $4
The weird thing about this alarm clock is that it doesn't require electricity! It probably runs on magic. This must have been the tool that helped the dinosaurs wake up in the mornings. (Poor T-Rex could barely reach out of bed to turn it off.)
One thing we feel we must point out: If you want an alarm clock with useful functions, then you should check out any number of smartphone apps, which can, like, use your biorhythms or whatever to slowly wake you up in the most peaceful fashion ever. Each of them will also handle the time-change automatically, so there's no fiddling around with setting your alarm clocks ahead. However, the ones listed above wake you up in style and that has to count for something, right?
---
Related DealNews Features: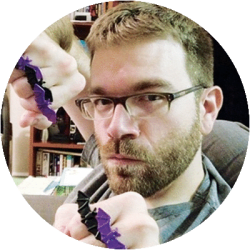 Contributing Writer
Jeff Somogyi is constantly trying to come up with ways to surprise and delight audiences the world over. He takes humor seriously ... too seriously. (Honestly, we've never seen him laugh ... it's kinda creepy.)
DealNews may be compensated by companies mentioned in this article. Please note that, although prices sometimes fluctuate or expire unexpectedly, all products and deals mentioned in this feature were available at the lowest total price we could find at the time of publication (unless otherwise specified).