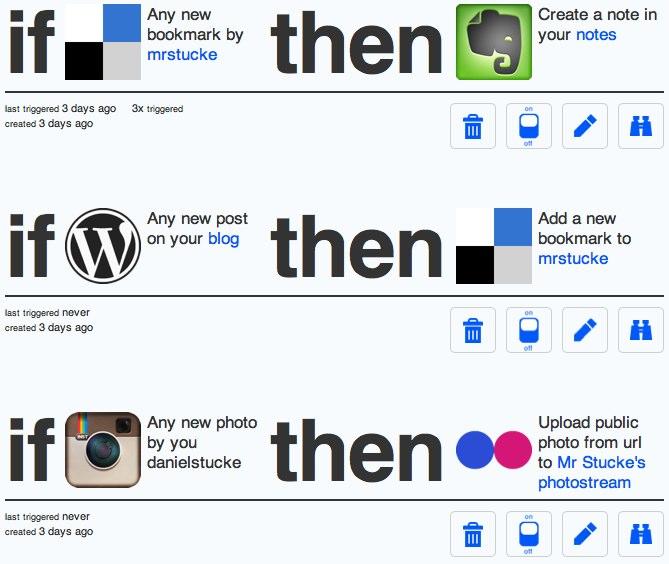 We've already discussed the financial advantages and pitfalls of automatic bill pay. But even if you're uncomfortable automating you bank account, you can still save money with the help of an automation program that can do everything from notify you when prices drop on an item, to store receipts and invoices.
If This Then That (IFTTT) is a handy service with "recipes" that make a "trigger" from one app cause a reaction on another. For example, you could program IFTTT to send you a text message every time your Weather app shows rain, or download a Facebook photo to Dropbox every time you're tagged.
Get Price and Search Alerts
Lifehacker has a convenient guide to some of the best money-saving uses for IFTTT. They suggest using the service to set up email alerts for price drops and new results on saved searches. However, many sites like CamelCamelCamel, eBay, and even store sites already allow you to set up email alerts, while mobile apps can notify you by phone. (And if you are looking for price lows, you can always set a custom email alert on DealNews.)
"Basically, you have more flexibility over the alerts you want to receive. You can get alerts for specific searches rather than products," Kristin Wong of Lifehacker told Dealnews. "And you can get emails, texts, even phone calls."
Wong also mentioned that IFTTT allows users to set up alerts for other people, without access to the other person's account — for example, if you want your Mom to get an email every time a new Camry is listed on Craigslist.
Get Free Stuff, Automate Your Savings
But IFTTT has many other uses for money savers. The article suggests recipes that:
Alert you when apps or eBooks become free
Adjust your smart thermostat or lights based on weather and time
Transfer money to your savings account when you accomplish a task, or round up when you spend
Save images of receipts and important documents to Google Drive
With the use of GPS, you can even set triggers based on location.

Using apps that automatically transfer money can be very convenient. But if you don't keep enough money in your account, it can lead to overdraft fees, which are some of the most common and costly fees for consumers.

What are your favorite IFTTT recipes? Or if you don't use it yet, what apps or websites do you wish worked together? Let us know in the comments below.
---