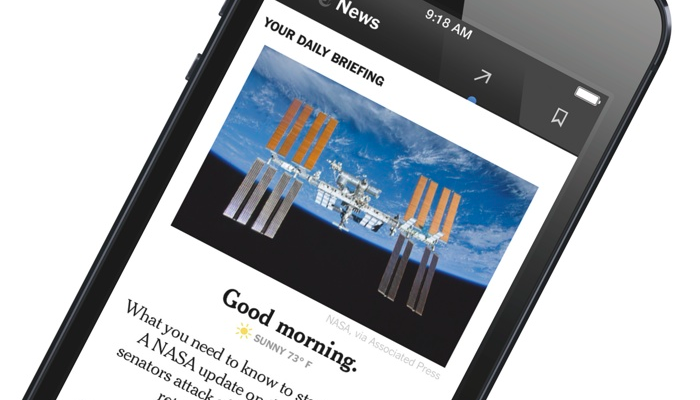 The New York Times has made its NYT Now app free after a failed attempt to gain paid users over the last year. The change signals another defeat for news outlets attempting to charge for their digital media, but also suggests a path forward with curation and limited free access.
NYT Now was introduced last year as a "need to know" alternative to the full NY Times app and website, providing a much smaller, curated selection of articles at a lower price point. For $8 a month, users got a limited number of selected Times articles and curated links to other sites. (By comparison, full digital subscriptions for the regular smartphone app start at $3.75 a week, or about $15 a month.)
Trying — and Failing — to Attract New, Young Subscribers
The service never took off; some reports say they signed up only 20,000 users while aiming for 900,000, and some of those users got NYTimes Now for free as part of their existing subscription. The app faced stiff competition from not only other print publications branching into digital without a paywall, but free digital-first apps as well.
SEE ALSO: Where to Watch Free Movies and TV Online
In a company memo, Times Publisher Arthur Sulzberger and CEO Mark Thompson described Now as "a terrific app" that "struck a chord with younger users, many of them entirely new to The Times." But they acknowledged that their "effort to define and market a lower-priced subscription offer on the web and core apps has proven much less successful."
Currently, NYTimes Now is only available for iOS for iPhone.
It's important to note that NYTimes Now still does not provide access to all of the company's content. For that, users still require a subscription and the full mobile app. However, the selected articles are now available for free, and the offsite content has been better integrated into the feed. The revised app also features Morning and Evening Briefings, compiling all of the day's biggest stories.
Will you now choose the New York Times over other free news apps? Or will you stick with apps that have been in the free content game for years already? Let us know in the comments below.
---