10 Super(Natural) Ghostbusters Collectibles
For Ghostbusters collectors who think they have everything, these items are the Ecto-coolest!
The Ghostbusters reboot won't hit theaters until July 15, but we've already seen a parade of celebratory merchandise, from lean, mean action figures to slime green junk food. No matter how you feel about the new film, it's a great time to be a Ghostbusters fan!
But if you think the reboot's product push is something, boy, you must not have grown up when we did. Between the two original films and the animated TV shows, the 80s and 90s gave us more Ghostbusters goodies than we could ever hope to name — let alone collect!
We pored over eBay to find some of the best (and weirdest) of yesteryear's Ghostbusters memorabilia, from things you probably had to things you never knew existed. Enjoy!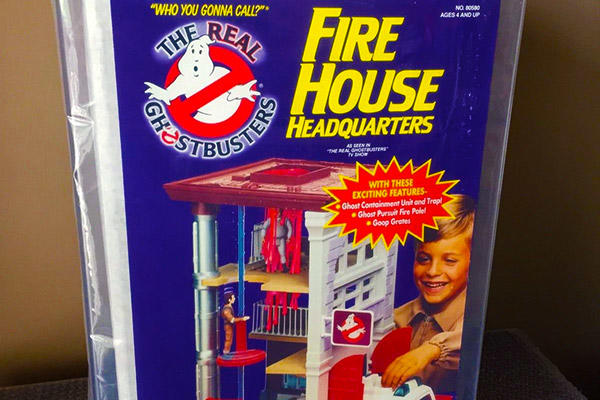 Real Ghostbusters Firehouse Playset
Asking Price: $2,999.99
The crème de la crème of Kenner's Real Ghostbusters toy collection, the Firehouse playset was massive and full of action features — including a fire pole that your action figures could really slide down!
This particular example's wild asking price is on account of it being "case fresh," with its condition given a high grade by the Action Figure Authority. (Yes, that's a real thing.)
Nobody who could afford this would dare to unseal the box, but it's as close as you'll ever get to a Firehouse playset that looks and smells like it teleported here from a 1987 Toys "R" Us.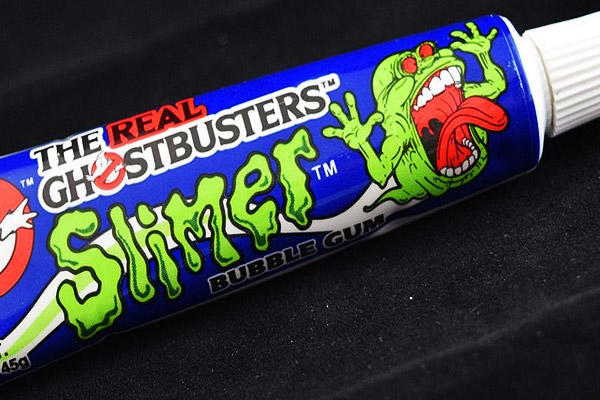 Slimer Bubble Gum
Asking Price: $45
Indeed, Slimer had his own brand of bubble gum, which of course was green, goopy, and looked more like a sneeze than candy. All part of the fun, we suppose! The gum came in a toothpaste-style tube, which helped to keep it forever moist and slimy.
This tube has since sold out, but if you're able to find more unopened Slimer Bubble Gum elsewhere, it'll still seem fresh enough to chew. Probably.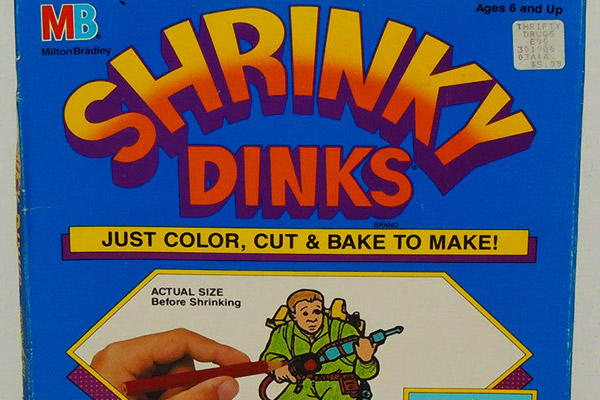 Real Ghostbusters Shrinky Dinks
Asking Price: $49.95
Shrinky Dinks are still in production today, but the craft kits are nowhere near as popular as they used to be. Back in the 80s, the kits were the ultimate rainy day activity, and also the things our parents bought to make us a little less annoying during those trips to Grandma's.
Color in the plastic characters, and watch 'em shrink into 2D figurines as they bake in the oven. The especially neat thing is that this Real Ghostbusters Shrinky Dinks kit will work just as well now as it did back in 1988!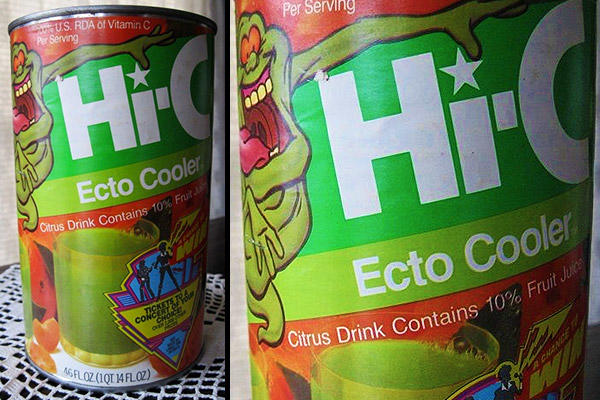 46-Ounce Can of Hi-C Ecto Cooler
Asking Price: $499
Ecto Cooler was Hi-C's Ghostbusters-themed citrus drink — a blend of orange and tangerine juices made much more noteworthy by the addition of green food dye.
Fan fervor inspired Hi-C to bring Ecto Cooler back as part of the push for the new movie (it's in select stores now), but many collectors are still hunting down the original boxes and cans. This is mostly due to nostalgia, but also because the new versions of the packages suffer a severe lack of Slimer.
Old-school Ecto Cooler came in a variety of packaging styles, but the giant, 46-ounce cans are easily the most desired among collectors. Bidding has since ended on this particular can; we can only hope it gets listed again!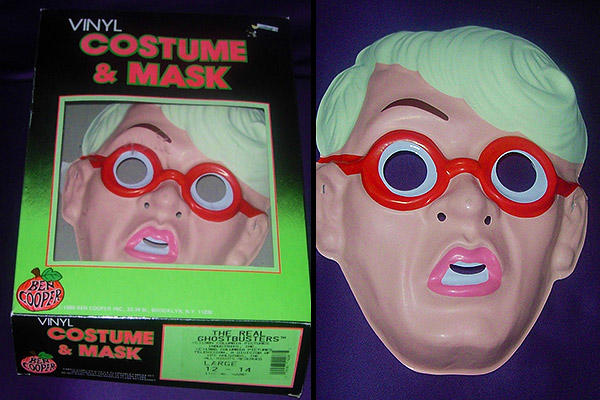 Egon Spengler Halloween Costume
Asking Price: $65
Remember when every kiddy Halloween costume was basically this? A cheap mask and a wrinkly smock? They seem crude by today's standards, but man did we ever love them.
This Egon Spengler costume appears to be unused, lacking the cracks and dents that a worn mask would normally show. Many fans have noted the impossible similarities between "cartoon Egon" and Kate McKinnon's character from the reboot, so if you squint, this could totally work as a Jillian Holtzmann Halloween costume. Suddenly that 65 bucks doesn't sound so bad!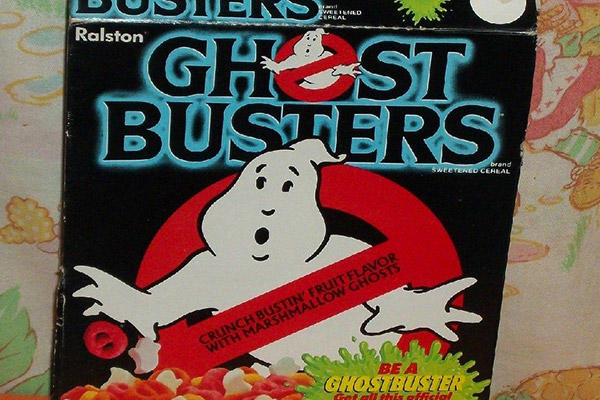 Ghostbusters Cereal Box
Asking Price: $100
Ralston struck gold with Ghostbusters Cereal, which bucked the trend by being a "tie-in" cereal that somehow managed to stay on shelves for years. With fruity "ghost logo" pieces and a swarm of ghoulish marshmallows, this was the absolute must-eat breakfast for anyone whose week revolved around Saturday morning cartoons.
Though the old cereal boxes have been rising in value, this one's asking price is unusually high — mainly because it's one of the first box styles that Ralston ever produced. I don't suspect that many of you are looking to blow a hundred bucks on an empty cereal box, but for what it's worth, this baby looks as great on a trophy shelf as it does in your kitchen cabinet.
Real Ghostbusters Ecto-1 Soap Dish
Asking Price: $125
Kid-targeted toiletries rarely fetch much money on the collectors' market, but this one is just too darn cool to be cheap. The Ecto-1 soap dish seems as much a toy as a toiletry, and it kinda looks like it was made out of Play-Doh. So cute!
Believe it or not, this was just one of the many Ghostbusters-themed bathroom products that arrived during the '80s and '90s. Heck, our pal Slimer even had his own toothpaste brand, which came in several different flavors!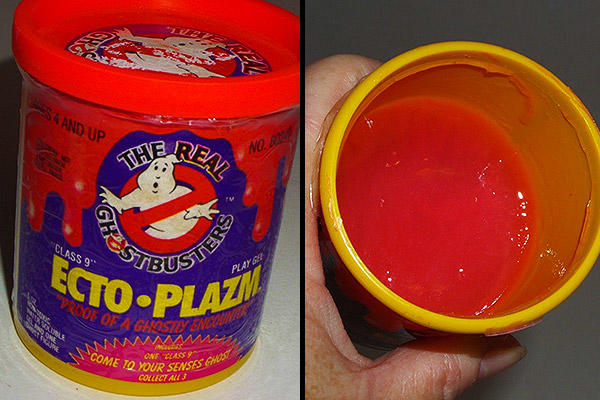 Ecto-Plazm Play Gel
Asking Price: $43
One of the most beloved slime toys ever, Kenner's Ecto-Plazm put gobs of neon goop into little canisters, and let us decide how to use it. Drench your action figures in supernatural sludge, or ruin a thousand bucks' worth of carpets? (Most kids did both.)
Sadly, this canister has now sold. It's worth noting that the new Ghostbusters movie inspired Mattel to make all-new slime toys, but for our money, nothing comes close to Kenner's original batch. It just felt so alive.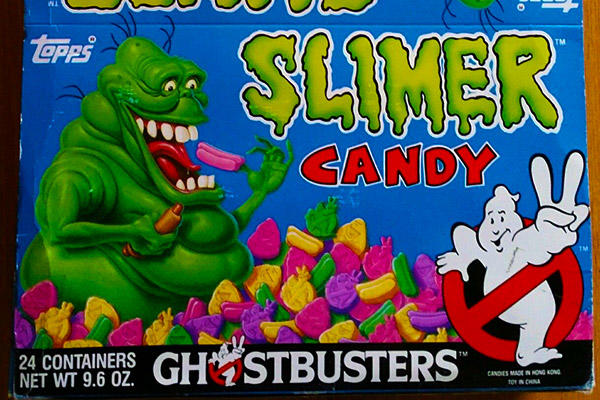 Slimer Candy Store Display
Asking Price: $199.99
If you grew up in the 80s, you should remember that weird trend where kiddy characters became immortalized as plastic figurines filled with unremarkable candy. It was like a rite of passage — the cartoon characters of yesteryear were never sure if they'd made it until a company turned them into plastic busts filled with bootleg Smarties.
Naturally, Slimer had his own version. This ultra rare store display contains 24 of the original candy containers. But make no mistake, the high asking price is mainly because of the box. Check out the amazing art on this bad boy! It looks like the facade of some unlicensed Ghostbusters ride from an iffy carnival.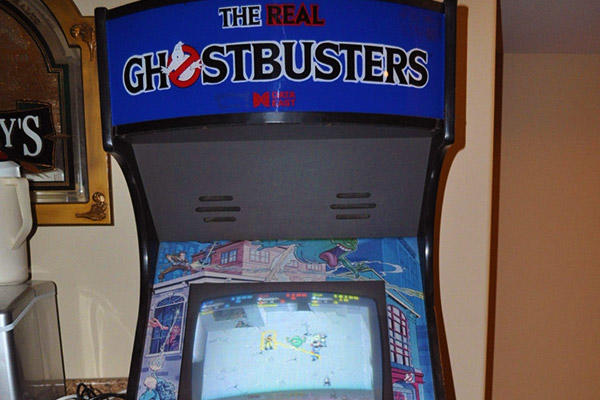 Real Ghostbusters Arcade Game
Asking Price: $1,500
The auction has ended as of this writing, but since it slid by without a bid, maybe the seller will relist it. If they do, let's not make the same mistake twice. One of us needs to buy this!
The game lets up to three players chase and blast ghosts, but as fun as it was, we like this machine just as much for decorative purposes. That is one gorgeous cabinet, perfectly capturing both the spirit of the cartoon and the 80s at large. (Fun fact: You can catch a glimpse of this machine hiding in the arcade scene from Robocop 2!)
Readers, did you grow up on a steady diet of Ghostbusters? Which toys and products ruled your childhood? Wax nostalgic in the comments below!
---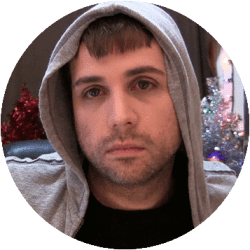 Contributing Writer
Matt has been blogging about geeky nonsense since early 2000. You can view more of his weird work on
Dinosaur Dracula
, or follow him on Twitter
@dinosaurdracula
.
DealNews may be compensated by companies mentioned in this article. Please note that, although prices sometimes fluctuate or expire unexpectedly, all products and deals mentioned in this feature were available at the lowest total price we could find at the time of publication (unless otherwise specified).