Rumor Roundup: Mark Wahlberg and Dinobots? Difficulty Modes in Zelda?
When the internet runs out of news, it starts making things up. We think this is funny, so we round up all the lies and speculation and put them here. We call it the "Rumor Roundup" and we do it all for you! This week:
Will Legend of Zelda: Wind Waker HD Have a Difficulty Settings?
In "hard" mode, every NPC wants you to run an errand for them, and is then ungrateful once you do it. (Instead of only every other NPC acting this way. It's a joke about all the demanding, greedy inhabitants of Hyrule, you see.) [Explosion.com]


Will Facebook Video Ads Appear This Year, Cost $2.5 Million Per Day?
Aw, man! When did Facebook stop being about the user experience and become all about making money?! [AllFacebook]
Star Wars: Episode VII's Code Name Is Foodles Productions Ltd?
Fy Foodles and the Fax Feebo Band? (Nope, didn't have to look that reference up, thank you very much!) [TheForce.net]


The Low-Cost iPhone Will Be Called iPhone 5C?
Does everyone remember their "Five 'C's" from school? Creading, criting, acrithmatic, um ... chistory? And, uh ... chisical cheducation? (Look, folks, it was either that or a joke about how this phone is "one better than 4C" — the bread crumb brand. Yeah.) [CNET]
Does Mark Wahlberg Know If There Are Dinobots in Transformers 4?
Does anyone else find it awesome how in Boogie Nights Wahlberg sang "You Got The Touch," a song that was also included in Transformers: The Movie? And now he's in a Transformers movie?! If this does not prove the existence of the Illuminati, I'm not sure what proof would convince you! [UnderTheGunReview]


Will Google Announce a Set-Top Media Streaming Box?
Because Google has had such a great track record with set-top boxes — like the Google TV and Nexus Q. (You're on watch, Chromecast!) [Tom's Hardware]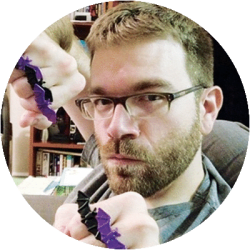 DealNews Contributing Writer
Jeff Somogyi is constantly trying to come up with ways to surprise and delight audiences the world over. He takes humor seriously ... too seriously. (Honestly, we've never seen him laugh ... it's kinda creepy.)
DealNews may be compensated by companies mentioned in this article. Please note that, although prices sometimes fluctuate or expire unexpectedly, all products and deals mentioned in this feature were available at the lowest total price we could find at the time of publication (unless otherwise specified).