Rumor Roundup: Is Google Building Floating Barges? Harrison Ford?!
When the Internet runs out of news, it starts making things up. We think this is funny, so we round up all the lies and speculation and put them here. We call it the "Rumor Roundup" and we do it all for you! This week:
Will Call of Duty: Ghosts Feature Something Called "Extinction Mode"?
Players stand around and watch as an asteroid slams into Earth, knocking it out of orbit, blocking out the sun, causing crops to fail and all life on the planet to die. It all takes place in real time, so estimated gameplay is approximately 3,000 years. [Kotaku]


Need for Speed Rivals for Next-Gen Consoles Has Been Delayed?
There is some joke here about the irony of a "speed" game being delayed, but I just can't put my finger on one. Readers! If you have a joke worth sharing, add it to the comments below! (Do my work for me!) [Hardcore Gamer]


Is Google Building 2 Floating Google Glass Stores on Barges?
Being from Staten Island, the word "barge" makes me think of garbage, but being a nerd, it also makes me think of Jabba The Hutt. Throw Google Glass in there and I think I'm thinking of Madame Trash Heap from Fraggle Rock.... [CNET]


Xbox One Suffering from Pre-Launch Problems?
Don't they offer a pill for that these days? #Classy [Game Rant]


Did Harrison Ford Say He'd Return as Han Solo if He Can Play Indiana Jones Once More, Too?
For the good of mankind, I think we should all agree to turn him down. Is having Han back really worth risking another Crystal Skull? (Put a rider in there that Shia LaBeuf won't return and we'll reconsider.) #NukeTheFridge [IGN]


Is Facebook Going to Buy Blackberry?
Is this a Harrison Bergeron move? "You know who's too popular? Facebook. Shackle them to Blackberry! That oughta even things out!" [Value Walk]


---
Related DealNews Features: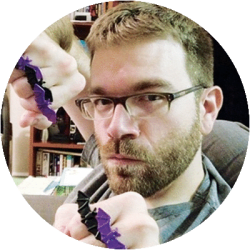 Contributing Writer
Jeff Somogyi is constantly trying to come up with ways to surprise and delight audiences the world over. He takes humor seriously ... too seriously. (Honestly, we've never seen him laugh ... it's kinda creepy.)
DealNews may be compensated by companies mentioned in this article. Please note that, although prices sometimes fluctuate or expire unexpectedly, all products and deals mentioned in this feature were available at the lowest total price we could find at the time of publication (unless otherwise specified).