PUNch Up Your Oscar Party Menu With These ReciPUNs
We've got themed dishes for each of the nominated films, with recipes included.
Though they will eventually be driven away by your long rants about why that last Oscar was given to the "wrong" film and/or actor, your friends are apt to stay at your Oscar Party longer if you provide a nice spread of food. In the grand tradition of all parties happening on the night of February 28, your selection of food should, of course, be thematic to the movies that have been nominated. (Puns. We're talking about pun-ny names for foods that sound like Oscar nominated films. It's essential.)
If your creativity is at a low point (like the writing on most of the Hollywood movies, this year), we've got you covered. Here's our fun-filled, pun-filled romp through appropriate foods for each of the Academy Award-nominated films, each linked to recipes by celebrity chefs and/or a notable foodie website.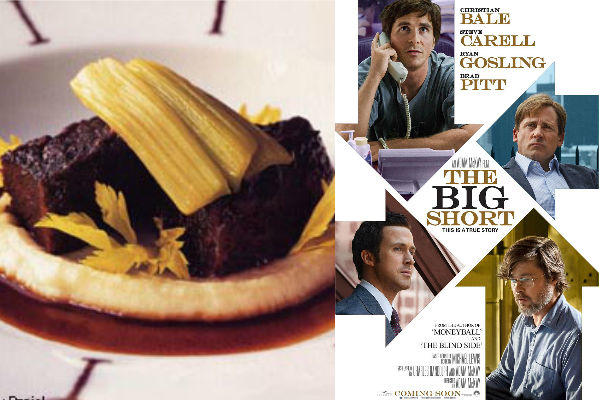 Course: Main Dish
Both the movie and the dish give your guests something to sink their teeth into as the meaty and complex issue that was the 2008 financial market crisis is reflected in the meaty and complex flavors of slowly-braised beef. Put a terrible wig on the top of it, to complete the thematic look.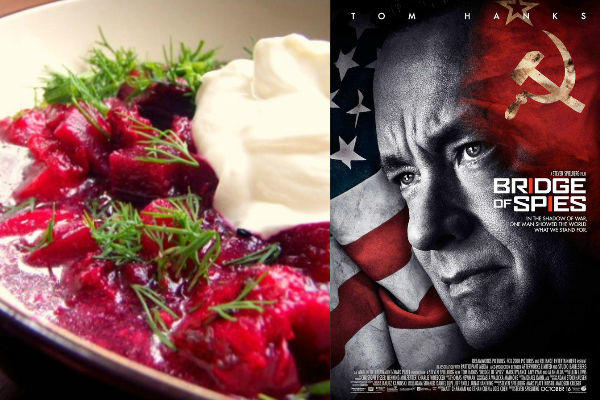 Course: Soup
Super-thematic, as it's a) a traditionally Russian dish and b) served cold' (like the war'' that is the backdrop for this movie!) Offer this one to your guests and they'll say, "T. Hanks!" And be sure to add plenty of cumin seeds, coriander seeds, and dill seeds for heat. (Because it's spicy. Spies-y. Look, we needed to make the pun work.)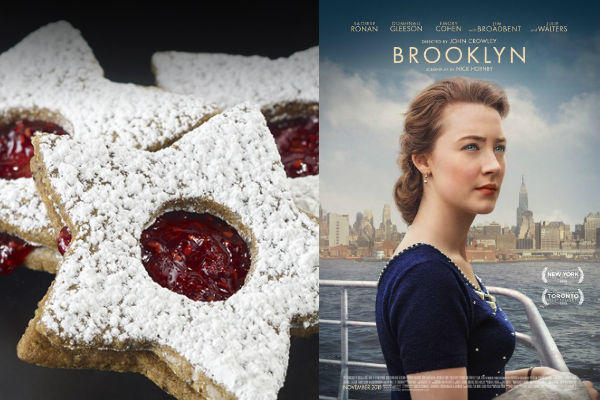 Brooklyn-zer Cookies
Course: Dessert
Your guests will fall in love with this delicate, fancy dessert, yet their affection will be torn between this and the other desserts you offer (see below).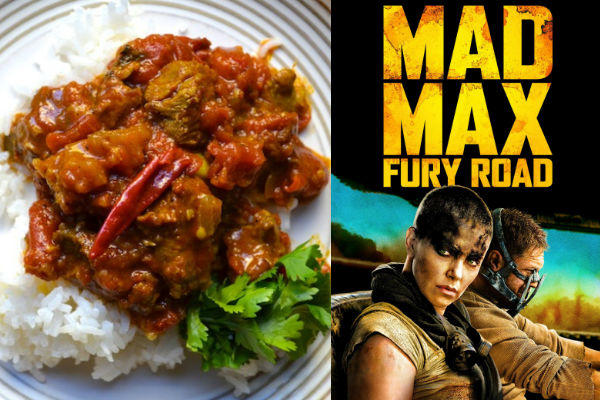 Course: Main Dish
Hot like a post-apocalyptic Australia, Phall is about 10,000 times hotter than tabasco sauce and often considered the hottest form of curry you can make. Will your guests be guzzoline it down, despite the heat? Might want to keep a glass of milk (mother's milk? Gross.) nearby, as spice experts say it's the best way to cool a burning mouth. (Not with a silver spray, as once thought.)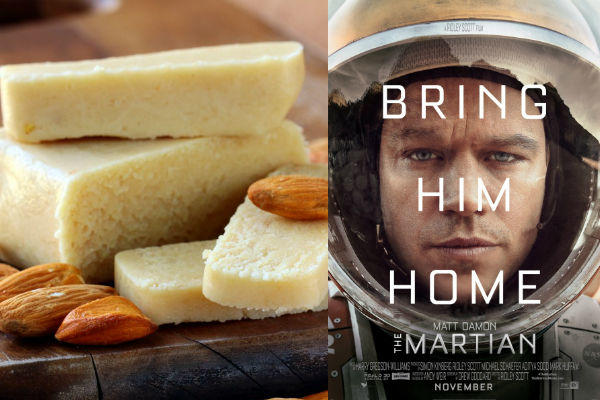 Course: Dessert
Besides being delicious, marzipan can be molded, so you can go a step further and form it into tiny Matt Damons. Don't have any artistic sculpting skill? Leave it as tiny, misshapen lumps that look like potatoes, which is also thematic!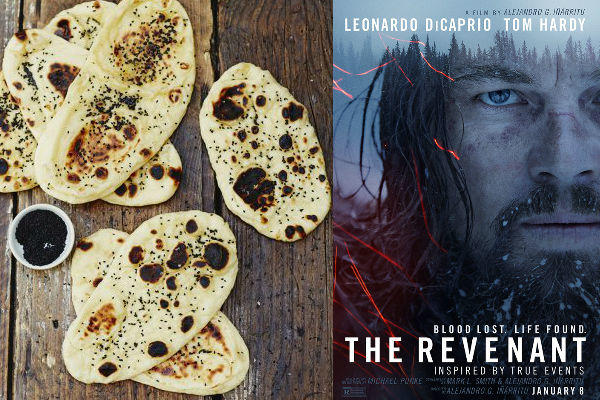 Course: Bread
Your guest won't be able to bear how delicious this tasty Indian flat bread is as they tear into it with a savage, animal viciousness that will leave audiences stunned.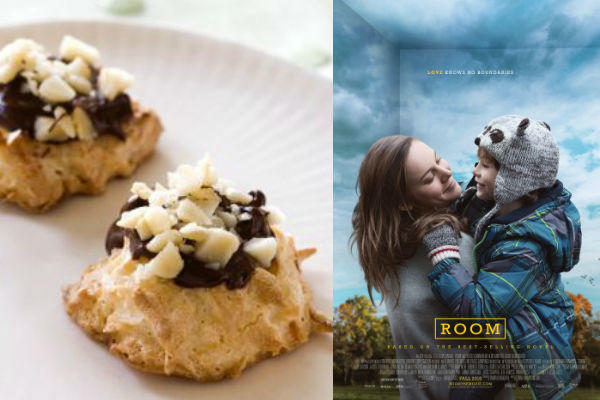 Course: Dessert
As a presentation suggestion: Lock them away in a cabinet, until much later in the evening, when you release them to your party guests.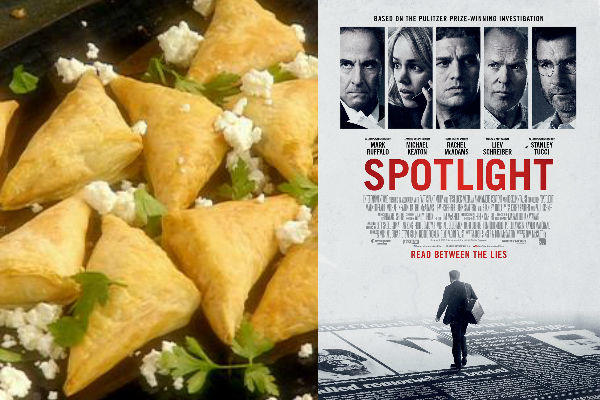 Course: Appetizer
Spinach and feta wrapped in layers and layers of dough which are reminiscent of the layers of conspiracy and coverup portrayed in the film. Unlike the movie, once you get to the center of the dish, you're not going to be disgusted by what you find... unless you hate spinach.
Want to push your guests to the limit of their tolerance for Oscar-pun foods? Try to figure out more recipes like SKATE Blanchett, BRIE Larson, Charlotte RAMPS-ling, SaoirSHAWARMA Ronan, Bryan Cranberrysauce-ston, or Leonardo DiCappicola!
What about you guys? What pun-based movie foods are you making for your Oscar Party guests? Let us know, in the comments!
---
Related DealNews Features: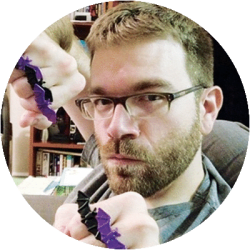 Contributing Writer
Jeff Somogyi is constantly trying to come up with ways to surprise and delight audiences the world over. He takes humor seriously ... too seriously. (Honestly, we've never seen him laugh ... it's kinda creepy.)
DealNews may be compensated by companies mentioned in this article. Please note that, although prices sometimes fluctuate or expire unexpectedly, all products and deals mentioned in this feature were available at the lowest total price we could find at the time of publication (unless otherwise specified).