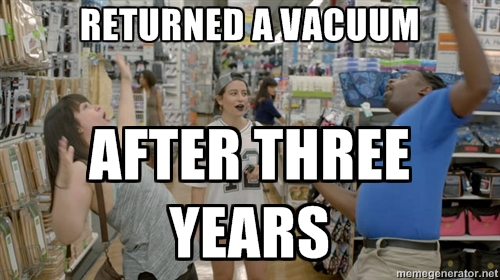 Bed Bath & Beyond has long been known for its extremely generous return policy. Even without a receipt, customers could frequently get full store credit for returns, even on items that had been used for years or weren't sold at that particular retail location.
Although that policy bagged them many loyal fans (like Broad City's Abbi), it's changing on April 20. After that date, most customers without a receipt will only be able to get an exchange or a store credit for 80% of the current selling price.
There's No Change to the Policy If You Have a Receipt
It should be noted that things aren't changing for customers with receipts; they can still receive an exchange or full refund, with no time limit mentioned. Customers with gift receipts can choose from an exchange or store credit for the amount spent.
Even some customers without a receipt can still bag the full value. If the purchase was made in the past year with a credit card or from your gift registry, Bed Bath & Beyond can look up the purchase in their records and treat this as a receipt.
Make Your Returns Before April 20
It's worth claiming the older, more robust return policy while you can if you have items you're not sure you want to hold on to. If you've been waffling over whether that china you registered for is really "you," or uncertain about what you're going to do with that baby changing table that was less convenient than expected, you've got a little time before the deadline to get the best value back. (And spend it on something you really want!)
How Does Their New Policy Stack Up?
The new return policy is still a good deal for customers who lack receipts — a store credit for 80% of the value is far better than a refusal to process the return at all. The lack of time limits and willingness to accept items without receipts still places it among the best return policies around.
Here are a few that may now outshine it:
Are you a loyal Bed Bath & Beyond customer? How do you feel about this change? Do you have a beloved return policy elsewhere we didn't mention? Let us know in the comments.
---