Laptops for Kids: Which Computer Should You Buy?
Take a look at Chromebooks, iPads, and even refurbished machines.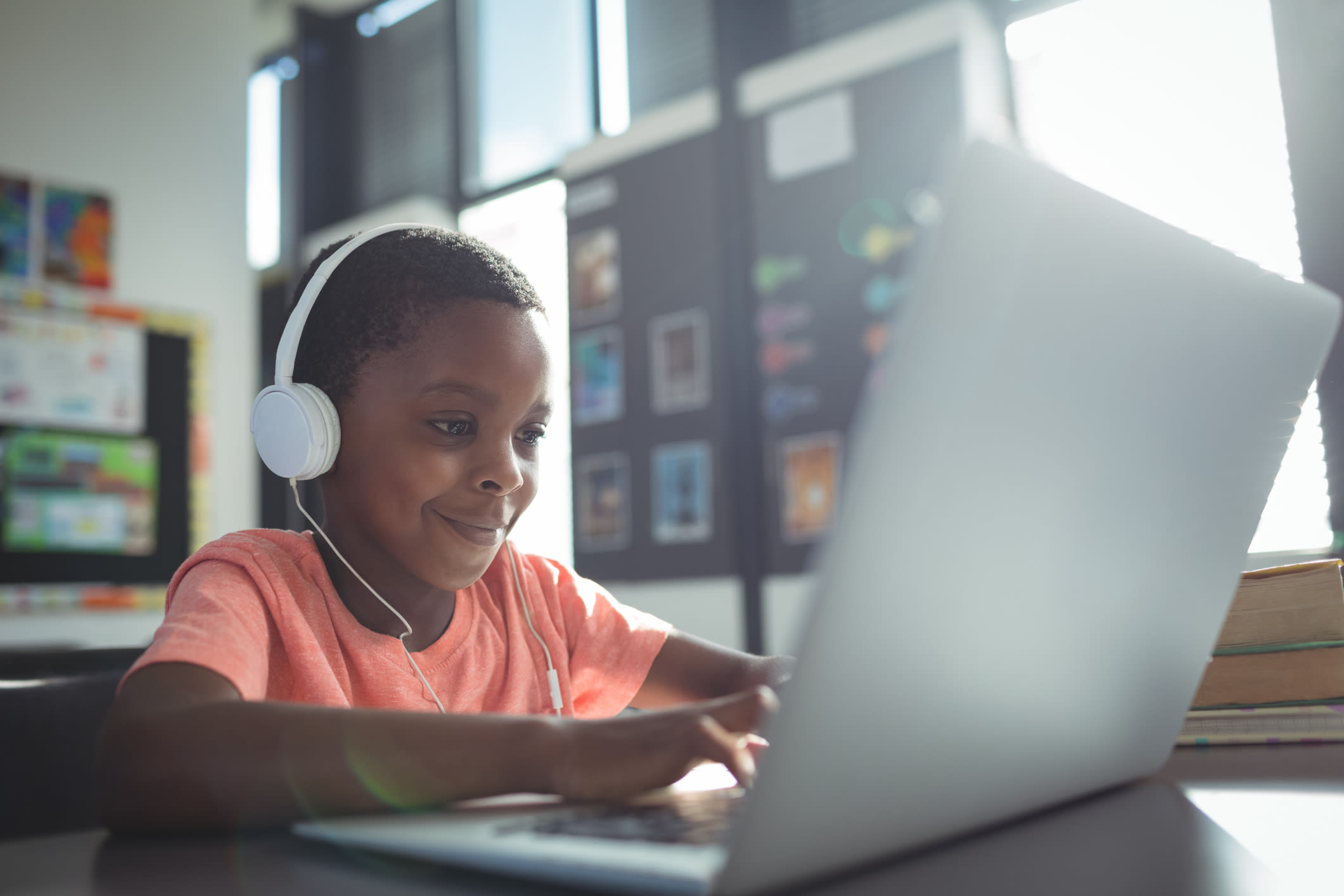 With so many kids doing online schooling or even homeschooling this year, parents are being forced to turn their homes into makeshift classrooms. While some school districts will provide students with a computer for virtual learning, not all of them will. And obviously, if you're moving your child to homeschooling, you're responsible for providing the tools they need.
Trying to buy the best laptop for children can be an overwhelming task. What specs should you look for? How much should you be spending? Should you even buy a new machine? Our guide to good laptops for kids covers these questions and more, to help make this process smoother.
What Types of Laptops for Kids Should You Look For?
The ideal laptop really depends on the age of the child, but young kids in grade school or middle school will likely be fine with less-robust builds. In fact, kids this young should be able to handle online schooling with a Chromebook, a cheap Windows laptop, or even an iPad. Wirecutter lays out its best laptops under $500, but clarifies that they're good for students who won't need special software.
For students who will primarily be working online in browser-based applications, a Chromebook is the winning way to go, according to Wirecutter. The website gives these simple builds high marks for being faster, as well as for having longer battery life, no need for antivirus protection, and no bloatware pre-installed. However, if your young kids will need laptops with specialized software or will need to work offline, you'll be better off springing for a cheap Windows laptop.
Young kids should be able to handle online schooling with a Chromebook, a cheap Windows laptop, or even an iPad.
The caveat is that a Windows laptop under $500 won't be much of a workhorse. According to Wirecutter, this type of machine "buckles under the load of running three or four light apps at a time," so if you need a device for multitasking, a sub-$500 Windows laptop isn't the best buy.
If you prefer Apple devices, Wirecutter notes you may have decent luck with an iPad and keyboard, but the combo won't fully replace a laptop. You can expect it to run smoother in some cases, thanks to all the apps optimized for the iPad; you won't have to rely on apps designed for phones.
What Specs Should Children's Laptops Have?
Since kids don't necessarily need a robust machine, parents can look for simpler builds. Wirecutter's top Chromebook picks under $500 have the following specs:
RAM: 4 GB
Storage: 32 GB or 64 GB SSD
Screen: 12" or 13"
Weight: ~3 pounds
Battery Life: 10-12 hours
If you're hoping to go for a Windows laptop under $500, on the other hand, Wirecutter's top picks have the following specs:

Processor: Intel Core i3 line
RAM: 4 GB
Storage: 128 GB SSD
Screen: 14" or 15"
Weight: 3-4 pounds
Battery Life: ~6 hours
These specs pale in comparison to those of the Chromebooks, at least in some ways. Sure, the Windows laptops have more storage, but they also had significantly lower battery life when tested by Wirecutter's staff.
If neither of those options sound good to you, an iPad can also serve as a solid device for online learning. Wirecutter notes that it has good portability and is sufficient for web browsing, light note taking, and writing, but isn't great for more complicated kinds of work.
How Much Do Cheap Laptops for Kids Cost?
You can easily find laptops for kids that cost under $500; however, prices right now might be more elevated due to a surge in demand. When deciding on a budget for the device, make sure you include any accessories, as well. Bank on paying at least $500 for a machine for your kid if you're buying new. If you end up paying less, it'll be a win, but if you have to pay more, you should be prepared ahead of time.
When deciding on your laptop budget, make sure you include any accessories your child will need, as well.
For example, we found a 7th generation 32GB iPad starting as low as $279 at the time of publication. However, by the time we added on a 1st generation Apple Pencil for $90 and a smart keyboard for $143, the cost was about $512. And that's not even including items like a protective case or extended warranty.
Other Options to Consider
If you don't want to buy a new machine — or can't afford to — you can go with other options if your child needs a laptop for the school year.
Reuse instead of buying new. Have an old laptop lying around that you don't use? You could repurpose it for your child's school year. Wirecutter has a guide on how to revive an old laptop, if you want to investigate this option.
Buy a used machine. If your child only needs basic functionalities for school, you can probably get away with buying a slightly older — but much cheaper — used laptop. Also consider refurbished machines, especially factory-refurbished ones, as these tend to be the best refurbs. However, they also tend to be more expensive than other refurbs.
SEE ALSO: What Does Refurbished Mean?
What Other Accessories Do Young Students Need?
Your kids won't just need a laptop to go back to school virtually this year — other accessories may help make the whole process easier. As Insider points out, young students may also need products like timers, noise-cancelling headphones, webcams, and blue-light-blocking glasses for online learning.
Readers, what kind of laptop will you be buying your child for online schooling? Let us know in the comments below!
---
Senior Staff Writer
Julie joined DealNews in 2015. Her work has been featured on MSN, Business Insider, Lifehacker, The Motley Fool, GoBankingRates, and Moneyish. In her spare time, she enjoys baking sweets, reading thrillers, and listening to an ever-growing list of podcasts.
DealNews may be compensated by companies mentioned in this article. Please note that, although prices sometimes fluctuate or expire unexpectedly, all products and deals mentioned in this feature were available at the lowest total price we could find at the time of publication (unless otherwise specified).