Is It Okay to Send Wedding Invitations Online?
When deciding between digital and paper invites, consider your budget, guests, and the tone of your wedding.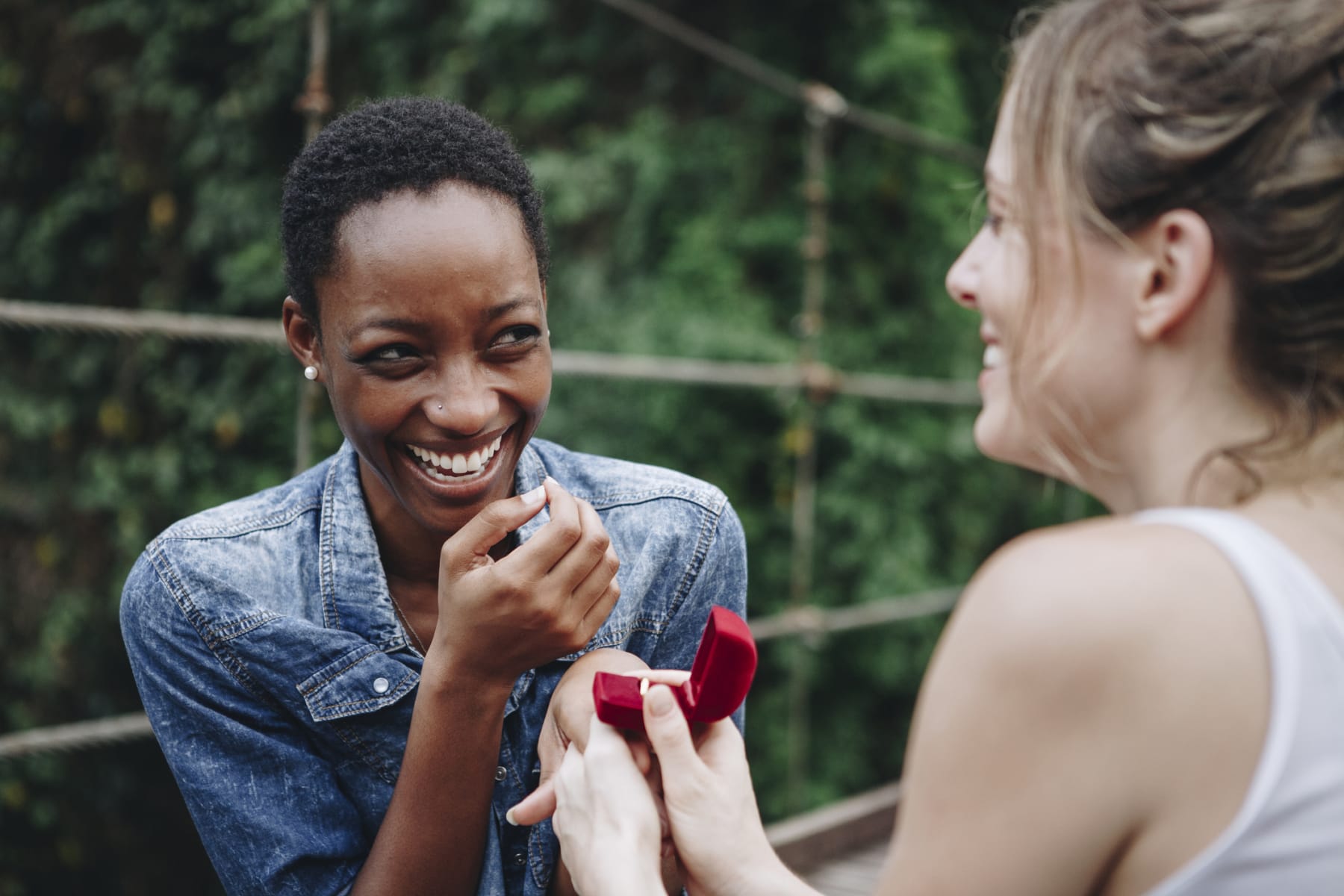 While they won't make up the bulk of your wedding budget, formal wedding invitations are pricey. In 2017, the average couple spent just over $400 on invitations, according to The Knot 2017 Real Weddings Study.
Beyond the price, paper invitations require time to stuff, stamp, and mail. There's an environmental impact, too, as sending a pile of printed wedding invitations (which could include extra cards for replies, the reception, directions, and accommodation information) uses a lot of paper. This has left modern couples wondering if sending a digital invitation will do, or if it's a social faux pas.
The answer, unfortunately, is "it depends." According to the etiquette experts at The Emily Post Institute, evites are "practical, thrifty, and green," but there are other factors to think about. We go over the pros and cons of digital invites, and offer services to consider for both evites and printed invitations.
Digital Wedding Invitations Aren't for Everyone
Your wedding invitation sets the tone for your nuptials. A casual, impersonal evite may not be the right fit. And even if paper invitations aren't practical, they are traditional. A beautifully printed wedding invitation is a keepsake your family may treasure — and traditionalists in the family may not understand (or approve of) a digital invitation.
Evites can get caught in spam filters, and less tech-savvy family members may not know what to do with them.
Evites can come with technical snags, too. You may not be able to include all the information you want, like whether kids are invited — which is traditionally written on the inner envelope. Evites can also get caught in spam filters, and less tech-savvy family members may not know what to do with them. Guests who don't use the internet won't see your digital invitation at all.
The Benefits of Sending Wedding Evites
Digital wedding invitations are usually easier for both you and your guests. You get to skip all the hassle of creating the perfect wedding invitation package, and your guests can quickly see and respond to your invitation. RSVPs are a breeze. Attendees don't have to mail response cards, and you don't have to sort through them; it's all done electronically.
SEE ALSO: 5 Pesky Wedding Costs You Might Have Overlooked
If you're concerned a digital invitation will be a tacky email filled with clip art, let us reassure you that digital cards are designed with as much care as physical cards. Online invitation sites offer tons of beautiful templates you can customize to create your ideal invitation. You can also usually use these for matching save-the-dates, thank-you cards, and even wedding websites. Today's digital invitations can be just as stylish as printed invites.
And what if you're a last-minute planner? Digital invites may be your only option, as you need to mail paper invitations six weeks before the big day (and order them a few weeks before that). For more spontaneous ceremonies, digital invitations are perfect.
How to Combine Digital and Paper Invites
If you like the convenience of digital invitations but want the traditional feel of a paper invitation, why not do both? There are plenty of ways to combine online evites with paper invitations:
Send digital save-the-date cards or invitations for more casual pre- or post-wedding events, but send printed invitations for the wedding itself.
Send printed invitations, but include instructions for how to RSVP online for convenient RSVP tracking.
Send digital invitations to your tech-savvy friends, but paper invitations to older family members and traditionalists.
If you really want to ditch paper, but are concerned about family members not receiving your evite, you can always make a phone call to personally invite your less technically inclined guests. You may take some flak from the wedding hardliners, but at least they'll know when and where the ceremony is.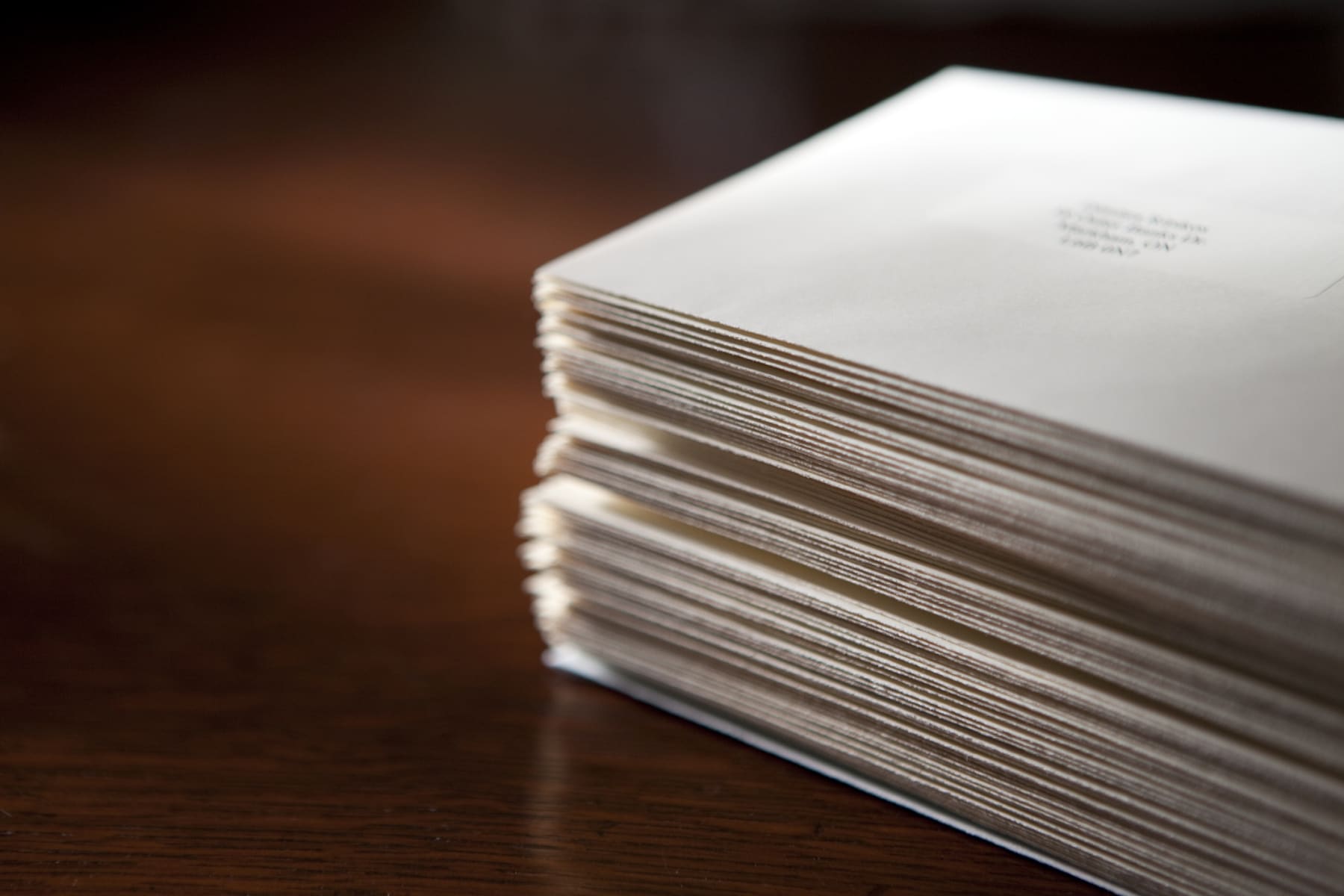 The Best Services for Sending Wedding Evites
Even if you're going digital, you probably don't want your invitation to be as casual as an email. Instead, use an online service that does the design work for you. Typically, they'll let you design your wedding invitations (and save-the-dates, bachelorette party invitations, or anything else) based on a template you can customize to your liking. Your guests RSVP online, and you can track those RSVPs online. From making the invitations to wrangling the guest list, it's all pretty simple.
Be aware that some free evite services include advertisements, which we would consider a social faux pas.
Be aware that some free evite services include advertisements, which we would consider a social faux pas. For tasteful, ad-free digital invitations, prices range from around 20 cents to $1 each, though premium designs and add-on services will increase the price.
We like Paperless Post and Greenvelope for digital invites. These sites offer tons of beautiful, premade designs to customize — Greenvelope will do completely custom designs for an extra fee. Both are designed to mimic the feel of a traditional invitation, with an animation of a card coming out of an envelope.
When your attendees "open" their invitations, they'll be sent to a website with all of your event information, which may be everything you need in a wedding website. If you want something fancier, though, The Knot has website templates that match Paperless Post's designs.
SEE ALSO: How to Save Money on Vistaprint Business Cards (and More!)
If you'd rather go the paper invitation route, but don't want to deal with paper RSVPs, try RSVPify. Just set up your event online, and then include a link on your printed invitation (or you can embed an RSVP widget on your website). It's free for up to 100 RSVPs, but costs $29-plus for access to premium features and extra RSVPs.
Consider Print-on-Demand for Paper Invitations
If you must have a printed invitation, online print-on-demand services can be relatively budget-friendly. Vistaprint is a solid option that won't break the bank, with cards starting at 68 cents each. Just like the digital invitation services we mentioned above, these cards are designed around templates, and you can customize them however you want (or pay for a completely custom design). You can also order as few as 10 cards in a batch, making this a great choice for smaller ceremonies (or if you're only sending cards to a few people).
While the price starts on the low end, it can go up significantly depending on card size, style, paper (including recycled), and other customization options — plus you may want to add save-the-date cards, RSVP cards, and other paper products — all of which bring up the price. Be be mindful of your budget when you browse.
For printed invites, online print-on-demand services can be relatively budget-friendly.
For something more luxe, check out Minted, which offers beautiful designs created by independent artists. The site has some interesting formats, like an "all-in-one" design that includes a tear-off RSVP postcard and save-the-date magnets.
Minted's invitations start at a pricier $1.40 each, but include envelopes preprinted with addresses, which is a big convenience. But our favorite feature of Minted is the way the service bridges the divide between digital and physical. Minted also offers matching wedding websites and online invitations.
In the end, your wedding is about you. If formal paper invitations don't fit your style — or your budget — you have lots of other options.
Readers, what type of wedding invitations do you prefer? Do you think digital invites are a social faux pas? Share your thoughts in the comments below.
---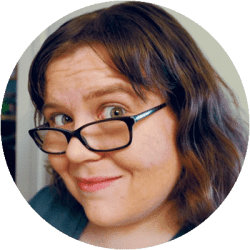 DealNews Contributing Writer
Originally working in IT, Elizabeth now writes on tech, gaming, and general consumer issues. Her articles have appeared in USA Today, Time, AOL, PriceGrabber, and more. She has been one of DealNews' most regular contributors since 2013, researching everything from vacuums to renters insurance to help consumers.
DealNews may be compensated by companies mentioned in this article. Please note that, although prices sometimes fluctuate or expire unexpectedly, all products and deals mentioned in this feature were available at the lowest total price we could find at the time of publication (unless otherwise specified).