If 'Candy' Gets Trademarked, What Do We Call These 8 Things?
We should all get used to John Candy's new name: Juan Caramelo.
It may be hard to believe, but King.com — maker of the ridiculously popular Candy Crush game — is getting even closer to trademarking the word "candy". And already, King.com has started sending out cease-and-desist letters to other entities that use the offending sweet-word.
This got us wondering what people and products might be at risk. And so, in ridiculous fashion, we've listed eight things that might be legally in danger for their use of the word candy. As a bonus, we've given them alternative name suggestions, in case mean ole King.com comes a-knocking with a C-and-D letter.
Skullcandy Headphones
Suggested Alternatives: Skullconfits; Ear Sweet Rolls; Wax Cans
Candy Canes
Suggested Alternatives: Sugar Hooks; Minty Question Marks; Those Things Shepherds Use, But Made of Sugar
John Candy
Suggested Alternatives: Juan Caramelo; Jean Bonbon; Johan Süßigkeiten
Candyman (Film)
Suggested Alternatives: Bee-Mouth Man; What's That in the Mirror?; We Can Say His Name Three Times, But We Have to Pay Royalties Each Time
"Candyman" (song by Sammy Davis Jr.)
Suggested Alternatives: "Bee-Mouth Man"; "The Song by That Guy That Used to Hang Out with Frank Sinatra ... No, Not Dean Martin, the Other One ... Never Mind, I'll Google It"
"I Want Candy" by Bow Wow Wow
Suggested Alternatives: "I Want Coffee"; "I Want Taffy"; "I Want Gravy"
Candide by Voltaire
Suggested Alternatives: "Maybe Try Pessimism?"; "Sound Smart In Party Conversation By Name-Dropping That You Read This"; "Spark Notes Are Still Available"
Actual Candy (Like the Kind You Get on Halloween)
Suggested Alternatives: Delicious Empty Calories; Easier Than Exploring Your Feelings Treats; Road to Diabetes
There's no news about when or if King.com is going to pursue a trademark on "crush," so for now your orange-flavored soft drinks, intense romantic infatuations, and Grooves are safe.
In all seriousness though, there's still time for other entities to object to the trademark before it's made official, but King.com was already successful in their efforts in Europe. Moreover, the trademark wouldn't actually threaten all uses of the word, but the company is asking for "control over the word 'candy' for use in software products, educational services, and clothing — including bath robes, ear muffs, shower caps, underwear, and paper hats," according to PCMag.
What do you think, candy™ lovers? Should a mobile game be able to ruin our enjoyment of sweets, in perpetuity? Tell us your thoughts in the comments below!
---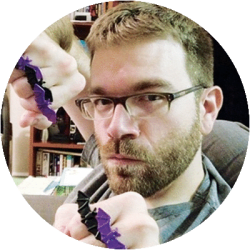 Contributing Writer
Jeff Somogyi is constantly trying to come up with ways to surprise and delight audiences the world over. He takes humor seriously ... too seriously. (Honestly, we've never seen him laugh ... it's kinda creepy.)
DealNews may be compensated by companies mentioned in this article. Please note that, although prices sometimes fluctuate or expire unexpectedly, all products and deals mentioned in this feature were available at the lowest total price we could find at the time of publication (unless otherwise specified).