I Flew to London on a Budget Airline for $380 — Here's What I Learned
Avoid last-minute fees by weighing your luggage beforehand, and dodge pricey perks like in-flight meals and reserved seating.
Over the summer, I booked a roundtrip flight on Norwegian Airlines from New York to London at a price that seemed unfathomable to me: $380.
And as any proud deal shopper would do, I spent the next several months bragging about it to anyone who would listen. After all, it costs me more to fly to Alabama.
These cheap long-haul rates have been popping up a lot recently, and you may be wondering if they're really worth it. Having just returned from this trip, I'm ready to share my wisdom. Suffice to say, it's totally doable — if you're willing to give a few things up.
SEE ALSO: The Ultimate Airline Comparison Guide: Reviews, Restrictions, and Fees for 98 International Airlines
This Is How I Paid $380 to Fly to London
So let's talk about that price tag. There are a few things that contributed to it, not all of them great.
First, Norwegian offers different ticket tiers, and the cheapest is called LowFare. Because I flew in March, I managed to get an off-peak rate. Currently it looks like you can get comparable rates — about $400 roundtrip — again starting in September and October. Over the spring and summer, you're more likely to pay around $500 for LowFare tickets.
However, the LowFare tier comes with some notable "quirks" that you have to be prepared for.
Strict Baggage Limitations
You're allowed to bring a free carry-on, but it can't weigh more than 10 kilograms (or 22 pounds). This might come as a rude awakening for Americans, as we're used to checking a 50-pound bag for free on international flights. Plus, most of us probably never think about what our carry-on weighs, so long as it can fit into the overhead bin.
While checking in, I had visions of myself wearing all my clothes like Joey in Friends — but instead I just coughed up the $65 to check a bag.
By the way, that's a combined 10 kilos, for anything you're taking on board with you. My small rolling bag proudly checked in at 9.8 kilos — but then they asked me to put my stuffed purse on top of it, and I tipped the scale at 12.2 kilos. The check-in person asked me if I wanted to take anything out, and I had visions of running to the bathroom to wear all of my clothes like Joey on Friends, but I was already tired and didn't want to bother. So I coughed up $65 at the desk for the privilege of lugging those two extra kilos to London.
If I had paid for a checked bag online before showing up, I would have spent $45 instead. (Norwegian has a weird way of calculating this depending on your "city pairs" and whether the flight is direct or not.) But to be honest, if I had been aware of the combined limitation, I could have cut things from my packing list. You'll definitely be traveling light if you go this route.
The LowFare+ rate includes a free checked bag, in addition to other things I'll discuss below. But it'll cost at least $75 more each way ($150 total).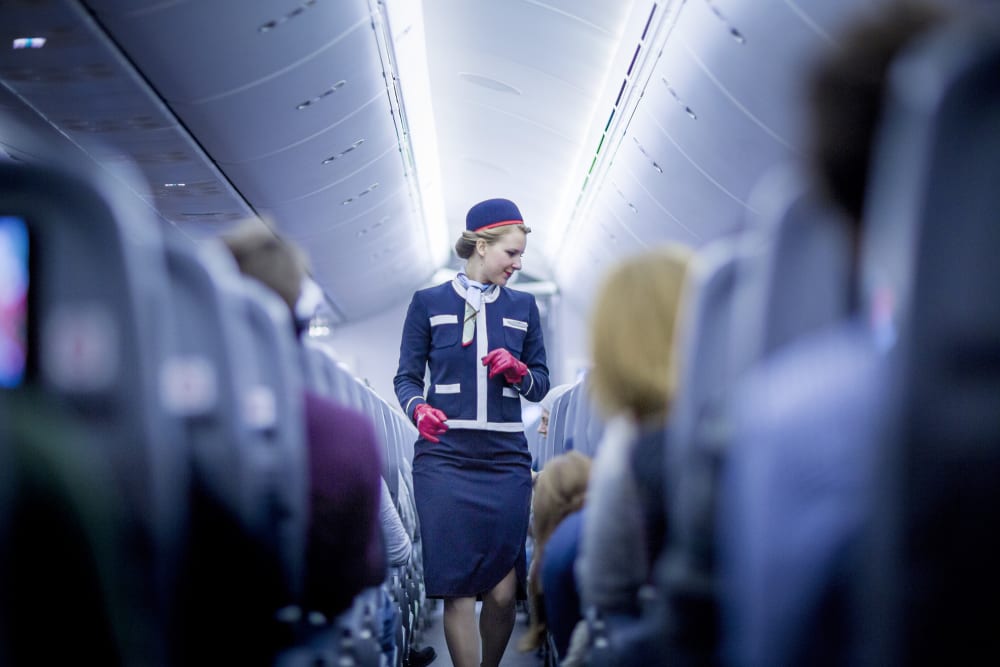 No Seat Reservations
The LowFare rate also doesn't allow for a reserved seat, though you can pay for that separately for $45 (or get it included with the LowFare+ rate).
I'm typically someone who prefers to be in the aisle, so I can get up and walk around if needed, or use the bathroom without worrying about waking someone up. But I wanted to go all in on this "ridiculously cheap" flight thing, so I opted to have my seat assigned at check-in.
If you show up early, you might be able to request a seat even if you didn't pay to reserve one.
I was placed between two sleeping travelers on the way there, which wasn't ideal. On the way back I checked in much earlier, and I was able to request an aisle seat. Still, I'd be game to try this system again.
Bring Your Own Snacks
LowFare also doesn't come with a meal, but who even cares? Airplane food is weird and unsatisfying! Plus, when you're flying to Europe, your best course of action is to sleep as much as possible, and meals only disrupt this process. On the way back, you'll definitely want to stock up on snacks and a sandwich. Regardless, I had zero issues skipping this "perk."
Try Booking Norwegian in Norwegian
This is a tip that comes from the New York Times, and it did indeed work. My flight would have cost closer to $410 if I booked in English, but with the conversion from krone to dollars, Norwegian charged me $380. Right now if you were to do the same, you might save $10 or less, which might not be worth getting a confirmation email in Norwegian. Still, it's worth checking.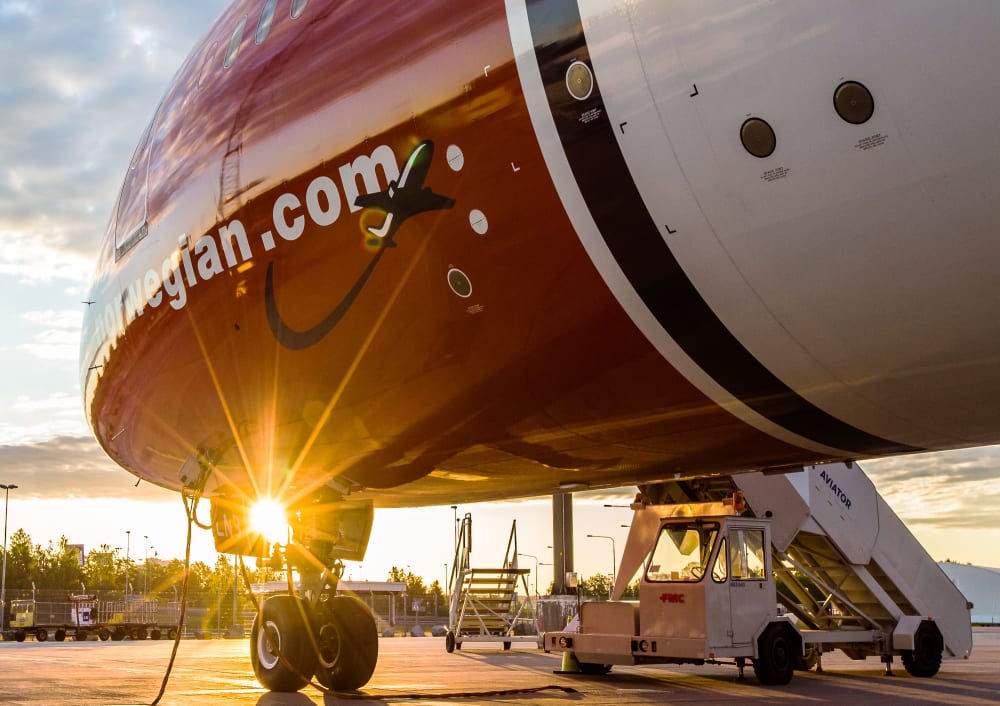 The Airports Aren't Convenient
In general, I don't mind JFK International Airport in New York. But Norwegian flies out of Terminal 1, which is completely different from the rest of JFK. The security area is bizarrely squashed, and none of the three bars or restaurants seem to be open past 10 pm, despite the many late-night international flights departing there.
More importantly, the check-in process for Norwegian is very unclear. My friend and I were using carry-on bags, so we printed our passes at a computer, and proceeded to security... only to be sent back for inexplicably not having an ink star stamp on our boarding pass. (Very official.) We waited in line to learn that the stamp meant Norwegian had confirmed our bags were of an appropriate weight. Nowhere did it say we needed to do this, so we ended up checking in twice.
The check-in process at JFK made me rethink my life choices, but you can avoid the headache if you know what to expect and prepare accordingly.
Confession: The check-in process made me rethink my life choices. This may have been influenced by the frantic texts we were receiving from our friends on the other side, who were saying the bar was about to close.
After going through all this (and having a glass of wine to calm down), I decided I could deal with it again if I came prepared. If you know what you're in for, you can avoid the headache. Show up a half hour earlier than you normally would, avoid self check-in, and weigh your bags before you leave home. It's the least awesome part of this deal, but I'd do it again to fly to Europe so cheaply.
In Europe, They Seem to 'Get' Budget Travel
It's important to note that check-in coming back was much easier. I firmly believe this is because Europeans are accustomed to the budget airline process, so everything in London went more smoothly. No one seemed surprised by the baggage limitations.
SEE ALSO: 5 Reasons You Should Choose Dublin Airport as Your Gateway to Europe
In London you'll be flying in and out of Gatwick, which is further out than Heathrow, the traditional international option. There's an express train that goes directly to the downtown area though, so it's only a minor inconvenience.
Norwegian's Planes Are Totally Normal
Having flown on a very rundown jet a few weeks before this trip (the flight crew was storing coffee creamer in a bag that was clearly meant to be used for dirty diapers... yikes!), I was fearful that I was going to be trapped on a janky airplane for seven hours.
The plane is clean and new, and you can expect lots of extremely blond people in plaid.
But Norwegian's planes were delightfully clean, new, and normal. The only real difference from your average long-haul carrier was that the flight attendants wore a lot of plaid, and the safety video featured extremely blond people.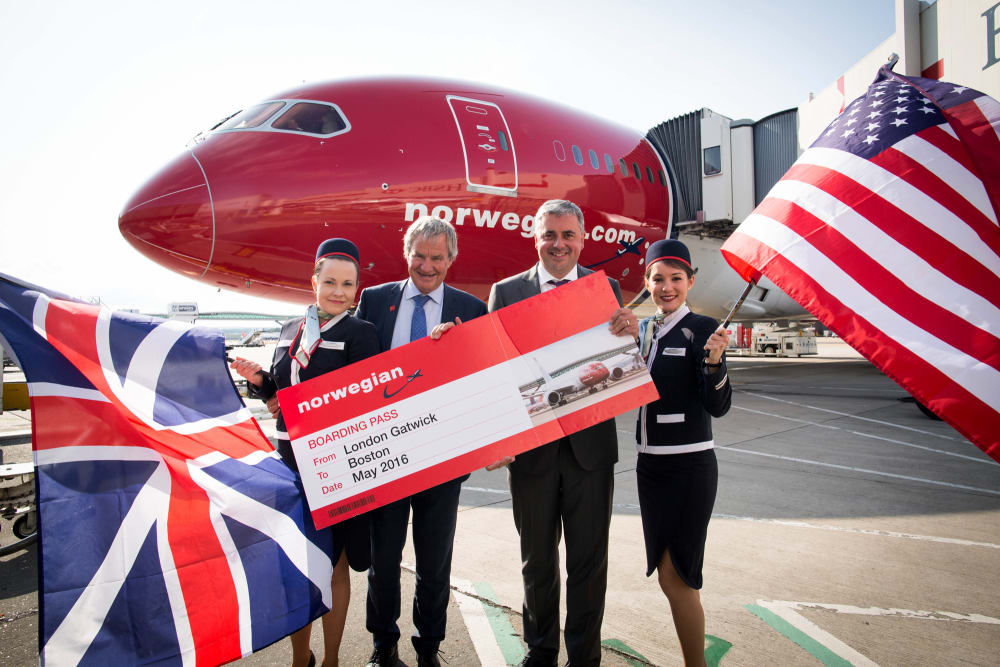 Final Verdict: I'd Do It Again (With Caveats)
I'm hoping that Norwegian (and its similar Icelandic counterpart, WOW Airlines) ushers in an age of cheap long-haul flight options from a variety of US cities. While you're giving up a lot for the savings, those trade-offs don't seem like such a big deal.
You probably don't need to bring more than 22 pounds of stuff to Europe anyway.
The baggage limitation forced me to pack thoughtfully, which paid off numerous times when I was lugging my bag across Europe. (Turns out, I don't need seven pairs of shoes for a trip.) You already know my thoughts on airplane food (it's gross, don't do it), and I might take a gamble on the reserved seat thing again, too.
The biggest potential downfall is the airport options. JFK was annoying, but at least it's a major New York airport. Some Norwegian flights depart from Stewart Airport in the Hudson River Valley — it makes my head hurt thinking about how to get there. Most European locations seem to have a relatively manageable shuttle or train option to the main city though. Just be realistic about what you're willing to put up with.
Readers, have any of you flown Norwegian or WOW Airlines? What did you think? For those who haven't done budget long-haul flights, would you be willing to put up with these limitations for the right price? Share your thoughts in the comments below!
---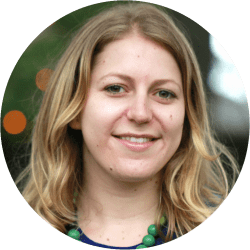 Contributing Writer
Lindsay Sakraida specializes in writing about retail trends and lifestyle subjects. She's also obsessed with music, movies, and tennis. Follow her on Twitter at
@LinSakraida
.
DealNews may be compensated by companies mentioned in this article. Please note that, although prices sometimes fluctuate or expire unexpectedly, all products and deals mentioned in this feature were available at the lowest total price we could find at the time of publication (unless otherwise specified).