How to Overcome Your Fears About Buying Clothes Online
Shopping for clothes online is one of the great luxuries of our time. You can get unbelievable bargains on all kinds of apparel in a nearly unlimited range of styles, sizes, and colors. It's pretty amazing stuff when you consider how hard it was to even find that trendy color of nail polish you were after in 1996. (Oh, the local Claire's didn't have it? Search over, mission failed.)
But despite the convenience of buying clothes online, many people still shy away from doing so, and for perfectly valid reasons. But dealnews is here to help you, so that you can take advantage of the glorious sartorial offerings (and savings!) of the internet. Whether you're fearful of fit, returns, or shoddy quality, read on to see how you can conquer your fears and take advantage of online savings.
Fear #1: What if I Buy Clothes Online and They Don't Fit?
The top reason most people hesitate to buy apparel online (based on data gathered via the highly scientific method of assumption) is fear that it won't fit. Amidst vanity sizing, this is surely a founded concern. But there are several steps you can take to better your chances of buying a garment that will make you like the way you look.
With technology that allows online shoppers to virtually try on potential wares already in place, it's no surprise that programs like GUESS's TrueFit are also taking off. This shopping aide requires some user input (i.e. age, height, weight, and answers to some questions about body shape and favorite articles of clothing), but can churn out size and style suggestions on each product page; for example, with TrueFit a user can know in advance that a particular pair of pants will be a little snug in the thighs and that a particular button-down shirt runs long. It's pretty handy information when you're trying to decide whether to splurge on those foiled jeans that look so fabbity fab on the model.
Unfortunately, few sites offer this kind of service. But still, there are other ways to take the guesswork out of sizing, the easiest of which is to actually know your measurements and compare them against garments you're considering buying. This information doesn't account for every variable, like the way a fabric falls (or clings), but it's a start. Of course, this method of evaluation only works if you're honest with yourself; if a button-down shirt has a 37.5" bust, and you're sporting a 39" chest, it's just not going to fit — and no one wants to wear a blouse with busting buttons. So do yourself a solid and take your measurements now and store them in an accessible place for easy referencing.
You can also take the clothes you own that you'd swear were custom made for your body and measure those, as well as note the fabrication. Other pieces with similar materials and measurements will likely produce a similarly pleasant fit. In the same vein, sticking to stores or brands that tend to fit you well will minimize the potential frustration of figuring out sizing and fit. Meanwhile, seeking out photos of the clothes actually on a model, rather than lying tastefully crumpled against a white background, is a way to determine whether a garment runs tight, loose, short, or long.
Fear #2: What if the Clothes Look Different in Person?
It's so easy to be persuaded to buy a bejeweled crop top if it's on sale; the model looks cool, and we've really been trying to incorporate some edgy new looks into our wardrobe. But what if the gems that so dazzled you in the product photo arrive and in real life more closely resemble the unpolished shards of a destroyed McDonald's Play Place?
There are two types of offenders when it comes to deceptive product photos. First, there are photos that are just generally unhelpful (we'll come back to these), and then there are item descriptions and photos that seemingly are chosen by online retailers with malicious intent. See Urban Outfitters and its Urban Renewal line. Sure, the idea is that each piece is a one-of-a-kind vintage find, but UO has a tendency to select images that aren't very representative of the actual items. This information comes to you courtesy of the reviews on these garments, making the tip here obvious: Read the reviews. Read the good ones. Read the bad ones. And pay special attention to those that mention things that matter to you.
Now back to the clothiers that don't seem too worried about how helpful their photos are, like J.Crew which will frequently photograph items sans model. Sure, you may think you've found a cute skirt, but how can you tell whether it will look, as they always say on Project Runway, "expensive"? You'd think that price alone would be a barrier against ending up with tacky pieces, but you'd be wrong (unless goth pirate wench is your style).
Fabric is a telltale indicator of whether an article of clothing will look "cheap," so the section on the product page with more details on the materials is crucial. As a general rule, natural materials (cotton, linen, wool, leather) are good. Manmade stuff (acrylic, rayon, acetate, nylon) is a little more risky. It's certainly not impossible for those fabrics to look nice, but knowing what you're getting in advance will make a difference in your expectations, and help you decide whether an item is appropriate for when and where you plan to wear your purchase. (You were going to don that polyester ensemble for an outdoor summer wedding? Hope you like being a human hotbox.)
Fear #3: What if I Don't Like My Order?
With all your fears up to this point addressed, you're about to proudly make your purchase. But wait! What is that feeling creeping up? Anxiety that you might feel buyer's remorse? Fortunately, you can plot a thoroughly researched escape plan — that is, once you've studied the store's return policy — and act accordingly.
The holy grail of online shopping is free returns, and fortunately for all fashionistas, plenty of stores offer them: Urban Outfitters, Zappos, Modcloth, Nordstrom, and Shoebuy, just to name a few. For stores with a lot of locations (Forever 21, Aeropostale, Express), you also usually have the option of returning online purchases in-store. The dicey part here is knowing what's required for a return — do you need the receipt or packing slip? Can you get a refund, or just store credit? Places like Kohl's will take almost anything back, no questions asked. Motherhood Maternity, meanwhile, is known to be stricter, sometimes disallowing even an exchange for a different size if you don't have a receipt.
Research a store's return policies before you buy, and factor that into your purchase. Be wary of exceptions, like final sale items, which you'll generally be stuck with no matter what. And, of course, don't create more hassle for yourself by buying something you won't be able to use; if you need a dress for a special event this Saturday, for example, check shipping times and guarantees before ordering and depending on the power of hope to get it to you in time. If you're on a tight deadline, look to online stores that work with ShopRunner. Otherwise, you may be stuck paying for upgraded shipping or heading out to the mall.
Do you feel bolder, better informed, and ready to take on that Ralph Lauren sale? Excellent! That's what we're here for: to make your life easier. And less expensive. And more stylish. We also want to know readers, what your biggest fear about buying clothes online is. Any tips you'd like to share with other shoppers who are fearful of buying clothes online? Tell us in the comments below.
---
Related dealnews Features: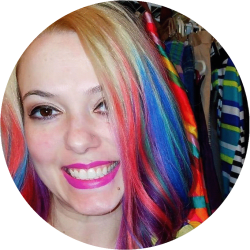 DealNews Contributing Writer
Elizabeth Zimmerman is a former Associate Editor at DealNews. She specializes in tap dancing, wearing a lot of colors, making cakes, and sneaking Beatles references into deals. Goo goo g'joob.
DealNews may be compensated by companies mentioned in this article. Please note that, although prices sometimes fluctuate or expire unexpectedly, all products and deals mentioned in this feature were available at the lowest total price we could find at the time of publication (unless otherwise specified).