How to Buy an Above-Ground Pool
There's no shortage of items to consider, from size and shape to depth, frame material, and where exactly the pool will go.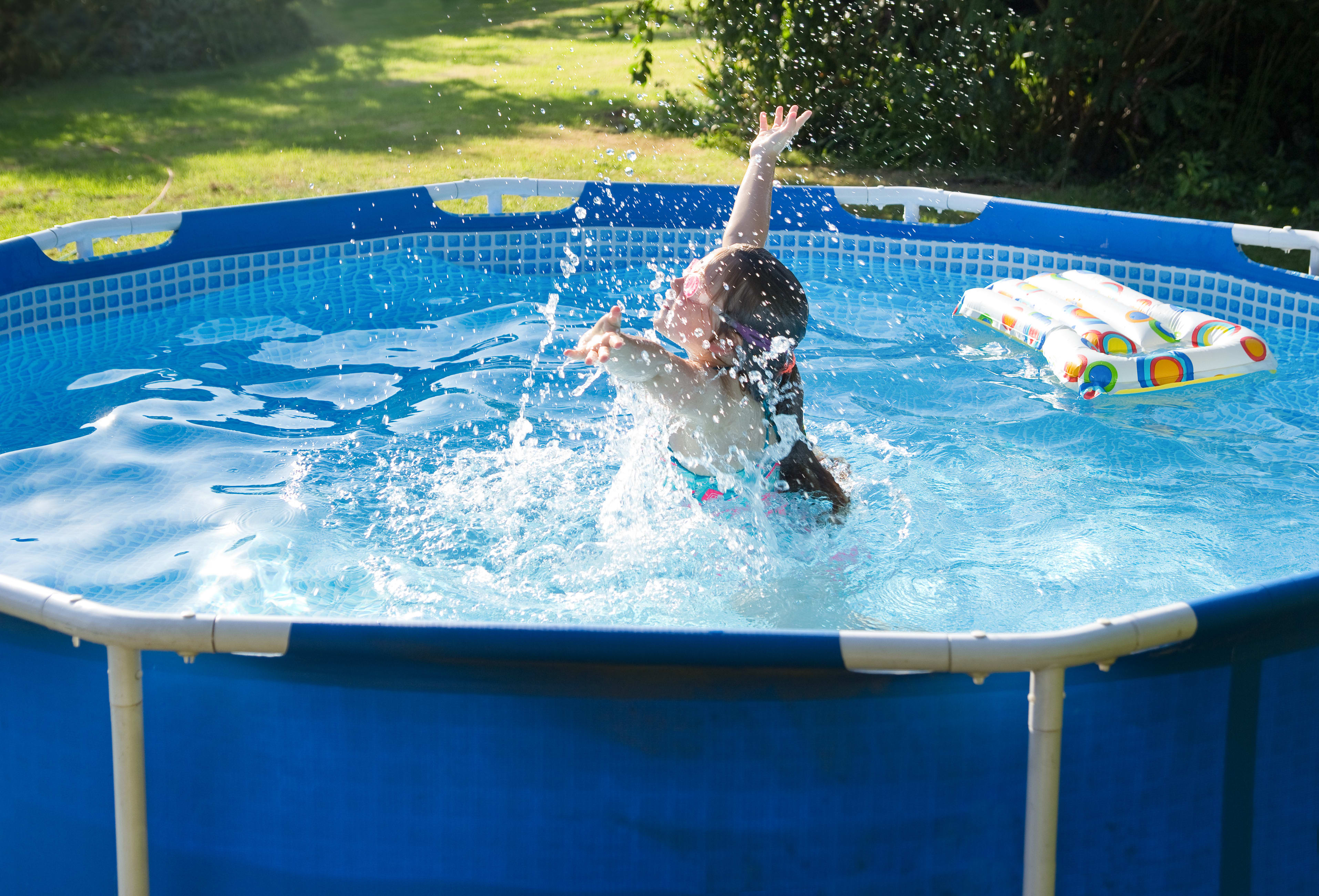 The summer of 2020 hasn't been the best time to head to beaches and local pools. Because of that, many consumers have sought out an above-ground pool to serve as a substitute.
However, due to above-ground pools' booming popularity, shortages have been an issue. It's not a lost cause, though. If you want to turn your backyard into an oasis and are looking for a "buying an above-ground pool" guide, read on for the info you need to know.
How to Buy an Above-Ground Pool
Pick the Pool Frame You Want
A few different types of frames exist for above-ground pools, and all have their own pros and cons.
Steel Frames
Despite the name, steel-frame pools can use metals like aluminum and zinc, as well as galvanized steel. Lightweight but sturdy, these models are versatile, which only contributes to their popularity. They can be built on a raised deck or a floor, and because the frame is flexible, you can bend and manipulate it into different shapes if you wish.
Resin Frames
Resin is more expensive than the thin steel mentioned above, but it brings long-term benefits that could be worth the investment. For instance, resin frames are more resistant to rust, oxidation, and corrosion, according to the website for Thatcher Pools and Spas, a pool dealer and contractor. Resin can also hold up to the damaging effects of sunlight and water better than other materials, and resist warping and denting.
SEE ALSO: The Best Patio Furniture: How to Buy Outdoor Pieces That Last
Perhaps most important is the fact that resin frames can stay cooler to the touch. Anyone who has ever sat on a hot coin in a car seat in the midst of summer knows how much that can smart, so if you're worried about having a pool frame with similar properties, resin might be the way to go.
Hybrid Frames
Can't decide between steel and resin? A hybrid frame might be your best bet. It combines resin and steel, as the name suggests, for a supportive frame that's resistant to water and sun damage, as well as chipping, rusting, and corrosion.
Semi-Inground Pool
You might see a semi-inground pool referred to as a "radiant pool." Essentially, this type of pool is the next best thing to an inground pool, as it can boast the same quality and durability, but at a more affordable cost. Semi-inground pools tend to have easy installation and are customizable. They're especially good for yards that have the following issues:
Uneven ground
Slopes or hills
They can also be ideal for yards with other issues that make putting in a traditional pool hard or costly.
Weigh the Different Liner Options
This is another area where you can customize, though most pool liners are made of vinyl. The customization comes from how liners are attached. Thatcher Pools names the following types of pool liners:
Overlap
Beaded
J-hook/unibead
Expandable
Aside from the expandable liners, the names refer to how they attach to your pool. For instance, overlap liners go over the lid of the pool and attach with coping strips, while beaded liners have thick vinyl beads at the top that snap into place along the top rails of the pool. Unibead liners are also known as "universal" liners, and have a U-shaped piece of vinyl that attaches into the top of the wall. However, expandable liners basically stretch to fit the needs of your pool.
Research the Pump Systems for Above-Ground Pools
You can use a few types of pump-and-filter systems with your above-ground pool. Each one has its own pros and cons, and Thatcher Pools states the differences.
Sand filters: As the name suggests, these use sand to push water through the pool filter.


Cartridge filters: Filters of this kind have a cartridge inside and capture debris as it passes through. Notably, cartridge filters are designed to function on lower pressure than sand filters.


Diatomaceous earth filters: DE filters utilize fossilized exoskeletons of diatoms to filter pool water. It's important to note that DE filters can catch debris as well as the others, and can even catch small pieces that sand filters might miss.
Select the Size and Shape of Your Above-Ground Pool
If you're shopping for an above-ground pool, you've probably already thought about what size your yard can accommodate. Obviously, you'll want to choose a pool that will fit in your backyard. However, before you bring that new pool home, you should also check with your neighborhood's homeowners association, if one exists. These organizations can restrict the kinds of items homeowners can have on their property. So before installing, make sure you adhere to any rules and regulations to avoid fines.
Before installing a pool, make sure you're adhering to HOA rules and regulations so you can avoid fines.
In addition to HOA restrictions, you'll also need to make sure you aren't covering up any utility lines that might be running through your yard. Avoid these areas if you can, and if not, you can look into having the lines moved at an additional cost. While planning your placement, it's also important to take stock of any overhead power lines. Never place your pool beneath overhead power lines.
While size is obviously a huge (no pun intended) consideration, it's not the only thing to think about when you're imagining your backyard with a place to take a dip. You'll also need to consider the shape of your yard, and therefore the shape of the pool that will best fit your needs. On its website, the pool retailer Country Leisure recommends opting for a round pool if you can, as water pressure will be equal across all points and the structure should be more secure.
Consider the Time and Costs of Upkeep
Before you buy an above-ground pool, you need to know the level of upkeep that goes into having one. Certain tasks must be completed daily in order to maintain your pool's health. The thing to remember about pools is that it's much easier to keep one healthy through regular maintenance than reverse any problems that might arise through neglect.
For instance, The Spruce lists the following tasks that need to be completed daily:
Test the pH level
Test the chlorine level
Run the pool filter for 12 to 18 hours
Check the water level
Empty the skimmer and pump baskets
Check filter pressure and pump operation
There are also tasks you'll need to complete on a weekly basis. According to The Spruce, you can expect those chores to include the following:
Test total alkalinity
Skim the surface, vacuum, and brush the pool
Add algaecide, clarifier, and metal control in proper doses
Clean the surrounding area
Add chlorine tablets
Check pressure, and backwash or clean the filter if necessary to regulate levels
Add in Other Pool Necessities
Aside from accessories like ladders and floats, there are actually quite a few supplies you'll need from the start for your pool. If you're calculating the startup costs of buying an above-ground pool, be sure to consider the following product recommendations from Swim University, as well:
Water test strips: Regular water testing is important, so you know when to adjust chemicals to maintain pool health.


Pool shock: This chemical is a quick way to kill bacteria, bring sanitizer levels up, and even address mild cases of algae.


Algae brush: For bad cases of pool algae, an algae brush will help make cleaning walls and steps easier.


Manual vacuum: Another tool that makes ridding your pool of an algae infestation easier, it will vacuum the algae from the water.


Telescoping pole: Some pool tools are very hands on, and a telescoping pole will ensure you have to bend and lean less as you clean.


Filter cleaner: Pool filters need to be cleaned regularly to keep water at optimal levels of health.


Skimmer: These giant net tools are necessary for removing debris like leaves, flower petals, and even bugs from your pool.


Pool cover: These make pool care so much easier, especially in the offseason. Using a solid pool cover means keeping debris out of the water, as well as further preventing contamination after winterizing your pool.
How Safe are Above-Ground Pools?
Above-ground pools can be just as safe as other pools; that is, something to be treated with respect. Before you buy an above-ground pool, consider size and shape, but also ask yourself who will be using it. Is it just for you and your partner? Do you have young children? The pool's users can affect how you'll want the pool designed to be as safe as possible.
SEE ALSO: How to Buy an Outdoor Projector
To begin, decide on a depth for your pool. If young children will be using it, you might want to err on the side of caution and go with a pool with lower sides. However, if only adults will be enjoying the pool, you can probably go with a higher wall, as long as everyone using it is responsible. Typically, you can choose from three sizes of walls: 48", 52", and 54".
Readers, will you be jumping on the above-ground pool trend? Let us know in the comments below.
---
Senior Staff Writer
Julie joined DealNews in 2015. Her work has been featured on MSN, Business Insider, Lifehacker, The Motley Fool, GoBankingRates, and Moneyish. In her spare time, she enjoys baking sweets, reading thrillers, and listening to an ever-growing list of podcasts.
DealNews may be compensated by companies mentioned in this article. Please note that, although prices sometimes fluctuate or expire unexpectedly, all products and deals mentioned in this feature were available at the lowest total price we could find at the time of publication (unless otherwise specified).