Getaways on Mobile: The Best Apps for Low Airfare
We researched and tested some of the most popular travel booking apps available, and found that not all of them offer the best deals.
With increased gas prices and fees for everything, finding cheap airfares is already hard enough. But what if you're trying to do it on the go, on your tablet or smartphone? Using the app for your favorite travel booking site could either mean a streamlined user experience, or limited search options and functionality.
We researched and tested some of the most popular travel booking apps available, including big names from popular sites as well as lesser-known services. We found lots of pleasant apps, but not all offered the best deals; in fact, our informal test turned up price differences of as much as $65 for comparable flights. So which app is the most worthy of your time?
Kayak
"The Kayak app tends to give more comprehensive results for fare comparisons," said David Bakke, of personal finance site MoneyCrashers. And a review in USA Today concurs that Kayak offers a load of search options and information: "[W]hen searching for flights, you can sort by the cheapest, shortest duration, leaving soonest, leaving latest, and arriving soonest. You can find out how often a flight arrives on time, view the fare code, model of aircraft, distance, and number of remaining seats."
Kayak also offers handy features like price alerts and charts showing price trends for fares. Aside from deals, there are bells and whistles like a flight tracker, airport information, packing lists, and a currency converter. Kayak may not complete a fare within the app, but does redirect to the external website without opening a new window.
But does all that mean an easy experience and good deal? In our test, Kayak's lowest rate was actually tied as the highest from each of the apps tested.
Expedia
With a homepage that slowly scrolls along suggestions of fun destinations, the Expedia app is great for brainstorming adventures. But for quick, easy booking, it's not the best; the app repeatedly left us waiting for long load times, sometimes timing out altogether, and didn't overly impress us with the fares it found.
But Expedia does offer one big advantage over the competition: "You can earn rewards when booking through it," notes Bakke.
Priceline
Though Priceline bought Kayak in 2012, the two websites and apps have remained separate, each offering a unique user experience. The Priceline app's home screen is minimalist; no packing lists or currency converters, just deals on flights, hotels, and cars. Within the flight search, results can be sorted by the usual factors, but also by "Happiness," which takes into account flight length and amenities.
As it turns out, Priceline turned up a lower fare in our test than its sister app. USA Today agrees that of the two, Priceline is better for finding "rock-bottom bargains."
Skyscanner
Travel photographer Evan Reinheimer is naturally well-informed when it comes to trekking the globe, and he does nothing but sing the praises of his favorite travel booking app. "SkyScanner searches not only every airline flying the route, but also every website that sells tickets for that trip," he told us. "I always start my search for the best deal there, and usually end up making my purchase that way."
The New York Times agrees that the Skyscanner app has a "well-designed interface" and "cheap flights."
We loved Skyscanner's flexible search options for dates and even destinations (great for last-minute getaways to anywhere), and the ability to open multiple search windows at the same time. And Skyscanner tied for finding the lowest fare. But like some other apps, Skyscanner has to access a third party to complete the deal.
Hipmunk
As its name suggests, Hipmunk is one of the most buzzed-about startups in travel booking. It was one of the few apps we saw to feature Price Alerts, and can also sort search results by Agony, "which is primarily a combination of price, flight duration, and number of stopovers," according to their site.
Bruce Upbin at Forbes declares Hipmunk "the world's best travel site," saying it omits useless information and worse options to make it "a decision-making engine."
While it might aid decisions, the options are not necessarily the best: Hipmunk yielded a "lowest fare" that was actually tied for the highest amongst our test. And it awkwardly opened an airline's desktop site in mobile to complete the deal.
OnTheFly
Despite being owned by Google, OnTheFly is still one of the lesser-known travel booking apps — and as a Google property, it appears to mostly cater to the Android crowd. (The iOS version hasn't been updated since 2011.) It offers a few rare search options, like flexible search dates and multi-airline flight plans; and it tied for the lowest fare we saw while searching. But a huge downside is that purchases can't be completed online, much less within the app — OnTheFly instructs users to call the airlines to finish booking.
Winner
Each of these apps has its own unique strengths and advantages. But overall, for finding the lowest fares and purchasing them as easily as possibly, we give top rank to the Priceline app. Its "Happiness" rankings are a great compliment to its rock-bottom fares, and purchases can be made completely within the app.
What do you think of these travel booking apps, reader? Are there any good ones we missed? Let us know in the comments.
---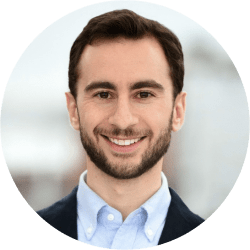 Contributing Writer
Ben was Features Editor at DealNews from 2014 to 2017, when his shopping insights were highlighted by Good Morning America, Reuters, the Washington Post, and more. Though no longer in consumer news, Ben still loves getting a great deal (and writing about it!).
DealNews may be compensated by companies mentioned in this article. Please note that, although prices sometimes fluctuate or expire unexpectedly, all products and deals mentioned in this feature were available at the lowest total price we could find at the time of publication (unless otherwise specified).