8 Easy Ways to Save on a Beach Vacation
Summer is prime beach time, but a trip to the shore can be expensive. Here are our best tips for stretching your travel dollars.
It's said that being near water can make you happier, calmer, and even more productive. You want to be reaping those benefits during a beach vacation, not worrying about unexpected costs or a credit card bill on the horizon.
Of course, finding the most economic option depends on the type of beach vacation you're planning to take. A couple looking for a romantic getaway might fly to Thailand and opt for a cheap beach bungalow, whereas a family of four might be better off driving to the Outer Banks and staying in a 3-bedroom rental home. Check out the tips below to see eight ways you can save on a beach vacation this summer.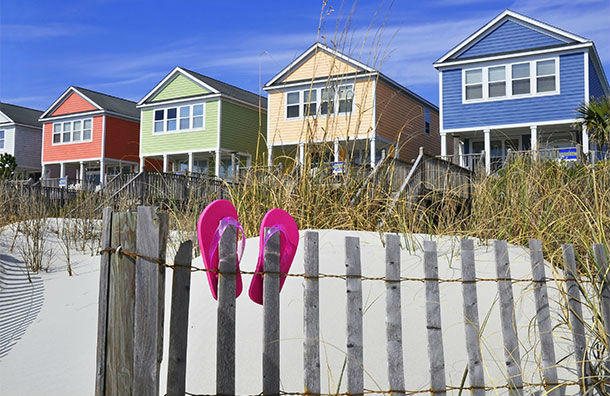 Choose the Right Accommodations for Your Budget
When deciding between a hotel, a beach house rental, or an all-inclusive resort, consider how many people are traveling and the type of vacation you're planning to have.
Hotels
If you're looking for accommodations, these are some of the top deal-friendly beach destinations, according to Priceline travel analyst Brian Ek.
For June vacations, consider these destinations, with corresponding average daily room rates:
Daytona Beach, Florida ($114.24)
Clearwater, Florida ($126.06)
Lake Tahoe, Nevada ($126.53)
Fort Lauderdale, Florida ($127.72)
Some of the best July deals are in these locations:
St. Petersburg, Florida ($134.14)
Fort Lauderdale, Florida ($134.99)
Orange County, California ($137.81)
Puerto Rico ($152.09)
Galveston, Texas ($152.87)
And here are the places where August travelers should look for hotel deals:
Fort Lauderdale, Florida ($115.01)
Myrtle Beach, South Carolina ($125.22)
St. Petersburg, Florida ($126.54)
San Diego, California ($147.05)
Atlantic City, New Jersey ($149.91)
SEE ALSO: 5 Once-in-a-Lifetime Vacation Ideas (You Can Actually Afford)
When you're booking a hotel, check to see if it includes amenities like parking and WiFi. Priceline boasts a Hotel Freebies section, where you can find goodies like instant discounts, free nights, resort credits, room upgrades, and free breakfast. "Not all freebies apply to all room rates, so just keep an eye out," Ek says.
Beach Rental Homes
"Your budget will always be the biggest factor when deciding where you plan to holiday or what type of vacation you want to take," says Barry Choi, personal finance and budget travel expert and founder of Moneywehave.com. "Renting a vacation home or using Airbnb and cooking some of your own meals will definitely stretch those travel dollars."
Rental vacation homes have cost-saving amenities like kitchens, grills, washers, dryers — even private pools, says Melanie Fish, spokesperson for vacation home rental company HomeAway. Some homes also have things you can use on the beach, like towels, umbrellas, beach chairs, and bicycles, so you can pack less or avoid renting beach accessories.
Just know what you can borrow and follow the house rules. "Each home is different, but not properly taking care of the rental home may result in losing your security deposit," Fish says. "To ensure this doesn't happen, review the rental agreement with the owner before you arrive. This way both parties will have an understanding of what is expected."
"There is no need to squeeze into a one-room hotel with sandy feet when you can get the whole home."
With an average cost of $217 per night for a three-bedroom home on HomeAway, a home rental can also be more cost-effective and roomier for groups. "Renting a whole home is a no-brainer, especially when traveling with a large group or multiple family members," Fish says. "There is no need to squeeze into a one-room hotel with sandy feet when you can get the whole home."
All-Inclusive Resorts
"All-inclusive resorts can offer good value if you travel off-season or look for deals where kids stay free," Choi says. "One mistake people tend to make when booking all-inclusive trips is forgetting about all the additional costs. Day trips will cost you extra; so will any meals you have off-site. There's also any vaccinations and travel insurance you may need to pay for, and of course, you can't forget about your shopping budget."
Choi notes, "You could avoid any extra costs by staying at your resort the entire time and only doing free activities, but is that the type of holiday you want? If you've budgeted properly, it's OK to spend a bit more on experiences." Some less-expensive, all-inclusive resort destinations include the Dominican Republic and Roatán, he adds.
SEE ALSO: Ask an Editor: Are All-Inclusive Resorts Worth It?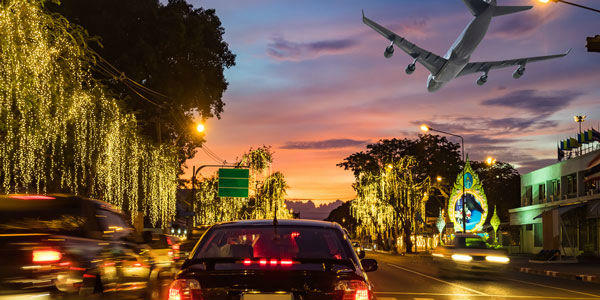 Determine Whether Flying or Driving Is a Better Value
The good news is that low fuel costs mean it's cheaper to travel by car and by air this summer. Travelers can expect flight prices to be cheaper this summer than they've been in seven years, according to research from the Hopper airfare app. And AAA predicts that gas prices will remain comparatively low; they're between 35 cents and 45 cents cheaper per gallon than last year. "If you have a little more time to spare, driving to the beach allows you the flexibility to stop at towns and sites along the way," Ek says. "Also, with low gas prices across the country, you may save more money driving instead of flying."
SEE ALSO: The Ultimate Airline Comparison Guide: Reviews, Restrictions, and Fees for 98 International Airlines
To figure out which is more economical, Ek recommends calculating the cost with a map app and the latest gas prices. (The current national average is about $2.36 per gallon). Then check against flight costs using a travel booking site, like Priceline.com.
Make a Packing List
Avoid having to buy marked-up items like sunscreen at your destination. Make a list of what you need, and take it with you. If you're staying in a rental home or a hotel with a kitchenette, stock up on groceries so you can prepare your meals.
Book Early
Planning ahead can pay off, though the ideal times to book accommodations and flights vary. "Booking in advance is the best way to secure the perfect vacation rental for a trip," Fish says. "The further in advance a traveler books, the more inventory there will be to choose from, making it easier to find a rental that meets the traveler's needs and a price that fits the budget." She recommends booking at least three months in advance.
SEE ALSO: Use These 3 Hotel Booking Sites to Get Bonus Airline Miles When You Travel
Data from TripAdvisor indicates that travelers can save 7% by booking a hotel stay within two months of a summer trip in the U.S., and within four months in the Caribbean.
The best time to buy an economy ticket for travel within North America is about 57 days in advance, according to research from Expedia and Airlines Reporting Corporation. As indicated in an analysis of data from more than 10 billion passenger flights, it's best to book a Caribbean flight 77 days in advance, for a 5% savings; the optimum time to book a flight to South America is 90 days in advance, for a 10% savings.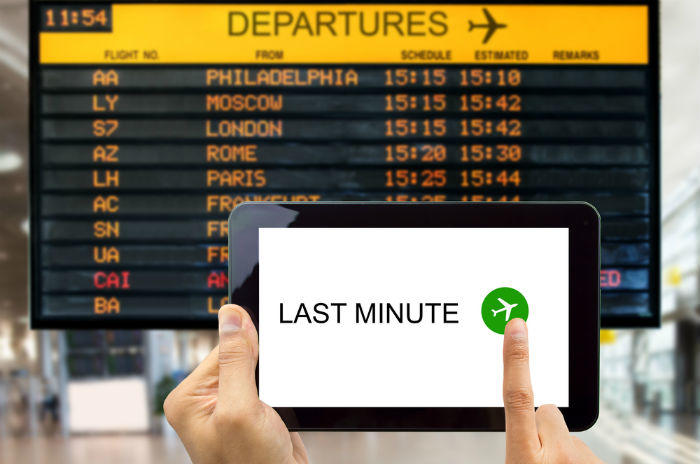 ... Or Book Late
If you haven't booked a summer beach vacation yet, procrastination can sometimes pay off, provided your plans are flexible. Some experts say that in the case of last-minute bookings, negotiating a lower price might be easier. "You may have fewer homes to choose from, but you can also save money by booking last-minute," Fish says.
Many websites and apps have special sections or features for last-minute deals. For example, HomeAway has a "Special Deals & Offers" filter that includes last-minute bookings. The Priceline app has Tonight Only deals added at 11 am daily, offering up to 40% off on hotels for same-day check-in; travelers can book a stay for up to four nights at the discounted rate.
"For some of the major beach destinations, June tends to have more favorable rates than July or August."
If you're willing to pack up and leave right now, note that June often has the lowest accommodation rates. "For some of the major beach destinations, June tends to have more favorable rates than July or August when the crowds really arrive, but you can gain savings by being flexible with travel dates," Ek says.
Exercise Caution With Certain Locales
Some travelers should be cautious when tempted by low fares, though, because fear of the Zika virus is driving down prices in certain cases.
"The Zika virus has affected many popular destinations, which has reduced tourism dramatically; as a result, some destinations/resorts have started to reduce their prices," Choi says. "Of course, health always comes first, so consult your doctor if you have any concerns before traveling." However, you might be able to find deals on Caribbean destinations that have experienced cancellations but have been Zika-free, such as Turks and Caicos.
Be Flexible With the Location
At popular destinations, competition often helps drive prices down, particularly in the case of home rentals. Traveling to a slightly less sought-after spot might get you more for your money, though. "Gain even more savings leverage by being flexible with destinations," Ek says. "For example, you can go to Miami Beach and pay more for a four-star hotel, or you could go a few extra miles and stay in a four-star hotel on the beach in Fort Lauderdale for less."
SEE ALSO: 8 Easy Budget Hacks to Use on Your Next Vacation
Hotels and vacation homes that aren't right on the beach are often cheaper as well. For instance, hotels in a city's business district may have lower weekend rates. Just factor in any extra costs, like beach parking.
Far-Flung Locales Can Be Cheaper Overall
Paying a bit more upfront for airfare may save you money in the long run if your destination has what Choi calls "low ground costs."
He says, "A flight to Thailand or Vietnam may seem expensive, but once you've landed, your costs will be pretty low. Meals in Southeast Asia cost just a few dollars a day, while resorts or beach bungalows are significantly cheaper than say, Jamaica." To save about 13% on flights to Asia, the Expedia/ARC data indicates that it's best to book 160 days in advance.
Readers, what are some of your favorite tips for saving money on a beach vacation? Let us know in the comments below!
---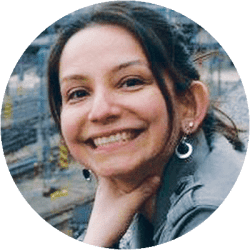 Contributing Writer
Josie Rubio was a Brooklyn-based freelance editor and writer, who interviewed everyone from Britney Spears to ghost experts during her lengthy journalism career. She visited five continents, and loved to write about travel, food, nutrition, health, gardening... and pretty much everything.

Note: Josie Rubio died on December 3, 2019.
DealNews may be compensated by companies mentioned in this article. Please note that, although prices sometimes fluctuate or expire unexpectedly, all products and deals mentioned in this feature were available at the lowest total price we could find at the time of publication (unless otherwise specified).