DealTip: What Is "Hotness"?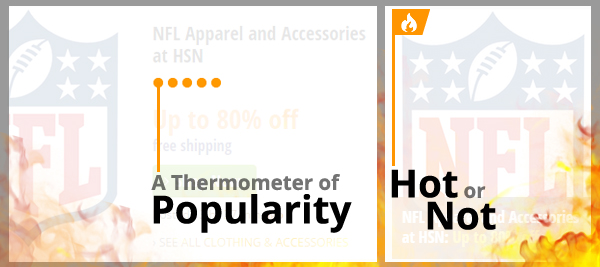 Simply put, "hotness" is a real-time thermometer for how popular a deal is with our readers (that's you), and it can change over time as interest in an item heats up or cools off.
On deals, hotness is represented by a series of five dots (top left); the more dots it has, the more popular a deal it is. But hotness can also be depicted as a "hot-or-not" flag (top right) which signifies that a deal is one of the hottest deals of the day.
Contrary to how other sites might work, our hotness ratings have nothing to do with how our editors feel about a deal (we have an Editors' Choice section for that), nor does it indicate how much money we make from a deal. Nope, hotness is nothing more than one big popularity contest — and you're the ones voting, with your clicks. It's democracy in action!
Want more ways to optimize your DealNews experience? Check out all our DealTips!