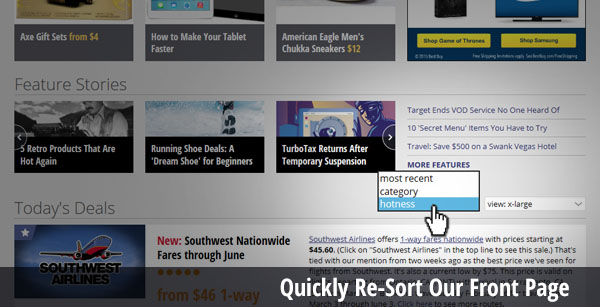 Did you know that the deals on our front page can be sorted in any order you want? (Well, as long as you want it sorted in one of the three options we provide, that is!) Just click on the box labeled "sort by" at the top of the Today's Deals feed and choose from:
Hotness: ranks deals based on popularity with our readers, and shows the most popular deals first


Category: arranges deals into sections like "TVs" and "laptops", so you can zero in on a specific type of item


Most Recent: puts the newest deals first and you go back through time, as you scroll
(Note: you won't actually be traveling back in time, so your clothes won't go out of fashion.)
We're pretty confident that you'll have fun sorting and re-sorting our deals, so give it a try, right now!

Want more ways to optimize your DealNews experience? Check out all our DealTips!