According to the International Bartenders Association (IBA), the basic margarita recipe calls for 7 parts tequila, 4 parts Cointreau, and 3 parts lime juice. Shake it over ice and strain it into a cocktail glass rimmed with salt. But if you prefer something seriously frosty, check out our roundup of the week's best small appliance deals to find the perfect blender to turn your drink into a frozen concoction.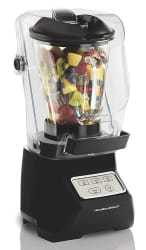 Hamilton Beach 3-Speed Sound Shield Blender
Store: Walmart
Price:

$59


Shipping:

Free shipping


Lowest By: $7

Keep the party going long into the night with this blender. It has a sound shield to dampen the noise that usually accompanies using one of these small appliances. With 3-speeds, it can handle your morning smoothie, or your favorite twist on a boozy classic. It features a 52-oz. glass jar, 950W of power, and stainless steel blades.

Of note, Amazon and Jet.com offer it for the same price.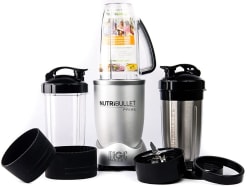 Nutribullet Prime 12-Piece Blender System
Store: Monoprice
Price: $59.99 EXPIRED
Shipping: Free shipping
Lowest By: $23
Expiration: March 6

Host a DIY margarita party with this 12-piece blender system. (Assuming, of course, that you trust your friends not to break your kitchen goods.) This set is great for crafting single-serve margaritas, as well as smoothies, protein drinks, or other frozen drinks. The set includes a 32-oz. colossal cup, 28-oz. stainless steel cup, two vessel grips, extractor blade, two lip rings, two flip-top lids, and recipe book.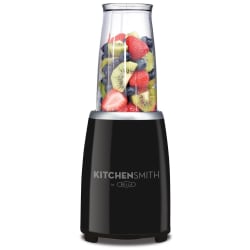 Bella KitchenSmith Personal Blender Set
Store: Target
Price: $15.99 EXPIRED
Shipping: In-store pickup or $5.99 s&h
Lowest By: $4
Expiration: March 8

Based on user reviews, this personal blender set is ideal for anyone who prefers slushies to drinks that are so frozen it's like having an iceberg in your glass. It can purportedly handle frozen fruits fine as long as you have enough liquid, so consider replacing some of the ice in your margarita recipe with frozen strawberries for a different flavor. It also functions as a spice/coffee grinder and features stainless steel blades, 13.5-oz. and 6-oz. cups, a storage lid, two lip rings, and two shaker tops.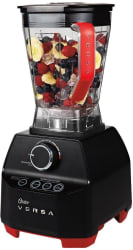 Oster Versa 1,400W Performance Blender
Store: Amazon
Price:

$149.95


Shipping:

Free shipping


Lowest By: $16

The knob on this blender means you can find your perfect speed to craft your preferred frozen beverage. If you'd rather not play around with the speeds, it does include programmed settings for smoothies, dips/spreads, and soup to make things faster. It features a 1,400-watt motor and a BPA-free, low-profile 64-oz. jar.

Of note, Walmart charges a buck more.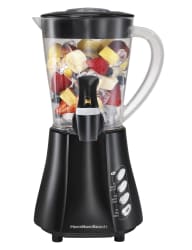 Hamilton Beach 4-Speed WaveStation Blender
Store: Walmart
Price:

$17.88


Shipping:

In-store pickup

or $5.99 s&h
Lowest By: $7

This 4-speed WaveStation blender is great for creating smoothies for the whole family, or enough margaritas to celebrate with all your friends (or have a really great party by yourself). It features a 350-watt motor, pulse control, 40-oz. jar, and stainless steel blades.

Of note, Target has it for about the same with free in-store pickup.