Bid High & Prosper: 10 Star Trek Collectibles That Are Beyond Amazing
Wherever you fall in the Kirk vs. Picard debate, we can all agree that any Star Trek fan would enjoy these fun finds.
Star Trek Beyond is finally here, and there's nothing like a new Star Trek movie to make us all nostalgic for the halcyon days of Captain Kirk. And Captain Picard. And Captain Sisko. And Captain Janeway. And everyone else.
But once you've seen all of the movies and watched all of the TV shows, what's left? Well, collecting random doodads, of course! There's more Star Trek merchandise than any fan could ever hope to obtain, but we're here to help you narrow things down. Check out 10 weird and wonderful Star Trek collectibles that you can find on eBay.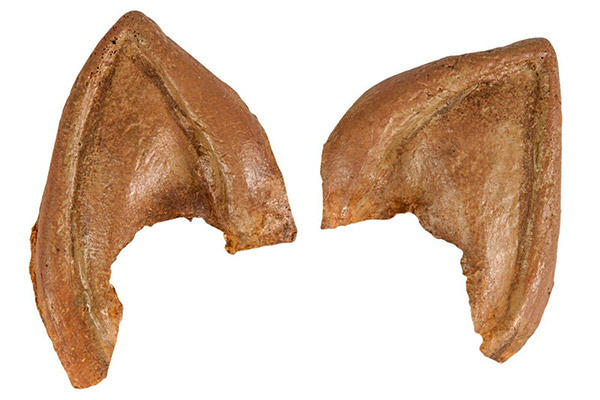 Movie-Worn Spock Ears
Asking Price: $15,000
No, those aren't stale pork rinds; they're screen-used Spock ears worn by Leonard Nimoy during the filming of Star Trek III!
The asking price may seem absurd, but this is as rare and extravagant as Star Trek memorabilia gets. The winning bidder will even receive a copy of a letter written by Nimoy himself, who originally donated the Vulcan ear tips for some long-ago charity auction.
Nimoy's passing has only made Spock collectibles more valuable, and with the possible exception of his original Starfleet uniforms, we can't think of any more bragworthy items than these!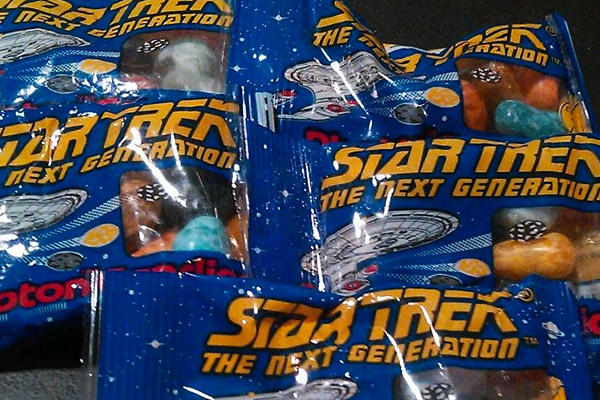 1992 Photon Candies
Asking Price: $15
Yes, fans who ate, slept, and breathed Star Trek: The Next Generation once had a chance to do 33.33% of that literally. These "Photon Candies" — made to represent the Enterprise's photon torpedoes — were essentially just elongated jelly beans.
This particular auction gets you five sealed packs, which is plenty if you're looking to share 24-year-old jelly beans with fellow Trekkies. (Or maybe with your sworn enemies, considering what jelly beans from 1992 would likely do to a person's stomach.)
Asking Price: $34.95
Tribbles, the adorable aliens best described as crosses between Mogwais and pet rocks, have been part of Star Trek's retail universe for decades. This battery-operated version from 1991 purrs and squeals, because if there's anything better than a toy pompom, it's a toy pompom that yells when you hug it too hard. Just think of it as an imploded Furby.
Dig around and you'll find Tribble figures in several sizes and colors, and from many different makers. You could build a whole nuclear family out of them! (If you do, please send pics.)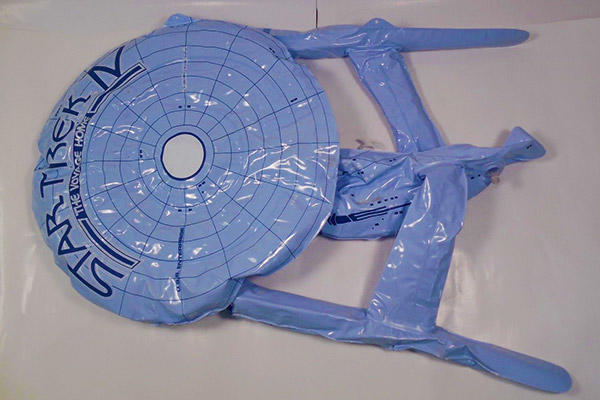 Inflatable Starship Enterprise
Asking Price: $27.99
We're not sure where this one came from. It was probably sold at retail, but we can't rule out the very cool possibility that it was a promo item sent to video stores in support of Star Trek IV's VHS release back in the late '80s.
Either way, it's an inflatable USS Enterprise. We want it no matter what. While conceived as a hanging display, an especially gentle Trekkie might be able to use it as a thematic pool toy. It'd pair nicely with the next item on our list!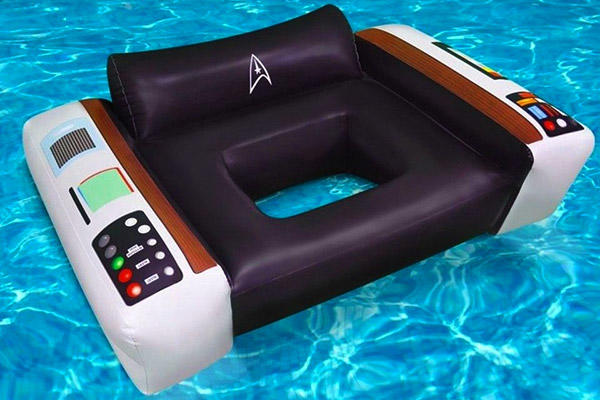 Captain's Chair Pool Float
Asking Price: $41.95
Although it's now out of stock, this float would have let you pretend you were Captain Kirk taking the Enterprise in for a water landing! This officially licensed Star Trek pool float is as close as many of us will ever come to sitting in the captain's chair, even if this particular captain's chair will leave your naughtier bits soaking wet. Power always comes with a price!
SEE ALSO: 10 Totally Awesome Pool Toys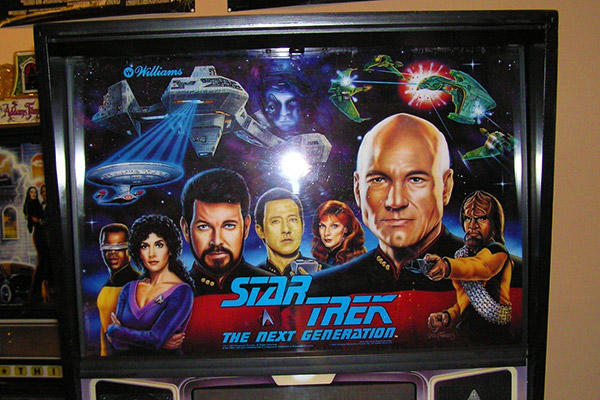 Star Trek: The Next Generation Pinball Machine
Asking Price: $6,000
Hardcore pinball fans don't discriminate, and we're happy to report that even the ones who couldn't care less about Star Trek admit that this is an amazing pinball game. Despite the fact that it came out in 1993, you can still find it in many of today's arcades.
Course, if you are a Star Trek fan, it's an even better experience. Get a load of the game's umpteen Trek-themed features, and note that it even boasts custom voice work from almost all of Star Trek: TNG's original cast! Hopefully the seller will list it again, and with a lower price tag.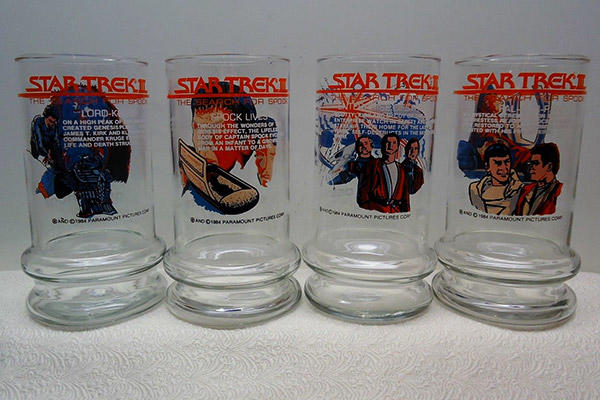 Taco Bell Promo Glasses
Asking Price: $24.99
As advertised in this gloriously cheesy TV commercial from 1984, Taco Bell once teamed up with Paramount for a set of Star Trek III glasses. "Fast food pop culture glasses" were oddly common promotions back in the '80s, with everyone from Darth Vader to E.T. getting the same treatment.
SEE ALSO: 10 Darth Vader Collectibles That Will Bring You to the Dark Side
If you grew up with those promo glasses, it won't surprise you to learn that they're all over eBay (so it's no big deal that these have already sold). After all, nobody throws away a Yoda glass, or a Hamburglar glass, or even a glass with an angry Klingon on it. They'll survive decades of dishwashing just fine, so if you want to give your dinner table a little retro flavor, bid with confidence!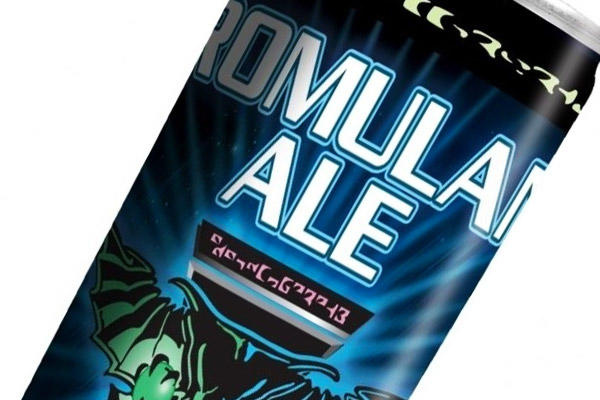 Asking Price: $44.16 (case of 24)
The most famous alcoholic beverage in the Star Trek universe is now an energy drink! And yes, it's just as blue as the "real" stuff. (We'd rate it somewhere between mouthwash and Windex.)
Loaded with vitamin B12 and pantothenic acid (whatever that is), this 24-pack would have been the spaciest way to get your motor running, if the listing were still available. Luckily, other eBayers sell this drink by the can.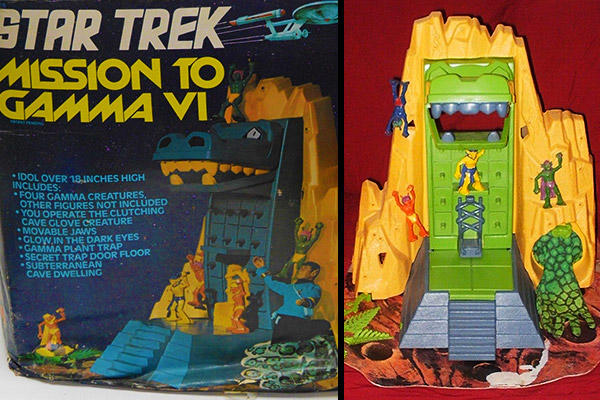 1976 Mission to Gamma VI Playset
Asking Price: $450
Even with more than 30,000 Star Trek toys currently listed on eBay, we're 100% convinced that this is the absolute strangest one. Made by Mego in 1976, the "playset" was actually a mountain-shaped monster, with crunching jaws that could take a bite out of Mego's famous Star Trek dolls.
Also included with the set were a handful of tiny alien figures, who all looked like neon bug people. The very best part, though, was the mountain-monster's claw, represented by a functional puppet that could violently grab Captain Kirk. Even by Star Trek standards, this is one strange toy!
(If you're curious about the playset's inspiration, check out the episode titled "The Apple" from the original series' second season — preferably after you've taken nighttime cold medicine.)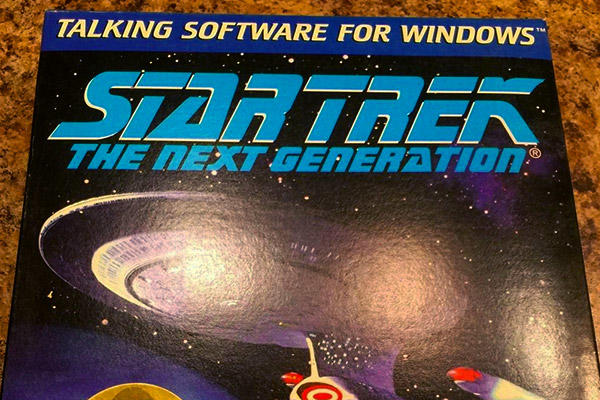 Virtual Reality Audioclips for Windows 3.1
Asking Price: $14
Now this is just precious. Remember when you could buy programs stuffed with thematic sound effects to make your at-home computing a little more interesting? No? Well, we promise, that really was a thing.
With this program, you could've replaced whatever generic beep your old computer made whenever you exited a program with a Star Trek phaser sound. By early '90s standards, that was just so cool. Maybe not as cool as sending instant messages to chat bots on AOL 2.5, but right up there. (Alas, this listing has ended.)
Readers, let's assume that money is no object. Out of every Star Trek collectible featured here, what's the one thing you'd want to take home most? Would you go for broke with the $15,000 Spock ears, or is it that set of old Taco Bell glasses that really calls to you? Tell us in the comments!
---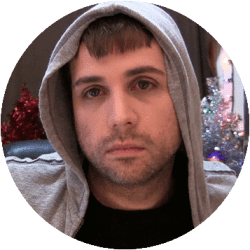 Contributing Writer
Matt has been blogging about geeky nonsense since early 2000. You can view more of his weird work on
Dinosaur Dracula
, or follow him on Twitter
@dinosaurdracula
.
DealNews may be compensated by companies mentioned in this article. Please note that, although prices sometimes fluctuate or expire unexpectedly, all products and deals mentioned in this feature were available at the lowest total price we could find at the time of publication (unless otherwise specified).