Avoid the Thrift Store: 10 Things You Should Never Buy Used
Mattresses, bike helmets, and tires can all seriously affect the well being of you and your loved ones — so never buy these and other things used.
Buying secondhand items is often a great way to save money. However, some purchases can end up costing you more in the long run — or even pose threats to the health and safety of you and your loved ones.
Below is our list of the top things to avoid buying used. As you might expect, several — car seats, bike helmets, and baby cribs, for example — are essential pieces of child safety that shouldn't be left to chance, and that are updated regularly by manufacturers. Others, like laptops and DVD players, might just cost you more money to fix and maintain than to replace. In any event, it will be both economical and smart to spring for a new model with these ten items.
1. Baby Cribs
The average cost to raise a child is about $241,080, so start saving as soon as possible with secondhand baby clothes and goods. Used cribs, however, can pose serious risks or even cause fatalities. Nearly 10 million cribs were recalled from 2007 to 2011 before new federal safety regulations went into effect, calling for more rigorous testing and banning the manufacture and sale of drop-side cribs that caused at least 32 infant deaths. A hand-me-down from a yard sale or friend may not be up to the latest regulations.
2. Car Seats
Car seat regulations are often changed and updated, and while this can be frustrating, new technology and crash data are used to improve car seat safety. In fact, car seats are stamped with expiration dates, with a life span of about six years. Keep in mind that car seats should withstand only one crash before being replaced, and you may not be able to spot a secondhand seat that's already been damaged.
Always check the CPSC website for recalls on baby items — especially if you're buying a stroller, which is still considered OK to purchase used. However, the U.S. Consumer Product Safety Commission approved a new federal standard for carriages and strollers that went into effect this month to address safety hazards such as hinge issues and parking brake failures.
3. Bike and Motorcycle Helmets
Like car seats, bicycle and motorcycle helmets are designed to withstand only one serious impact, and it's often difficult to tell if a helmet has previously been involved in a crash. Plus, helmets also are protecting something pretty important: Your head.
4. Tires
Even though used tires comprise 10% of tire sales in the United States — an estimated 30 million annually — buying used tires is a financial and safety risk not worth taking. Even if the tire passes the penny test and there's no evidence of dry rot or cracking on the sidewall, it still could have internal damage if it's been overloaded, under-inflated, or involved in an accident. Also keep in mind that you wouldn't be notified of a tire recall if you bought the tires used.
5. Laptops
There are people who will tell you they've had no trouble with used laptops, and in fact, there can be exceedingly good deals on these items. However, unless you're getting an extremely cheap or free machine, a used laptop is financially risky. Laptops' portability makes them prone to abuse and spills, and this often causes internal damage that the buyer — or even an honest seller — can't easily spot.
Without a warranty, a used laptop may end up costing more in the long run for repairs. Getting irreplaceable data off a broken computer can also be pricey — or impossible. Depending on the age of the laptop, it may not be compatible with the latest software.
However, a refurbished laptop is an entirely different story. Coming from the manufacturer or an authorized dealer with tech support and a warranty, this can be a great way to get a deal on a quality computer.
6. TVs
Most major issues with LCD TVs typically show up within the first 30 days to first year after purchase, when the television can be returned or is still under warranty. It might seem to make sense to buy a used TV after that time period has passed (thinking that any problems would have already presented themselves), but it's still a big risk to buy without the warranty since repairs can cost more than a new television.
7. DVD and Blu-ray players
Repairs can cost more than new DVD players, which are fairly inexpensive. In the last year, we've seen new DVD players for as little as $20 and new Blu-ray players for $38, with prices usually in the $50 to $100 range; used sets are often comparable in price, making the advantage uncertain. Unless you're getting one for free, buy a new DVD player with a warranty.
8. Box Springs, Mattresses, and Upholstered Items
Gone are the days when you could haul in a used couch from the curb and worry only that someone peed on it. Bed bugs have made a big comeback in the past few years. Bed bugs prefer mattresses and box springs, but any upholstery will do. They are relatively difficult to get rid of and can cost hundreds to thousands of dollars.
But even if a mattress is entirely bug-free, it still might be bad for you. A supportive mattress is essential for good sleep, back health, and health in general. A mattress older than 10 years is likely to sag, and there's no telling how old that free mattress really is.
9. Underwear, Swimsuits, and Wetsuits
Avoiding secondhand underwear seems like common sense. Still thinking about buying used swimwear? Consider that one in five adults pees in the pool.
As for wetsuits, compression from use wears out the neoprene, which also gets thinner and stiffens with age — and eventually is less effective at insulation and buoyancy. Oh, and people pee in their wetsuits too, except this guy.
10. Cosmetics
Even gently used cosmetics have come into contact with someone else's body and can spread herpes, pinkeye, and other illnesses. In fact, a study found that 100% of retail public makeup testers were contaminated with E. coli, staphylococcus, and strep on the busiest shopping days. And you can't just spray makeup down with disinfectant.
What do you think? What other items do you always buy new? Let us know in the comments below.
---
Related DealNews Features: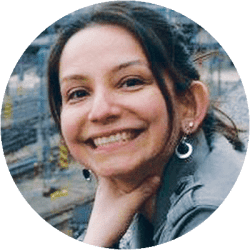 DealNews Contributing Writer
Josie Rubio was a Brooklyn-based freelance editor and writer, who interviewed everyone from Britney Spears to ghost experts during her lengthy journalism career. She visited five continents, and loved to write about travel, food, nutrition, health, gardening... and pretty much everything.

Note: Josie Rubio died on December 3, 2019.
DealNews may be compensated by companies mentioned in this article. Please note that, although prices sometimes fluctuate or expire unexpectedly, all products and deals mentioned in this feature were available at the lowest total price we could find at the time of publication (unless otherwise specified).