Are Smart Appliances and Furniture Worth Buying?
With Ikea introducing a line of furniture with built-in wireless chargers, we examine whether all these touchscreens and extras on appliances are any better than your phone.
The future has arrived. Although we still don't have the Jetson's Rosie the Robot or automatic kitchen yet, technology is changing our furniture and appliances, including the way we wash our clothes, what we eat, and how we charge our smartphones. The other big change thanks to this trend? The price we pay for this "superior" technology.
Some of this technology is out on the market available for purchase. Other items are currently vaporware in the works. Here's what you need to know about smart furniture and appliances before you spend the big bucks on the latest and greatest.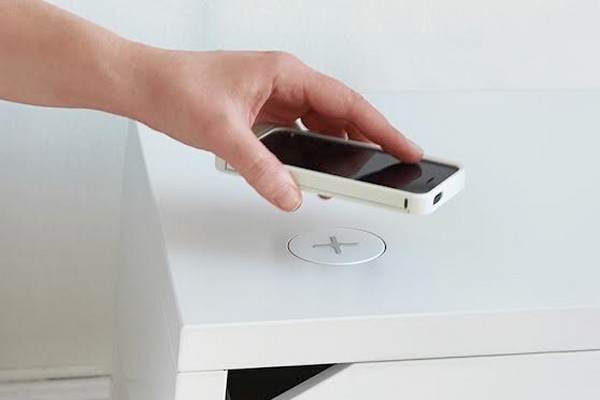 Ikea Introduces Furniture With Wireless Charging
Ikea has already launched a furniture line with built in phone chargers. This is actually one of the most useful lines in this new sphere of appliances, and the upfront cost is minimal. Everyone hates cords. It's hard to remember where you put your charger last. This new Ikea furniture means you can just set your phone down on the charging spot built in to your side table or lamp and let the cordless charging begin.
But what does this cost? Take for instance, their Nordli side table. It costs $30 more to have the wireless charging built in. Not too shabby to cut the cord out of your life. If you love being on the cutting edge of technology, this line of furniture is worth serious consideration. One caveat is that most phones don't currently support this type of wireless charging. A couple of high end Windows and Android phones (like the Samsung Galaxy S6) currently have the capability. Ikea is also selling charging covers for iPhones and older versions of the Galaxy to allow them to be compatible with this line of furniture. If you're rockin' something else, you're out of luck.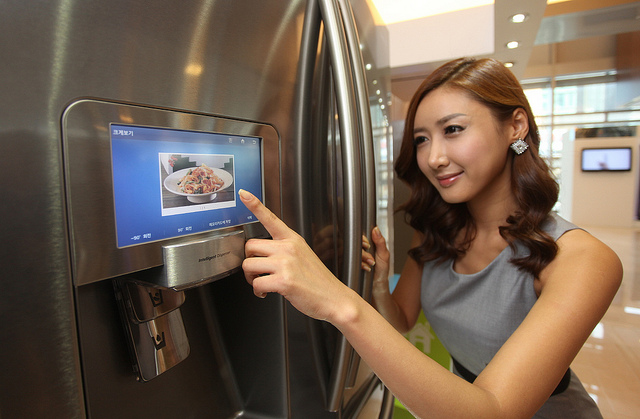 Most Smart Appliances Not Yet Smarter Than Your Phone
Smart appliances run the gamut from useful to downright absurd. The selling point is that they make your life easier. But is that actually the case, or are these incredibly expensive features totally unnecessary?
Some appliance makers have slapped a touch screen on the front of a refrigerator, for instance, and called it "smart." Samsung's T9000 has an optional touch screen that connects to Wi-Fi. You can type your grocery list into Evernote and pull it up on your phone later.
Or, you could pull your phone out of your pocket and type it in directly.
You can type in the foods that are currently in your fridge and it'll spit out a recipe that you can make. Again, you could do the same on the intelligent device you likely already have in your pocket. There are certainly possibilities for this technology to change and become more useful. It would require, however, even greater smart technology that recognizes what is actually in your fridge as opposed to you having to type everything in.
What about smart washers and dryers? More and more of these are popping up in the marketplace. You can check the status of that last load of laundry while watching Netflix on your couch — or even while away on vacation. And you can start a cycle from your smartphone as well. Let's just be honest. That's totally unnecessary. They don't load and fold the clothes, which is 90% of the actual struggle of laundry.
These smart washers and dryers could become useful in a laundromat or apartment complex setting, where smart appliances make the most sense. Checking cycle updates from your smartphone could really benefit people that form a queue to do laundry, I'm just not convinced of the benefits of putting one in your personal residence.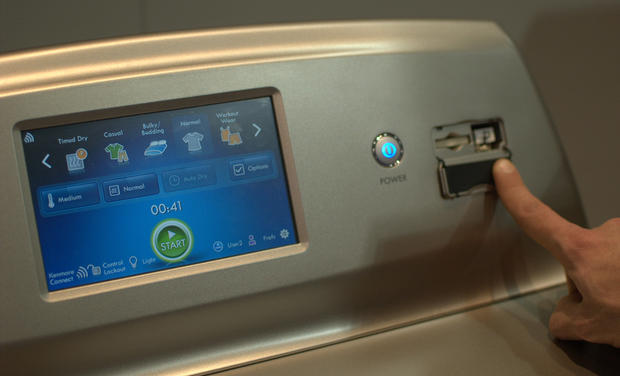 But Some Can Already Save You Money
The smart appliances that are actually "smart" are the ones worth looking at.
For instance, The GE Brillion dishwasher can wait to start a load of dishes until off peak electricity rates are in effect. GE also has a hybrid electric water heater that can save you up to 80% on your water heating costs compared to a traditional electric water heater. If you're away on a trip, you can put it into vacation mode from your phone. It can also wait to heat water until off peak times.
Smart appliances that intelligently save you money on your energy costs are definitely the best part of this trend. Random touch screens that only do things a smartphone already can aren't.
More of these smart appliances are coming to the market, but to maximize the benefits they offer they will need to communicate with a smart meter. Smart electricity meters are in their infancy, but once fully realized, will allow these devices to communicate wirelessly and know when the cheapest time to run is. For instance, smart refrigerators will wait to run a defrost cycle and smart ranges will reduce power usage during peak electricity hours.
Right now, most of us would need to manually dictate what time our appliance starts. That could mean waiting until 11 at night to start the laundry. Smart appliances of the future will eliminate those hassles and save you money intelligently.
Repair Costs Can Get Scary
The initial cost alone of a smart appliance might be enough to make you opt for the dumb version. If not, the increased repair costs almost certainly will.
Angie's List experts have explained that new smart appliances don't last as long as their less intelligent counterparts. There are more electronics embedded in these new devices and therefore more that can go wrong. And since the average repair cost of a major smart appliance these days is between $300 and $400, even the savings that you gained from lower utilities bills could be shot with just one unfortunate malfunction. These experts say that the average repair on a non-smart machine is $200 — definitely a big difference.
Remember when GPS units were first put into cars? It was awesome! Then a few years later the technology felt incredibly outdated. Now most people prefer the navigation apps on their smartphone (which are constantly updated) to a built in navigation system. The same is true of much of this young generation of smart appliances.
Smart technology has come a long way. But there's still a long way to go before you jettison your old refrigerator or washing machine for a new one with a touch screen. If you are shopping for a newer appliance, energy savings are a given thanks to the government's energy conservation standards. But opting for the most expensive smart model won't necessarily save you more in the long run or add a whole lot of convenience to your life. There's also a chance that it could become a repair nightmare.
The right smart appliance, the kind that calculates energy rates and reacts accordingly, might actually save you more money every month on utilities. Do your research before you make the leap.
---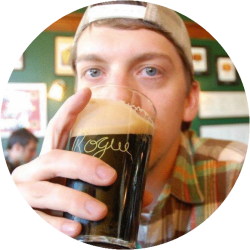 Contributing Writer
Joel Larsgaard loves helping people focus on frugality without giving up the things they enjoy. By day he's a radio/web producer for the Clark Howard Show, and his blog Save Outside the Box is his main avenue to disseminate his money meanderings.
DealNews may be compensated by companies mentioned in this article. Please note that, although prices sometimes fluctuate or expire unexpectedly, all products and deals mentioned in this feature were available at the lowest total price we could find at the time of publication (unless otherwise specified).